25 Kitchen Essentials for The Home Cook
When I started my cooking journey at a very young age, I never imagined that cooking can become a hassle-free experience. Back then, all the equipment that we have in our kitchen are just the basics—stove, oven, pans and the likes and so we have to spend too much time cooking and preparing the dishes.
Today, home cooks are quite fortunate because there are now plenty of cooking tools and equipment that you can use to make cooking as convenient and fast as possible. But with the wide array of kitchen tools in the market today, how can you determine which are the kitchen essentials that a home cook like you may need?
Actually, that was my biggest question too when I started building my kitchen arsenal. That's why you don't have to worry! I already did the research for you and have compiled all the kitchen essentials in this simple yet useful article.
The Home Cook Kitchen Essentials
Thinking of what tools you should buy for your kitchen? Before you do so, take a look at the things that  you may need to make your kitchen a joy to work in below:
1. Cutting Board (2 pieces)
This may seem like a no-brainer but most home cooks tend to forget how important a cutting board is.
No matter what type of dish you are preparing, may it be salads, soups or smoothies, there will definitely be lots of slicing involved, and for this purpose, you will need a chopping/ cutting board. These boards provide a stable platform where you can chop your cooking ingredients safely and properly. In addition to that, the use of these boards can protect your expensive countertop from possible damage and can minimize the mess in your working area.
I have bought a wooden cutting board, and it is the most durable thing ever, and according to my research, this type of board does not dull knives as fast as the plastic ones. You would need 2 pieces of cutting boards for your kitchen (one for fresh produce and cooked foods and one for raw meats) to avoid cross-contamination.
Totally Bamboo Original Bamboo Cutting
Non-Slip Premium Moso Bamboo Cutting Board Set
OXO Good Grips Utility Cutting Board
2. Measuring Cups and Spoons (1 set of each)
If you love to cook, then you will surely agree with me when I say that the right measurement of ingredients is everything when it comes to preparing meals, and most especially, for baking. To ensure proper measurement, measuring cups and spoons are here to your rescue!
As a home cook, I firmly believe in properly measuring my ingredients, and that's why I bought two types of measuring tools—a set of measuring cups and a set of measuring spoons.
I used two types of measuring tools for easy measurement (I don't like making a guess especially with my ingredients). The measuring spoons are perfect for measuring smaller amounts (1/8 teaspoon to 1 tablespoon). On the other hand, measuring cups can be used in measuring larger amounts of ingredients (1/4 cup to 1 cup).
Measuring Cups Stainless Steel 6 Piece Stackable Set
Rsvp International Dsp-4 Stainless Steel Measuring Spoon
1Easylife 18/8 Stainless Steel Measuring Spoons
I never thought a silicone spatula could be so useful in the kitchen until I bought one! Now, I used it almost every time I cook. Thanks to its flexible wide and thin blade, I can use it in lifting eggs, flipping pancakes and spreading icing and other ingredients in cakes and pies.  In addition to that, its long handle can keep my hand away from the hot surface of the oven or the pan.
A large spatula can be used for stirring sauces and soups while a smaller one is useful in decorating cakes and removing sauces from their jars.
Lucentee 3-Piece Silicone Spatula Set
di Oro Living - Silicone Spatulas
OXO Good Grips 3-Piece Silicone Spatula Set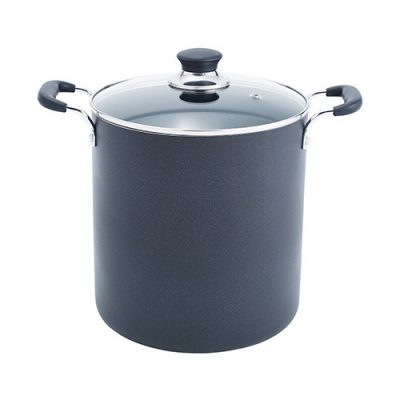 This is a type of cooking pot that has a wide opening, straight sides and flat bottom and is perfect in making chilis, stews, soups, and broths.
I always use my stockpots that I decided to buy two different sizes for this cookware. I have a 4-quart stockpot that is perfect for preparing dishes for the family. On the other hand, I use my 16-quart stockpot when I have guests coming over or when prepping for parties.
All-Clad BD552043 D5 Brushed 18/10 Stainless Steel
All-Clad 59916 Stainless Steel
HOMI CHEF Matte Polished NICKEL FREE Stainless Steel
The most basic hand tool for a home kitchen would be a knife, but with so many knife styles and sizes, it can be quite confusing to know which one to buy. Well, may my experience serve as a lesson for you.
Out of the many knives I bought, there are two types that I always use and can't live without—my large chef's knife and paring knife.
I use my large chef's knife for chopping vegetables, slicing meats and mincing other ingredients. On the other hand, the small size and plain edge blade of a paring knife are perfect for peeling fruits, de-veining shrimps, slicing small garnishes and removing seeds from peppers.
DALSTRONG Boning Knife - Shogun Series
ZELITE INFINITY Chef Knife 8 inch
Victorinox 4-Inch Swiss Classic Paring Knife
Before, I thought that a whisk could only be used in baking. But when my friend gave me a whisk as a gift, I discovered that it is one kitchen essential that offers many uses. I used mine for beating eggs, whipping egg whites, mixing heavy sauces and eliminating lumps in batters.
I recommend going for a whisk with a narrow shape so you can use it even if you are working with a small bowl or container.
OXO Good Grips 11-Inch Balloon Whisk
Set of 3 Stainless Steel Whisk 8"+10"+12"
DRAGONN Stainless Steel Whisks
Ahhh, tongs—what's a hamburger lover like me can do without it? A tong is a kitchen tool that has long handles and is used to rotate, move and turn food while grilling or frying them. It has a long handle to protect your hands from the heat or spattering oil.
It is best that you buy tongs with varying lengths and opt for one that has silicon covers on the handles and the edges for better grip and control.
StarPack Premium Silicone Kitchen Tongs
OXO Good Grips 12-Inch Stainless-Steel Tongs
DRAGONN Premium Sturdy Locking Kitchen Tongs
Before, I thought mixing bowls are the most useless things in the kitchen. They are just big bowls so these are not a big deal, right? Wrong. When I got my set of mixing bowls, I discovered there are lots of things I can do using them. You can use it to toss salads and prepare salads and dressings. More than that, you can also use it serve popcorns and store food items.
When buying a set of mixing bowls (of course, you would need different sizes!), opt for a stackable set to save space and for easy storage.
OXO Good Grips 3-Piece Mixing Bowl Set
Stainless Steel Mixing Bowls by Finedine
Cuisinart CTG-00-SMB Stainless Steel Mixing Bowls with Lids
From its name, we can say that baking dish is well, used for baking! But no matter how simple it is, choosing one can be quite confusing. When I was buying a baking dish, I got confused between buying a glass or a metal one.
I did my research and found out that metal pans are perfect for broiling and baking cookies. Ans since I  don't do much of both, I decided to go for the glass baking dish as it is perfect in making casseroles and pasta dishes.
Another benefit of a glass baking dish is that you can see the dish as it cooks so you can determine it is already properly cooked or not. Also, you will not have to worry about chemicals leaching to your food since the glass is an inert material.
And the best feature of all– it may also double as a serving dish too!
Cuisinart CI1136-24CR Chef's Classic Enameled
Pyrex Basics Clear Oblong Glass Baking Dishes
Rachael Ray Stoneware 9-Inch by 13-Inch
I am a smoothie lover, so I believe that every kitchen should have a blender. But you will be surprised to know that a blender is more than just for creating shakes and smoothies. I also use mine for breaking down the ingredients of a soup, mixing large spices into sauces, crushing ice and chopping vegetables.
You could even use it to make homemade peanut butter and dips!Consider the size of the container, power of the motor, speed control and the ease of cleaning when choosing a blender.
NutriBullet 12-Piece High-Speed Blender
Vitamix 5200 Blender, Black
Ninja Professional Blender with Single Serve
I love Chinese foods, and that's why I have a wok at home. This tool is perfect for cooking stir-fries. In addition to that, it can also be used in performing different Chinese cooking techniques like roasting, smoking, searing, stewing, poaching, braising and deep frying foods.
If you're not a Chinese food lover, you can also use it to scrambling eggs in large amounts, keep tortillas warm, roast coffee and steam lobsters.
Some of the things you need to consider when purchasing a wok are its thickness and construction (aluminum construction is the best as it ensures even and fast distribution of heat).
T-fal A80789 Specialty Nonstick Jumbo Wok
Lodge P14W3 Seasoned Cast Iron Wok
Cuisinart 726-38H Chef's Classic Stainless 14-Inch Stir-Fry Pan
12. Crockpot/ Slow Cooker
A slow cooker is an electric kitchen equipment that simmers foods at a temperature that is much lower than most cooking methods.
When buying a slow cooker, there are some things that you need to consider. These include the shape and size of the cooker, the type of material used in constructing it and the method of heating that it uses. You should also look for safety features like timer, low and high-temperature cooking settings and sear function.
Because of this, it is the perfect equipment to use in preparing delicious and healthy meals with minimal effort. What I do is I toss all the ingredients into the pot, turn it on and let it cook overnight. The next day, I have a delicious dish waiting for me!
It is originally designed to cook stews, soups, and pot roast. But today, many people use it to create desserts and dips.
Crock Pot Cook'N Carry 6-Quart Oval Manual Portable Slow Cooker
Hamilton Beach 33461 Stay or Go 6-Quart Portable Slow Cooker
Crock-pot SCCPVL610-R-A Programmable Cook and Carry Oval Slow Cooker
Before, I use the regular scissors in the kitchen. I wasn't aware that there are scissors specially designed for the kitchen not until my mother in law gifted me one!
Kitchen scissors differ from the regular scissors because of their large size and serrated blades that are designed to cut through meats as easy and precise as possible. It can also be used to shred spices and herbs, remove the roots and stems of vegetables, cut tortillas and doughs, and to trim bread into smaller pieces.
MAIRICO Ultra Sharp Premium Heavy Duty Kitchen Shears
You will never know how convenient a garlic press can be until you buy one and I am so glad I did buy one. A garlic press is a cooking device used to press garlic cloves through small holes in order to mince the garlic or extract its juices and oils.
It is a more convenient and time-saving alternative for mincing garlic using a knife. All that you have to do is press the garlic cloves into it, press it and voila—you already have minced garlic. It's like magic!
ZYLISS Susi 3 Garlic Press
Kebley High-End Garlic Press
Alpha Grillers Garlic Press and Peeler Set
Silicone baking mats are a more economical alternative to parchment paper. Initially, you would think that they are just used in baking cookies, but when I got mine, I discovered that they could be used for a wide array of purposes too.
I use it when I roast veggies, bake pizzas, bread, and potatoes, and I even use it when rolling and kneading the dough.
StarPack Silicone Baking Mat Set
Silicone Baking Mat - Set of 3 Half Sheet
Silicone Baking Mat Sheet Set
16. Pizza Stone for Grill
The pizza stone is the best cooking tool for pizzas because its porous nature can absorb moisture and ensure that the crust will turn out crispy.
I bought a pizza stone that can be used not just in the oven but on the grill as well, and I highly recommend that you get one also. You may think that this one is a luxury and not actually an essential but once you have tasted a grilled pizza, you will agree with me when I say that this is a must-have! A grilled pizza gives off a smoky flavor that you can't replicate using an oven.
Old Stone Oven Rectangular Pizza Stone
Pizza Stone for Oven Baking Grilling
Weber 8836 Gourmet BBQ System Pizza Stone
You may already be satisfied with pot holders, but if you want to be more vigilant, an oven mitt is what you need. An oven mitt is fabric gloves that are silicone treated to make them water and stain resistant. It is also incorporated with heat insulation to further protect your hands from heat.
I use mine in removing the pan from the oven, transferring pots, and handling frying pans and frills.
Extra Long Professional Silicone Oven Mitt
Black Silicone Oven Mitts
This is a type of circular baking pan, but it has one feature—removable sides. Because of this feature, it is perfect in making food recipes that have delicate layers like the graham crust of cheesecakes and tortes. It can also be used in whipping up ice cream cakes, big muffins, pies and many more.
Make sure that you opt for a springform pan with an advanced non-stick coating so you can quickly remove the items that you will bake in it without any worries that it will stick.
Baker's Secret 1107163 Signature Springform Pan
Hiware 7 Inch Non-stick Springform Pan
Springform Pan, MCIRCO 7" Non-stick
This is a mug-like kitchen equipment that has mesh bottom. It is primarily used to sift ingredients like flour or sugar. It can also add air to these ingredients in order to even out their texture and make them lighter.
There are many designs of sifters in the market but what I use is the one that with the classic hand crank design so you can sieve the ingredients a lot easier. You should also go for a sifter that has volume markings on the inside so you wouldn't need to separately measure the ingredients before putting it on the sifter.
Norpro 3-Cup Stainless Steel Rotary Hand Crank Flour Sifter
Kitchen Winners 3 Cup Crank Stainless Steel Flour Sifter
Bellemain Stainless Steel 3 Cup Flour Sifter
I am a health conscious person, and I try as much as possible to cook dishes the healthy way and so instead of frying and grilling my dishes, I choose to broil them instead, and that is why having a broiler pan is at the top of my list of kitchen essentials.
Since broiler ovens use direct heat to cook the top or outer surface of the food, it can be used in cooking dishes that would require a tasty, browned crust. But since it delivers high heat and can cook foods in the fastest way possible, it would be best that you avoid broiling thick meat slices. It would work best for thinly sliced meat pieces.
Range Kleen Porcelain Broil and Bake Pan
Bake, Broil, and Grill 3-Piece Pan Set by Granite Ware
Norpro Stainless Steel Broil / Roast Pan Set
Every millennial knows what a prep bag is and if you have switched to a healthy lifestyle just like me, then you can never live without a meal prep bag. These bags are used to manage your diet the most efficient, organized and fastest way possible.
Do you remember the lunch boxes that you used way back then? Well, that is exactly how meal prep bags work, but the big difference is that it offers more compartments and comes with insulation to keep dishes hot and drinks cold. The meal prep bag that I use is the one that has a shaker so I can quickly prepare my smoothies and protein shakes.
ThinkFit Insulated Lunch Box
6 Pack Fitness Innovator Mini
EDC Meal Prep Bag by Evolutionize
Let's admit it—no matter how much you love cooking—you hate the tedious act of cutting vegetables. Aside from the fact that it makes chopping vegetables easier, using this machine also ensures that you can produce vegetable slices that have the same width and size.
The vegetable cutter can surely provide you a way to create vegetable and fruit salad as easy and less time consuming as possible.
Onion Chopper Pro Vegetable Chopper by Müeller
Vegetable Slicer Dicer WEINAS Food Chopper Cuber Cutter
Mueller Austria V-Pro 5 Blade Adjustable Mandoline Slicer
I love tofu, but I always have one complaint about it—it has no flavor! No matter how hard I try to marinate it or inject some flavor into it, it remains devoid of flavor. And just before I lost all hope, I found the simplest solution—the tofu press.
This small kitchen equipment can press water out of the tofu and improve its texture and since the tofu no longer has excess water in it, it can be able to absorb flavor pretty well.
The best type of tofu for this press is the firm to extra firm tofu so it can withstand the pressure and won't easily break during the process.
Gourmet Tofu Press by TofuXpress
Super Tofu Press by Tofu Presser
It would be difficult to cook the perfect rice without the help of a rice cooker. This electric kitchen appliance is used to steam or boil rice. But in addition to cooking rice, I also use it in cooking eggs, oatmeal, mashed potatoes, creating fondues, steaming vegetables, and making cake-sized pancakes.
The type of rice cooker that I used before is the one with a lever that you need to push to start the cooking process. I advise you against choosing that type because the lever easily gets broken and it can be a bit difficult to repair it.
Instead, I recommend that you choose one with digital controls. In addition to that, you should also consider the accessories included in the set. Some useful accessories include a serving spatula, measuring cup and a steam tray.
Aroma Housewares ARC-914SBD Ricer Cooker
Zojirushi NS-ZCC10 Neuro Fuzzy Rice Cooker
Tiger Corporation JBV-A10U-W 5.5-Cup Micom Rice Cooker
25. Stand Mixer for Bread Dough
Have you tried manually mixing doughs and creams? I did and it took me hours before I was able to achieve the desired effect. Aside from the time wasted, my arms were sore for the 2 2 days that followed.
I learned my lesson (and you should too!) so I invested in a high-quality stand mixer that can make kneading, mixing and whisking as hassle-free and painless as possible.
Today, stand mixers come with different attachments. If you love homemade bread, I suggest that you choose one that has a dough hook so you can also use it to knead your dough.
KitchenAid KSM150PSAQ Artisan Series 5-Qt. Stand Mixer
Hamilton Beach 63232 Eclectrics All-Metal Stand Mixer
KitchenAid KSM150PSER Artisan Tilt-Head Stand Mixer
So there you go—these are the kitchen essentials for the home cooks. I know that seeing this list can be overwhelming and buying all the items in this list can surely cost you much. But don't fret! I am not saying that you should buy them all at once.
For your information, you do not have to buy everything on the list. You can just pick ones that you think you need the most. You can then buy all the others as you go along.
I hope that this article has been useful for you. If it was, please do share them with your friends. If I missed out a few kitchen essentials that you think should be included in the list, please feel free to point them out to me in the comments section. I would love to hear from you!