I can't imagine my life without my Crock Pots. That is right, I said pots, as in plural. They are such an important part of my life that I have three of them, and am looking forward to adding to that collection!
I currently have a 6 quart, a 4 quart and a divided 1.5-quart crock pot. And, like my three children, I love them all for their own unique traits. I could never pick a favorite.
So for this article, I want to help you choose the best Crock Pot for your home. The overall general use Crock Pot would be the 6 quart. So for this search for the best Crock Pot, I picked 5 top rated 6 quart models to review.
Why You Need a Crock Pot
In this day and age, there are very few things that I have encountered that save me time, save me money, and help keep me healthy. Those things are almost always mutually exclusive. I don't care if you are a busy parent, a couple, or someone living alone, you can benefit from having a Crock Pot in all three of these ways. Crock Pots allow you to prepare healthy, inexpensive meals, even on your busiest day. Actually, especially on your busiest day.
How Can a Crock Pot Do All of This?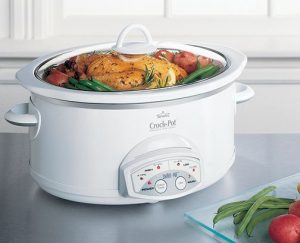 Crock Pots allow us to put all of our ingredients in the dish, set the temperature, and then go on with our day. Knowing that a delicious home-cooked meal is waiting for us, saves us from the temptation to pick up take-out on the way home. Which saves us money and allows us to have more control over, and make healthier choices about the food we eat.
Crock Pots are excellent for making full meals, side dishes, soups, dips, even desserts, and drinks. The number and variety of recipes you can prepare in your Crock Pots are endless.

Tips for Using Your Crock Pot
Here are some of my hard-learned tips for avoiding Crock Pot cooking disasters.
Update your cooker
If you are using the same Crock Pot your mother received as a wedding present then it is time for you to get a new one. It is fantastic that Crock Pots last so long, literally for generations, but they really aren't too pricey, and the improvements of the newer models really do enhance their ability to make your life easier.

Have a removable bowl
This is a continuation of tip number one. If you are using an older Crock Pot, then you know the problem of trying to scrub the entire thing (electrical cord and all) without immersing it in water. Having the removable bowl is one of the most important features as far as loving your crock pot goes!

Use a liner or cooking spray
This is one of my most valuable tips!
, Especially if you are cooking something sugary or cheesy. Try lining the bowl with a
Crock Pot liner
. If you don't have a liner on hand, just spray the bowl with cooking spray. This will make clean up a ton easier!
Know your Crock Pot
Not all Crock Pots are created equal. Know that it may take a few attempts before you really know your Crock Pot's temperament. Some Crock Pots tend to be really hot, while others take a while to get going. Once you have cooked a few items according to recipe recommendations, you will get the hang of how your Crock Pot performs best.

Pick the right size
If your Crock Pot is too small for all of your ingredients, you run the risk of your food not getting cooked through and possibly even causing food safety issues. If your Crock Pot is too large your recipe may not have enough liquid and you might end up overcooking or even burning your dish.

Lockable lid
Lockable lids are a must if you ever need to take your Crock Pot dish to a get together with family and friends. I have tried to take older Crock Pots with me and have rarely successfully transported the hot dish without messy spills and on occasion a burn. Nothing starts a party off on the wrong foot more than a ruined dish, a dirty outfit, and a burn. You may not have to use this feature often, but when you do, you will thank me!

Start with Reliable Recipes
Now I love
Pinterest
as much as the next person, but more than once I have been burned, actually it was my dish that was burned, by trying one of the fun new recipes I have found there. When starting Crock Pot cooking, I can't recommend enough using tried and true recipes you can trust. My mother's old
Betty Crocker Slow Cooker
recipe book has, thankfully, been updated to a handy dandy website. Other great sources include
Allrecipes.com
and the
Crock Pot
.
Slow Cooker vs. Crock Pot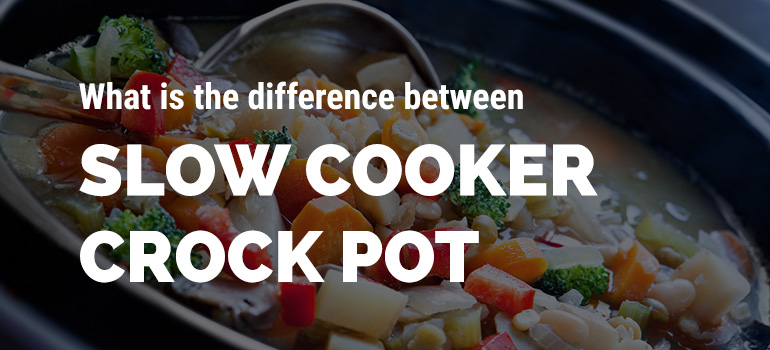 So you might be asking yourself, "What is the difference between a slow cooker and a Crock Pot?" The answer, not much. A Crock Pot is a slow cooker. It is arguably the most famous brand of slow cookers, and certainly the brand of slow cookers that made slow cooking at home famous and accessible for modern working families.
For my review of the best Crock Pots, I am actually going to review a couple of other brands' slow cookers, which is why I thought it was important for me to take a moment to explain the difference. Basically, like how Kleenex is interchangeably used for any brand nose tissue, Crock Pot is often used to refer to any brand slow cooker.
If you are searching for Crock Pot recipes on the web, don't forget to try searching slow cooker recipes as well for more results.
Recommended Reading:

The Best Crock Pot
As I mentioned in the introduction I have narrowed this product review down to 6 quart Crock Pots (a.k.a slow cookers). Let's begin!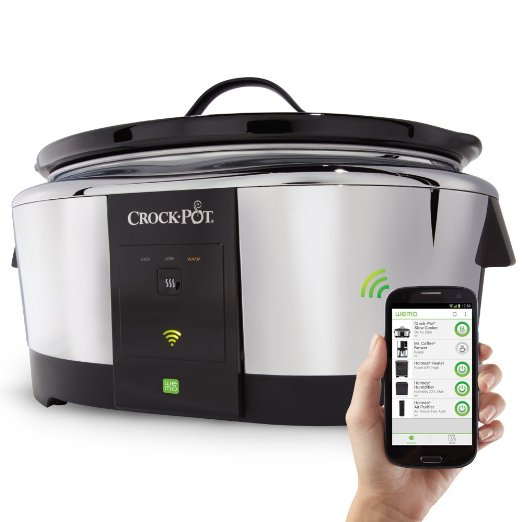 Pros
It is dishwasher safe.
It has three temperature settings (high, low, and warm) and last but not least.
It is Wi-Fi enabled allowing you to control it remotely.
Cons
The Wi-Fi feature doubles the price of the more traditional Crock-Pot.
It also doesn't have the lockable lid that has saved my car and my outfits from many frustrating messes!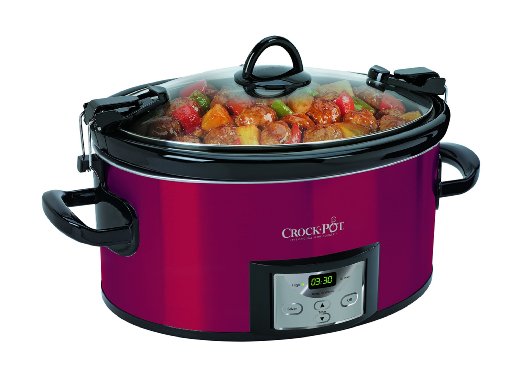 Pros
This Crock Pot has a dishwasher safe removable dish.
A locking lid and three temperature settings (high, low, and warm).
It is programmable for up to 20 hours of cooking time and it automatically switches to warm when the cooking time is complete.
Cons
There are some complaints that the "warm" setting is too hot and if you are not careful, can burn or ruin your dish.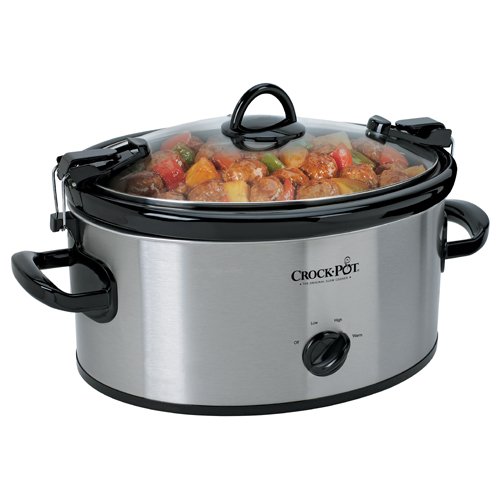 Pros
This Crock Pot has a dishwasher safe removable.
A locking lid and three temperature settings (high, low, and warm).
The price is under $30.00.
Cons
The heat settings are not programmable, so the temperature you choose at the beginning will not change unless someone is available to manually change it.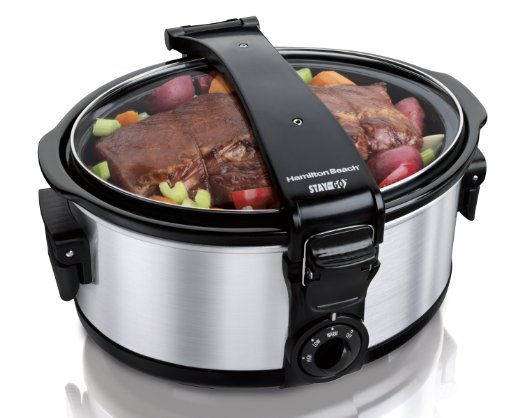 Pros
This Crock Pot has a dishwasher safe removable dish.
A locking lid and
Three temperature settings (high, low, and warm).
It has a hinged lid that is removable for the dishwasher.
The carrying handles fold down flat to save room in your cupboard.
The price is under $30.00.
Cons
There is no top handle on the lid making it hard to keep your hands away from the steam when removing the lid.
There have been a few issues with the lid shattering from the heat while cooking.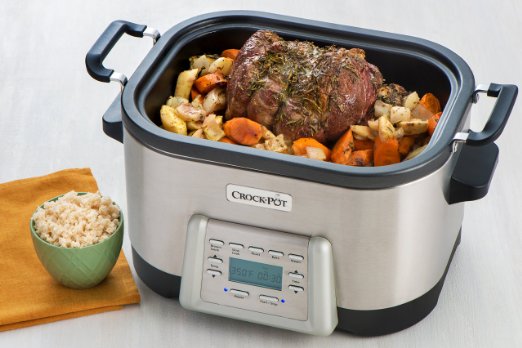 Pros
This multi-cooker version of the 6 quart Crock Pot has 5 touch settings to slow cook, sauté, roast, bake, and steam.
It has a touch screen that allows you to program the cooking types, times and temperatures.
It includes a dishwasher safe rack that can be used for steaming and roasting.
Cons
More complicated cooking temperatures and features increase the likelihood of something breaking.
If the power goes out, the cooker is unable to pick up where it left off, leaving the food undone or the user guessing where to pick up in the cooking process once they realize the cooking was interrupted.
The price is over $100.00
The Best Crock Pot Award Goes Too…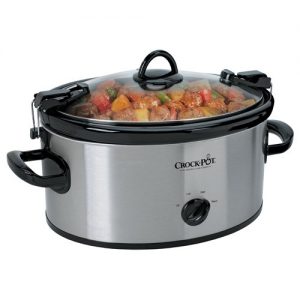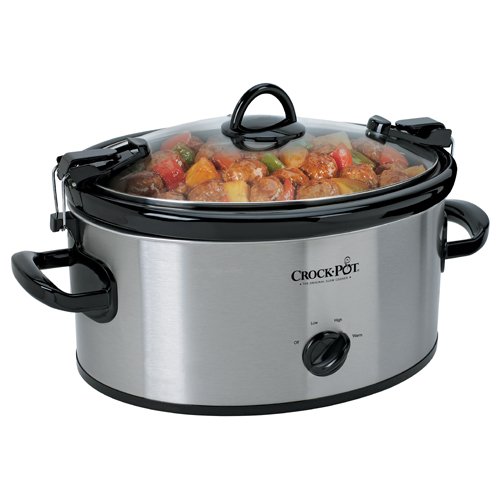 For me, the award for the best crock pot is easily given to the Crock Pot Cook'N Carry 6-Quart Oval Manual Portable Slow Cooker.
The reasons this is my clear favorite include that it is uncomplicated. It works with almost all slow cooker recipes you can find with its simple high, low and warm settings. It has the removable, dishwasher safe dish, and of course (my favorite feature) the lockable lid. I love my Crock-Pot because it makes cooking easy.
The program features of the other models listed above aren't really hard, but they are something that can easily get messed up by simple human error, or by the power going out in your home. The manual settings are hard to mess up and as long as the power doesn't stay off for hours, start right back up cooking when the electricity is restored.
In addition, anytime something has a computer chip, it also has more chances for things to stop working. For my life and for my cooking needs, it is definitely a case where less is more.