Wouldn't it be so amazing if you can use one kitchen gadget to cook different types of food, all at the same time? Wouldn't it be so convenient to use one cookware, prepare an entire meal with less cleaning up?
Luckily, griddles are now here to make our cooking experiences a whole lot easier! Now, if you are planning to buy one, you should strongly consider buying the electric ones. Buying the best electric griddle is not that hard to do. All you need is to make sure that you know which type you are looking for, determine how much you can spend, and how much cooking you would like to do with it.
Why I Love My Electric Griddle
There is something about a fully-loaded breakfast platter of crispy bacon, sunny-side-up eggs, and fluffy pancakes that make me so excited and giddy. I think it is the homey and comforting feeling that this childhood favorite usually brings. Unfortunately, making this hearty breakfast can be a pain to pull off.
When I first got my electric griddle, I immediately fell in love with it. Making breakfast became easier and a lot faster! And I am positive that once you have yours, you might think why it took you so long to get one! Here are some of the reasons why I recommend you to have one for your home:
A large cooking surface.
This is one of the reasons why I got one. My family is growing and I need a way to cook large batches of food at the same time.
Even cooking.
Since the heat is evenly distributed, you do not need to worry about one-half of your pancakes burning while the other is perfectly cooked.
Less Fat.
Griddles are mostly non-stick to help lessen the fat that you use to cook. There are also griddles with drip trays or grease wells that collect excess oil.
Less stove time and less cleaning up.
You can use your griddle and lessen your stove time as well. You can also cook using both, saving you more time. A large griddle can accommodate more food, so fewer pots and pans to clean.
Keep warm function.
My griddle has a warming function, so I can warm up some buns, muffins, an entire meal, and yes even plates!
Types of Electric Griddles: Which One Are You Looking For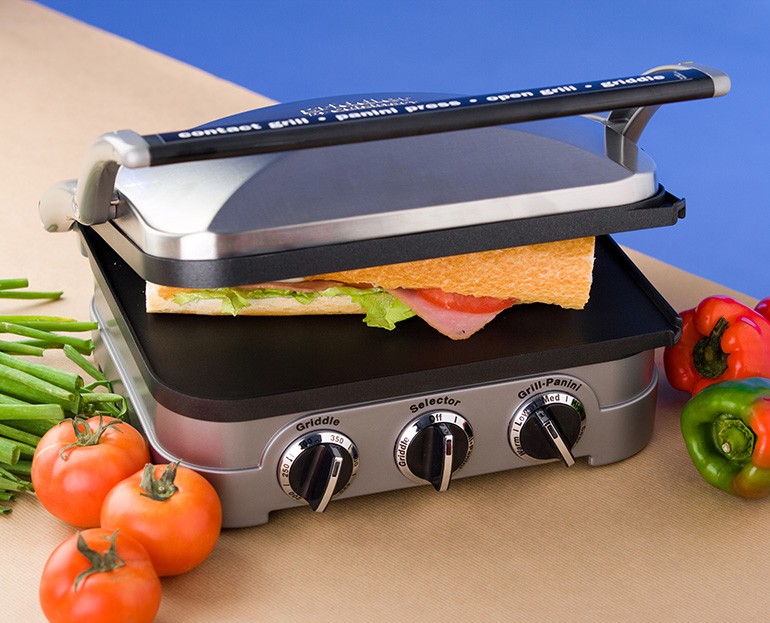 An electric griddle provides you with a flat surface to cook your food evenly. It offers a consistent flow of heat that spreads over the surface. Electric griddles have temperature controls which range from the basic high-medium-low settings to the sophisticated ones with specific measurements. There are griddles that come with 2 cooking surfaces – a flat surface and another one with grills or grates. These features depend on the type and model of electric griddle that you choose.
There are 2 types of electric griddles that you can choose from:
Basic Electric Griddle
This type only comes with a flat griddle plate. Heat is evenly distributed through the plate that allows you to cook your food evenly. While some do not have presses, there are basic griddles that come with a griddle press. Some also look like sandwich or panini presses but without the grills or grates.
Electric Griddle and Grill Combo
This griddle is great for those who like to cook steaks and burgers. This type usually comes with plate inserts that have grill grids which allow you to cook like you are having an outdoor barbecue.
What to Look for when Buying an Electric Griddle
Buying the best electric griddle is easy. You can refer to this buying guide and you will have an idea on how to really choose the right one for your home. Here are some of the features that could really help you out:
Cooking Surface or Grilling Plate
Flat or with grids, the surface need to be non-stick. Not only will this make cooking meals easier, it will also make sure that you won't have a hard time cleaning up.
Size
If you are looking at cooking large batches of food, then you might want to choose griddles that have large surface areas. You can also opt for smaller griddles if you're not planning to make pancakes or chops for more than 4 people.
Grill inserts
This is an added feature for some electric griddles. Most of the time, the units come with just one flat griddle plate. But for those who like grilling, there are those that have extra grill plates.
Heat Controls
This feature will give you more control over the temperature that you will use. Some come with dual thermostats, keep warm functions, and the ability to cook 2 different dishes using different temperatures.
Cost
Budget is really important. Choose the one that meets your budget and the features that you are looking for. You also have to set a little breathing room for your budget, since prices may vary – depending on the size and features of the model that you are buying.
Drip trays or oil wells
You may also consider buying a model that comes with a drip tray or a grill well to catch all the excess fat that comes out during the cooking process.
Choose the Best Electric Griddle: 5 Griddles that We Recommend
We tried and tested different models, brands and types of electric griddles at home. And here are 5 of the ones that we suggest that you try.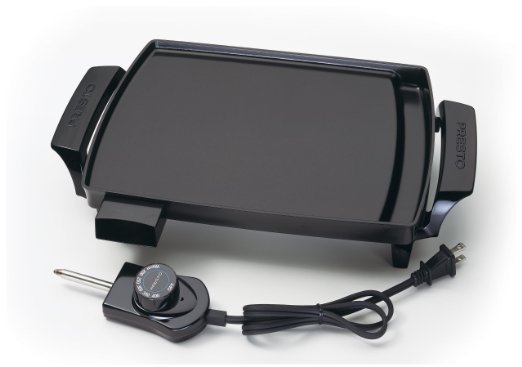 The Presto 07211 Liddle Griddle is one of the most recommended electric griddles we've tried, because of its compact features. But do not be fooled by its size! This model offers more than what you actually see.

Pros
It's 8 ½ x 10 ½ inch griddle is perfect for cooking small batches or for warming up small amount of food.
The griddle is made of non-stick cast aluminum which can guarantee even cooking.
This unit has an automatic temp control to help you cook your food perfectly.
It has a drip well that helps automatically channel the excess fat away from the food.
Perfect for cooking for 2 to 3 people.
Cons
While there is a drip tray, if you are planning to cook really fatty or greasy food such as bacon, you may want to empty it out to keep the grease from spilling.
Metal utensils can scratch the cooking surface.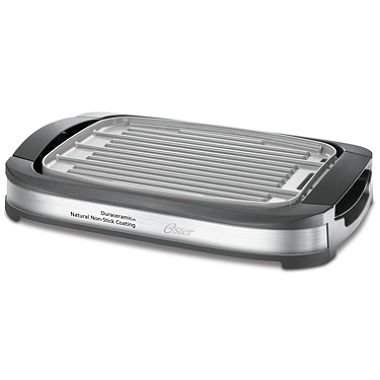 The Oster Reversible Grill Griddle with ceramic Non-Stick Coating really be considered as one our favorites. The features are perfect for those who love to barbecue or grill.

Pros
This offers a large cooking surface which allowed us to make 6 pancakes and cook 3 eggs at the same time! You can fit about 7 average sized burger patties and cook them to perfection as well.
It comes with a reversible cooking plate or surface. A griddle on one half and a grill on the other.
It's ceramic coating guarantees non-stick cooking and chemical-free food.
You can cook without using any form of oil or grease.
Metal utensil-friendly.
The drip tray is removable and the entire plate is easy to clean. The plates are dishwasher safe.
The temperature control is also removable!
Cons
It is not compact. Finding a good place to store it may pose as a challenge.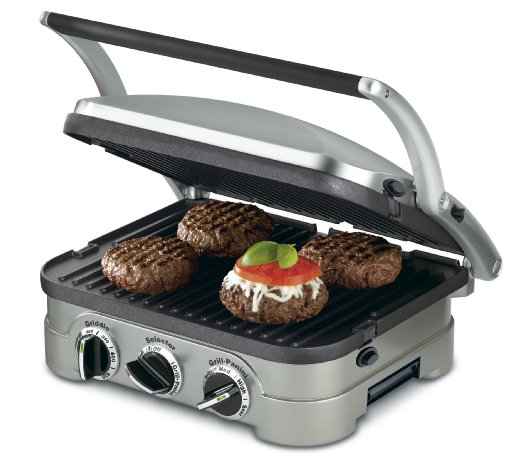 The Cuisinart GR-4N 5-in-1 Griddler is a great holiday gift for loved ones and a very good cooking appliance for your own home.

Pros
This is a 5-in-1 countertop electric griddle that is versatile and easy to use. It comes with different sets of plates such as the flat plate for both top and bottom and grilling plates.
You can use both top and bottom, open it up and use it as a full grill or griddle.
There is also a half grill and half griddle option which allows you to cook your bacon on one side and your eggs or pancakes on the other.
You can make paninis, grilled cheese, and French toasts.
Easy to clean, non-stick surface.
Good value for your money.
Cons
The cooking surface is not big enough even if you use both sides. We had to cook in batches when we cooked burgers and steaks.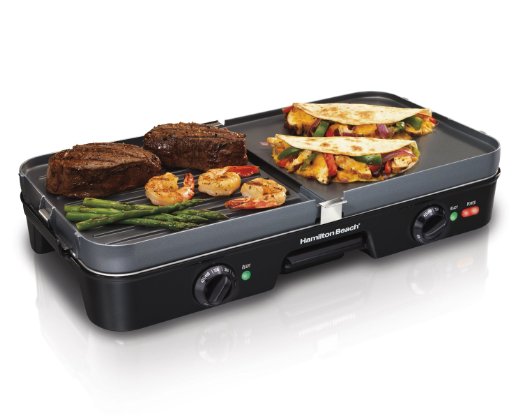 Hamilton Beach 38546 3-in-1 Grill/Griddle offers the versatility of other multi-functional griddles for less than the price of other brands.

Pros
It comes with 2 reversible cooking plates – one for grilling, the second for griddling.
The price is relatively affordable compared to others.
There is a center grease channel to collect the excess oil as the food cooks.
The grids are dishwasher safe.
Cons
The reversible plates are not really non-stick. We found that this is a bit of a letdown.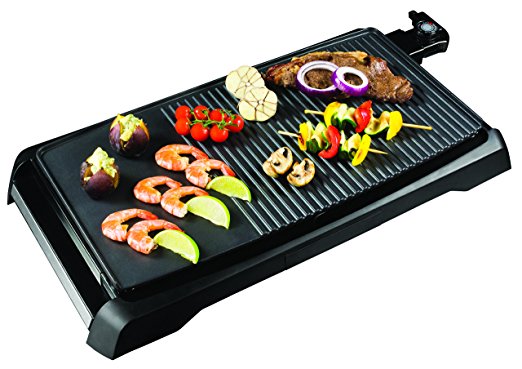 Health and Home Cool Touch 21" Nonstick Electric Griddle can surely be a fantastic kitchen ally for those who are trying out an electric griddle for the first time.

Pros
It is not too large nor too compact for cooking and storing.
The price is relatively friendly as well.
The non-stick grill and griddle plates are dishwasher safe.
The temperature controls are adjustable and can be set based on your cooking preference.
Cons
Unfortunately, only a small section of the cooking surface has a flat griddle. You really have to cook your pancakes or heat up your toasts in really small batches.
Final Words – Wrapping it up
Choosing the best and the most suitable electric griddle requires careful research and a lot of thinking. But like we said, it is not that hard to come up with a really good decision.
In the end, we chose the
Oster Reversible Grill Griddle with ceramic Non-Stick Coating
as the one that we can highly recommend. It has a large cooking surface which is perfect for preparing food even for a large group of people. While it is pricier than the other ones on the list, its performance and features may satisfy even the pickiest of shoppers.
Whether you are a newbie cook or you are an experienced griddler and griller, having an electric griddle will not only help you prepare meals faster and easier; it will also help you become more experimental and adventurous in the kitchen. Electric griddles will surely make you brave enough to tackle that grilled recipe that you've been so eager to make, this time with less worries, zero stress and cooked in a healthier way!