Do you love lasagna? Well, who doesn't right? But as we all know, perfecting a lasagna dish is not as easy as you think. But I will let you in on a little secret—did you know that the secret to achieving a perfect lasagna recipe lies not just in the quality of its ingredients but the quality of its bakeware as well?
That's why if you wish to whip up a great tasting lasagna dish, you need to find and use the best lasagna pan! But how do you do that? What are the things you need to know to find the perfect lasagna pan? Well, this article will tell you everything you need to know about lasagna pans!
Types of Lasagna Pan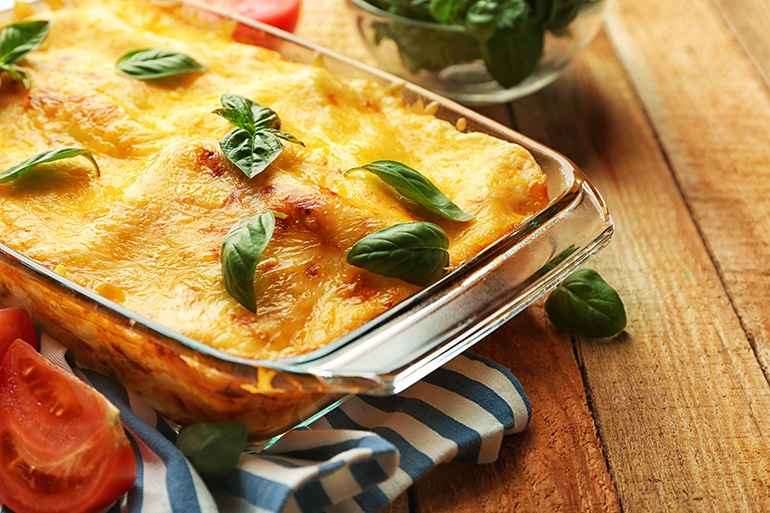 First things first, you have to understand the fact that lasagna pans come in different types. You need to familiarize yourself with what these kinds are so you can choose which one will best suit your needs. Here are some of the information you need to know:
Things to Think About When Buying A Lasagna Pan
Now that you know what the common types of lasagna pans are, the next thing that we will tackle are the different factors that you need to take into consideration to choose the best lasagna pan. These are as follows:
Material
Just like the types, lasagna pans are constructed using different materials too. Keep in mind that each and every material used comes with its own pros and cons and you should be aware of it to know which one would suit your needs the best.
Aluminum
The first material is aluminum. It is liked by many because it is an excellent conductor of heat. In addition to that, it is durable, lightweight and scratch-resistant. However, it does not evenly distribute heat and tends to have dents and holes when exposed to acidic ingredients like tomatoes.
Ceramic
Second, there is the ceramic. This material gradually heats up and is not affected by the acidity of a tomato sauce. They are glazed which prevents the pasta from sticking. Plus, it can also function as a serving dish because of its look. However, this material is prone to breakage.
Glass
The third material is glass which is non-reactive and has the same aesthetic appeal of ceramic. It also distributes heat evenly and is the perfect material for achieving a slightly burnt cheese topping. But just like ceramic, these have the tendency to break.
Cast Iron
Fourth, we have the cast iron pans which are known for its versatility as these can be used in the oven, stove or grill. However, it can be too heavy and would need time to be pre-heated when cooking lasagna.
Stainless Steel
Fifth, there is the scratch-proof and rust-resistant stainless steel. But it is a poor conductor of heat.
Silicone
Lastly, we have the silicone pan. This has a non-stick finish, BPA-free and foldable.
Shape and Lasagna Pan Sizes
Another thing to consider is the shape of the pan. Of course, the apparent pan shape for a lasagna is a rectangular or square one. But the question you need to answer about this is—how deep and long should you get?
The key to a perfect lasagna is to build as many layers as you can so you must opt for one that is at least 3 inches deep. When it comes to length, most lasagna dishes are 10 inches long so that would be a good start.

Serving Size
A rectangular lasagna pan with the dimensions of 5" x 8" is perfect for 2-4 people. On the other hand, a pan with the dimensions of 9" x 13" will yield a dish that is perfect for at least 6 people.

Ease of Handling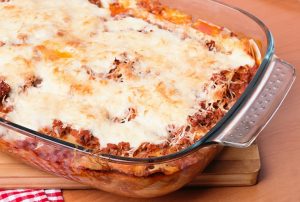 Baking is not as easy as it seems. After all, you will be dealing with the hot temperature of the oven. That's why you need a baking pan with either a lip style edge or handles for easy handling.
If you have limited space, opt for baking pans with handles that can be flipped up and down for easy storage. You can also opt for ones with molded handles.

Maintenance
Another thing to keep in mind is the baking pan cleaning process. If possible, opt for one that is dishwasher safe. A pan with a glossy finish is also much easier to clean. If you opt for ceramic or stoneware pans, make sure that it has no rough areas as those are hard to clean.
The Best Lasagna Pan Review You Should Read
Now that you know what are the things to consider when looking for the best lasagna pan, are you ready to discover information about the 5 best baking pans in the market today? Well, wait no more! Here are some of the pros, cons, and information about each product: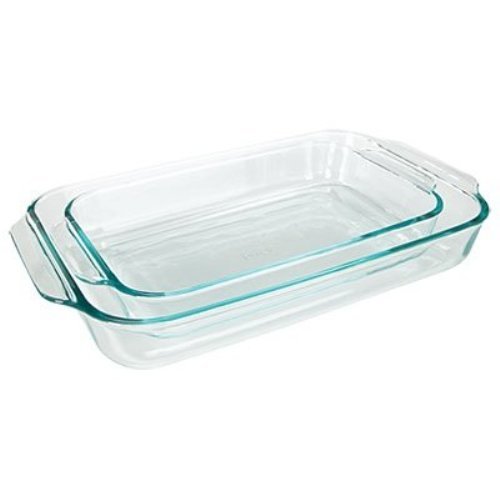 Manufactured by the Pyrex company which has been a household name for 80 years, you are rest assured about this baking dish's quality. Made from a durable and high-temperature material, the baking dish is safe for use in the oven and microwave, storage in the refrigerator and maintenance in the dishwasher.
In addition to that, it is also known for its non-porous surface which will not absorb the flavors and odors of the previous dishes that have been baked there. It is also stain-free and comes with 2 years of warranty.
Above all, the baking dish comes in standard sizes (2-. 3-, and 4- quartz) and shapes (oblong and square) that will allow the user to whip up not just the ultimate lasagna recipe but all types of baked dishes as well.
However, since the baking dish is made of glass, it has high risk of breaking.
Pros
Made from high-temperature and durable material.
Safe for use in microwave, oven, refrigerator and dishwasher.
Non-porous surface that does not absorb odors and flavors.
2-year warranty.
Comes in versatile and standard sizes and shapes.
Cons
High risk of breaking.
Prone to scratches.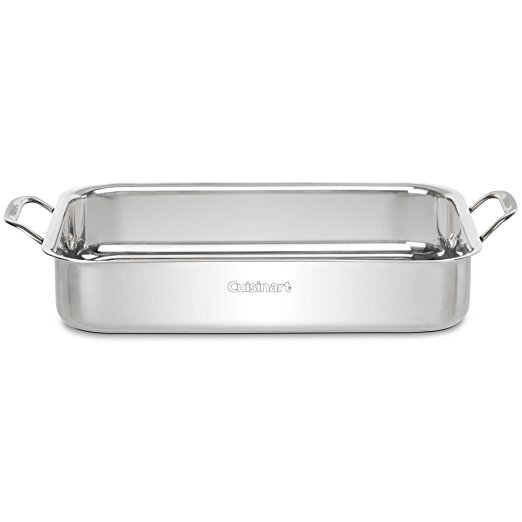 Featuring an interior and exterior mirror finish, the Cuisinart 7117- 14RR is one of the most stylish baking pans in the market. Its simple yet eye-catching design may also function as the perfect serving dish for parties and gatherings.
Even though it has a stainless steel interior, the material does not react with food so you can preserve the flavor and taste of your lasagna. The 14-inch rectangular baking dish fits in all standard ovens and is perfect for making multi-layered lasagna dishes.
For your safety and comfort, the pan has a riveted stainless steel side handles. The pan also comes with a stainless steel roasting rack.
But since the pan has an encapsulated aluminum bottom, its downside is it tends to warp when exposed to high temperatures.
Pros
Stylish interior and exterior mirror finish.
May also double as a serving dish.
The size is perfect for making multi-layered lasagna dishes.
Fits all standard ovens.
Stainless steel handles for safety.
Comes with stainless steel roasting rack.
Cons
May warp in extreme temperatures.
Not made of pure stainless steel.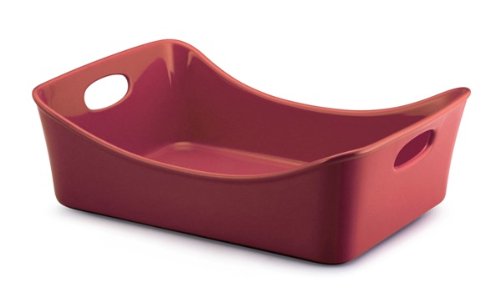 This baking pan stands above the rest because of its contemporary design, vibrant and fun colors and rectangular shape. The pan comes in 5 eye-catching colors including green, orange, violet, red and yellow.
In addition to that, the pan has a non-porous and glazed interior that prevents stain and chemical-food interaction.
For the ultimate convenience and versatility, the stoneware material is safe to be used in the dishwasher, freezer, microwave and oven (up to 500 degrees Fahrenheit). The pan features extra wide handles to allow the user to get a good grip on it from any angle.
The pan comes in a large 9 x 13 inch size that is perfect for making lasagna dishes in generous portions.
However, this fantastic baking dish does come with a disadvantage—it can be quite heavy.
Pros
Eye-catching and contemporary colors and designs.
Non-porous glazed interior which prevents chemical-food interaction and stain formation.
Wide handles for comfortable grip.
Size is perfect for whipping up generous portions of pasta dishes.
Dishwasher-, oven- (up to 500 degrees Fahrenheit), microwave- and freezer-safe.
Cons
A bit heavy.
Chips easily.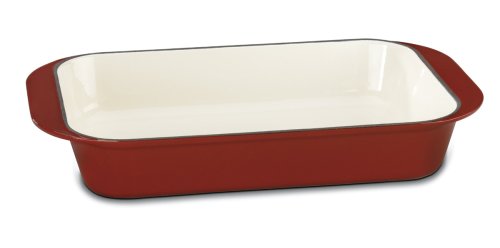 While all the other products listed here are known for their style and versatility, the Cuisinart Cl1136-24Cr is known for its incredible heat retention capabilities and even heat distribution. This is all because of its cast iron construction with porcelain enameled exterior.
The pan has a wide cast iron handles for comfortable and secure grip. It showcases a strong, durable finish with rich colors (blue and red) that is perfect not just for cooking but for serving as well.
It is also quite versatile as you can use it in the oven, stove or broiler. It is also easy to maintain as it is safe for use in the dishwasher.
In general, the baking pan is quite a catch, but because of the material used, the pan tends to chip.
Pros
Amazing heat retention and even heat distribution.
Cast iron construction with porcelain enameled exterior in rich colors.
Wide handles for easy and comfortable grip.
Can be used in stove, broiler, and oven.
Dishwasher safe.
Cons
Tends to chip.
Only 2 ¾ inch deep.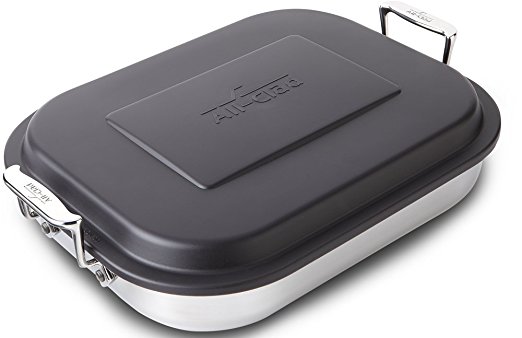 Since the baking pan comes with a lid, it is perfect for storing leftovers and transporting dishes.
Featuring a single-ply highly-polished stainless steel construction with an aluminum warp-resistant base, you can enjoy fast and even heating when using this pan. It is also considered to be more durable than traditional baking pans.
The cooking surface of the pan is stick-resistant and easy to maintain and does not react with food. The stainless-steel handles are riveted for safety and comfort. The pan is over-, broiler- (up to 600 degrees Fahrenheit) and dishwasher- safe.
The pan comes with a lifetime warranty.
The only downside of using this pan is that it is not deep enough (only 2 ¾ inches deep).
Pros
Aluminum warp- resistant base.
Stainless steel construction for even and fast heat distribution.
Stick-resistant cooking surface.
Easy to maintain.
Riveted stainless- steel handles for comfort and safety.
Broiler-, oven- and dishwasher-safe.
Lifetime warranty.
Cons
Only 2 ¾ inches deep.
Too heavy.
Conclusion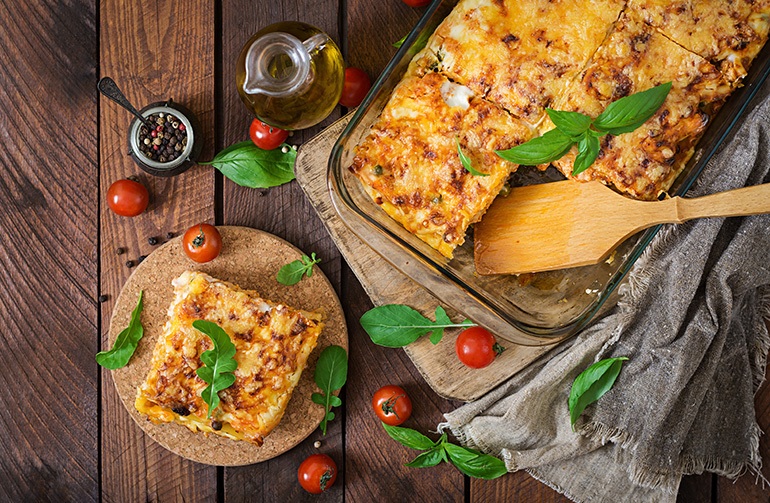 In order to make a great lasagna dish, you need to use a high-quality lasagna pan. But how would you know which is the best lasagna pan?
According to the information provided above, you need to consider the following factors when choosing a lasagna pan—material used, shape and size, ease of handling, serving size and maintenance.
Taking all these factors into consideration, we can say that
Rachael Ray Stoneware Pan
as it has all the features you need plus its size is perfect for cooking large portions of lasagna, and it can also double as a serving dish which is hitting two birds with one stone.
Do you have any questions? If you do, please do head to our comments section. If you found this article useful, please do share it with your friends!