If you were planning to live a healthier life all of the last year, but fried food got in your way, you are not alone. Half the people that make healthy eating their resolution falter before the first quarter ends. There is hope though; invest in the best cold press juicer and start a journey that will help you manage your cravings. True story!
So, before you venture online, we have covered some vital areas for you.
Which Kind Of Juice Do You Need?
Electric Vs Manual Juicers.
Most manual juicers are great with wheatgrass. They are, as the name suggests, hand-operated, and so emit minimal to no heat during the process. Wheat grass juice is hard to extract, and at the same time it loses nutrients too fast through oxidation, and so this stainless steel juicers work best. You can always take them camping with you. It's cheap too.
Electric juicers take the work off your hands, as all you will do is feed your ingredients and wait for the magic. Too bad you cannot use them off-grid.
Steel or Plastic? Or both…
Stainless steel lasts a lifetime, and you will not worry about banging it on the door or hard concrete. However, it will be heavy to carry if you are a frequent traveler, a thing that will not concern you with a small plastic cold-press juicer. You can find a compromise between the two materials, where part of the body is hard plastic and the vital parts are steel made.
What to Look For In a Cold Press Juicer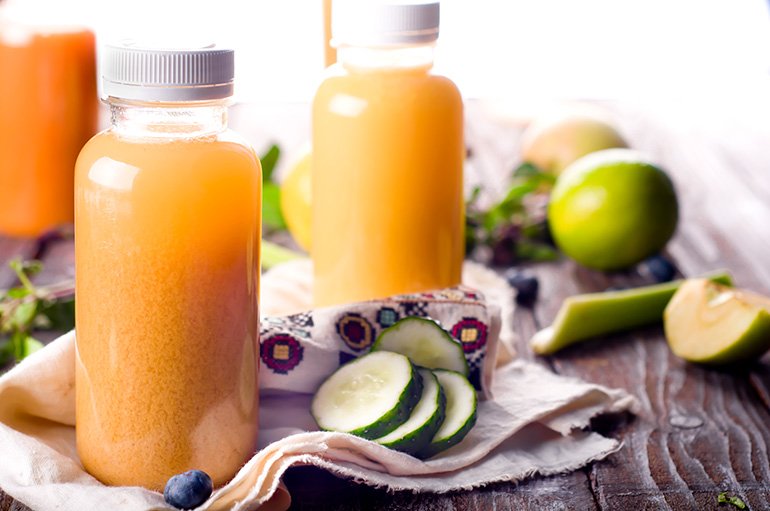 Fresh fruit and vegetable juices have not only been recommended as one of the best ways to ingest micronutrients, but Dr. Oz says it can beat cancer too. Using the best cold press juicer is even better because it keeps all the nutrients intact and the juice fresher for longer. Naturally, you will pay more for it, but your health is worth it.
The wider the chute, the easier it will be to feed ingredients into your juicer. Most people prepare their juice in the morning before work, when they have no time to prep food. The only prep you will need with a wide chute is to slice large pieces of fruit into two.
If your kitchen is small, you will only have space for appliances that occupy small footprints. You can still make a big batch of juice from a little juicer, and so you should only be concerned with space.
Masticating juicers are generally good for most fruits, but not all of them can handle delicate herbs (like basil and wheat grass) and leafy vegetables gracefully. Usually, a juicer that handles fruits well will have an easy time with other tasks such as baby food and sauces.
It takes a particular type of juicer to get the most out of wheat grass and barley. Before investing in one, think of what you need it for most and use that knowledge to make your decision.
This feature is a deal breaker for some users. As you may know, juicers should be cleaned immediately after use, or at least before the pulp dries. Why is this? Because the pulp is punishingly hard to clean when it settles in.
The best cold press juicer has few parts, which are all easy to clean. Better still, the plastic parts should be dishwasher safe for thorough cleaning occasionally. Typically, it should take you less than 3 minutes to clean.
A typical conversation is 60dB. The ideal cold press juicer should be in that decibel level or lower. The good thing about masticating juicers is that they are relatively quiet in their operation.
A few other matters that you may want to consider include your budget, brand, and wattage. Well, it is a fact that cost does not always equal value, and that the biggest brand is not necessarily the best. If you get a great bargain, then take it home and make some juice. If the best is the priciest, then it will be a worthy investment.
Some of the oldest brands have reinvented themselves and gained a reputation in the industry. Again, if your preferred brand, big or small, meets all the requirements, then go for it. The more important thing is that the above factors guide you.
– Recommended Reading: What is the Best Blender for Juicing and How to Choose?
Best Cold Press Juicer for the Money In 2018
Unfortunately, this juicer takes up a lot of space and it is quite heavy too. However, if you have lots of space on your counter, you will not notice.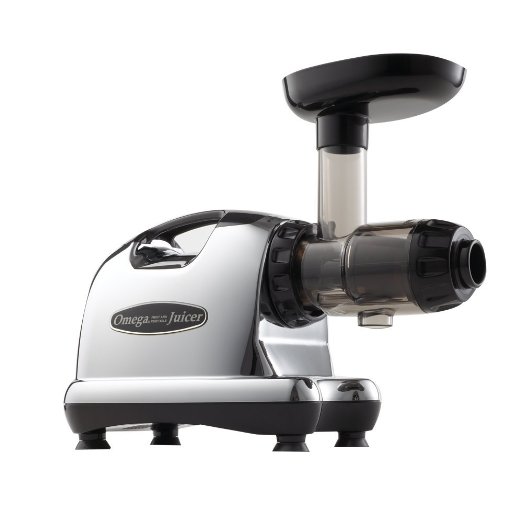 Pros
80 RPM (Revolutions per minute) will not heat up to oxidize the juice.
It has an auto pulp-ejecting system.
It is relatively quiet.
Cons
A small feed chute.
The auger wears out quite fast.
Masticating juicers have one thing in common-a low revolution per minute. This product from one of the biggest brands in kitchen appliances has an 80rpm, and it fits right with the lowest of them. This low heat ensures that the juice retains most of the nutrients and also stays fresh for up to 72 hours.
It takes hard vegetables head on as well as all the fruits you can imagine. Although the rpm is low, it does not translate to power and the speed of this juicer. You will have a neat amount of juice in minutes. It yields plenty of juice too, even having reviewers call the pulp insanely dry. The collecting cup is limiting, but you can always buy a larger one.
It is a multi-functional juicer, with the ability to grind coffee and spices, make baby food and butter from nuts, as well as extrude pasta.
This Omega juicer is not the best for leafy vegetables or wheatgrass, as it turns most of the leaves untouched. The pulp will have plenty of juice left in them. It cleans well, though, with all its removable parts being dishwasher friendly. It is quite large and heavy too, and you will need a dedicated station for it on your kitchen island.
It does not have an internal pulp-ejection system, and so you have to place a trashcan on the side or a small can to collect pulp. The upside is the continuous juice extraction.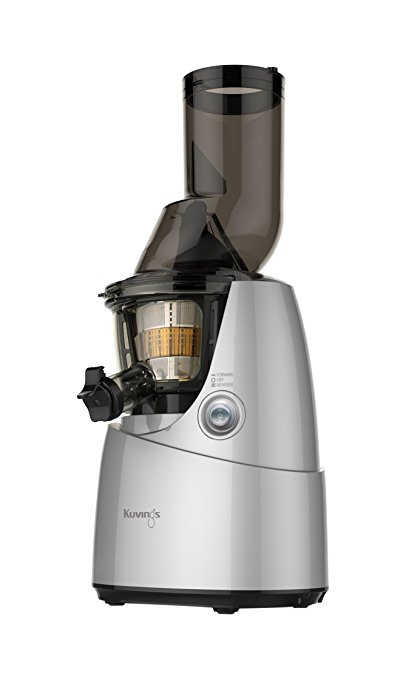 Pros
Large feeding chute eliminates intensive prepping.
It is relatively cheap.
It is quiet, with only 60rpm.
Cons
You will need as extra can for collecting pulp.
It is quite big and heavy.
60rpm is one of the lowest speeds in masticating juicers. At this speed, enzymes that are heat sensitive retain their foam and become available to the body as soon as you consume the juice. You can keep your juice for as long as 72 hours, and it will not separate, thanks to lack of oxidation. However, fresh is always best.
Kuvings Whole Slow Juicer measures and although that is not too much for width, it is quite tall. If you are challenged for storage space, it could b a problem. The good thing is that this bad boy has aesthetic appeal, and so you can always let it stay on the kitchen top.
Pulp comes out bone-dry unless you put in too many ingredients all at once. The chute will take in whole fruits too, but it will yield more if you cut them into halves.
Unlike most masticating juicers, it does well with leafy green vegetables. It extracts a reasonable amount of juice without ruining the flavor or messing with nutrients.
Unfortunately, it clogs up when you feed large pieces of ingredients. If you have the patience to chop apples and oranges into quarters, the problem will be solved.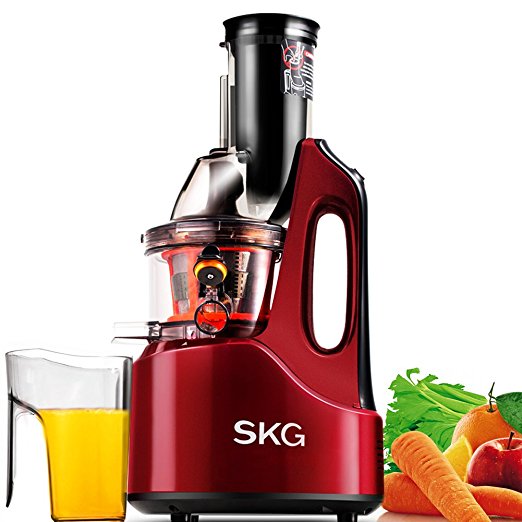 Pros
The 76mm chute reduces prepping time.
It is easy to assemble, disassemble, and clean.
It allows little or no oxidation.
Cons
Leafy greens do not yield as much as they should.
It is a pain to clean.
The extraction process of this juicer is impressively quiet; so quiet that you can hold a conversation over it. It has a wide chute that eliminates too much chopping, but you will still need to cut your fruits up a little to help the yield.
Juice from this 60-rpm juicer keeps fresh for longer and retains almost all the nutrients from ingredients. You will have to place a can to collect the pulp, but that makes for continuous juicing (seeing that you will not need to stop to empty the can).
The SKG Masticating Juicer has a sturdy auger and an automatic shut-off system for when it overheats or if it runs idle.
It is quite large and will certainly need enough counter space, but it is a worthy buy, especially for those who juice constantly.
While it does well with hard roots and vegetables, fruits, and nuts, leafy greens are not its strong suit. It does not yield much out of them.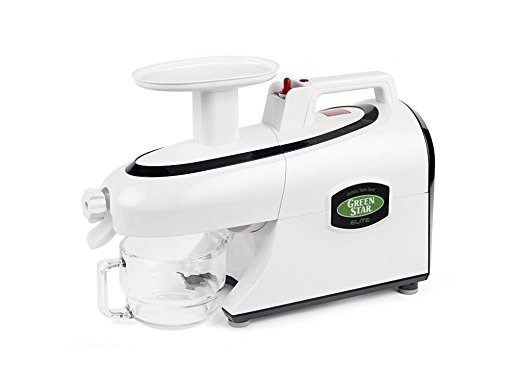 Pros
Solid construction.
Magnetic and bioceramic technology increases its yield.
It yields highly.
12 year warranty on whole juicer.
Cons
It works slowly as the motor is 250 watts.
The feeding chute is small.
The automatic pulp ejection system of the Tribest Green Star ensures continuous juicing that eliminates the delays caused when you stop to empty. Sure, this juicer takes up space, but it makes a beautiful statement on your kitchen counter.
It looks a tad intimidating when fully assembled, but this juicer only has a handful parts, which are easy to rinse (and dishwasher safe). Contrary to what you may think, the assembly is bliss, taking all of 2 minutes. Take down is even faster.
Although it is heavy (24lbs), the sturdy handle on the top makes it easy to carry. It squeezes the last drop of juice out of fruits and some vegetables. The fine filter attracts a lot of small particles, which makes clean-up a pain, but nothing a brush and some soaking will not remove.
Unfortunately, 200 watts is quite slow for those making large batches of juice. However, your patience will be rewarded with nutritious juice its best taste.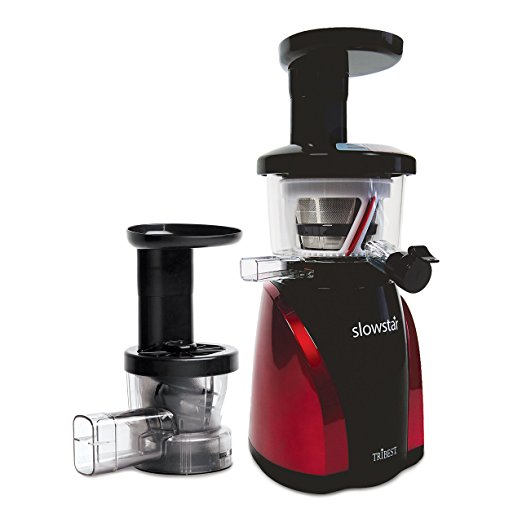 Pros
It extracts at 47rpm to retain heat-sensitive enzymes.
It yields highly, even with leafy vegetables.
The duo-blade double-edged auger is sturdy.
Cons
It is slow.
It is quite expensive.
At 47rpm, this juicer extracts juices at a low speed, which makes the product nutritious and oxidation-free. It is actually the best cold press juicer for its speed.
It is multi-functional, although without too many options. You can use it for meat mincing and making sorbets. The chute is relatively large, but you it will not take whole apples.
Its duo-blade double-edged auger is lasting and it ensures only as little pulp as possible makes it into the juice. The overall body is 100% BPA-free hard plastic, with a few parts being steel.
And the winner is…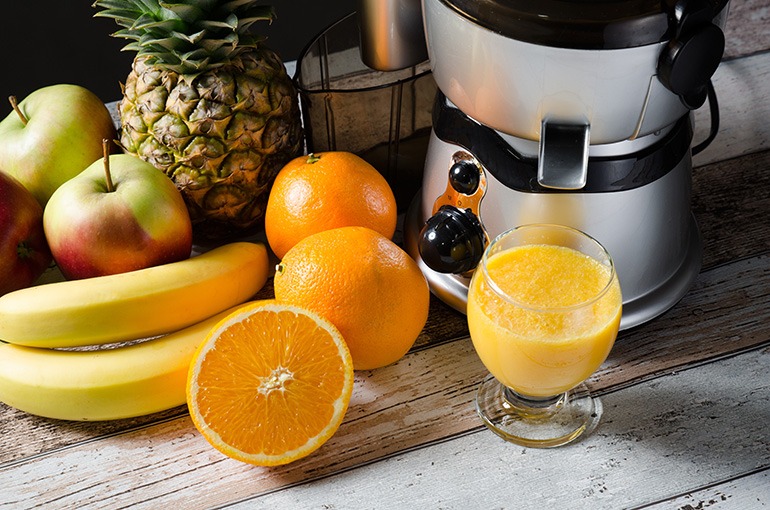 All the juicers we have reviewed are some of the best on the market. Granted, they are not the cheapest, but they give back value for money.
We choose Omega J8006 Nutrition Center Juicer as the best press juicer for its ability to yield highly, its solid construction, and its multi-functionality. With this juicer, you not only get highly nutritious juice, but also high-quality baby food, ground coffee and spices, and even pasta.
It does not break the bank, and the manufacturer throws in a decent warranty period (15 years). The auger wears fast, but you can replace it at a reasonable cost.