Canned chilis are a healthier alternative to fast food when you want to eat something on the go. They also have long shelf lives, so you won't have to worry about spoilage. You can even rely on them for a tasty meal or snack during emergencies.
Although canned goods have had a bad reputation and homemade chili is always preferable, most of our and our family's schedules and appetite don't permit us to make it at home. So, how can you find the best canned chili? This article will tell you everything you need to know!
What to Look for in The Best Canned Chili
The first and most important thing that you have to know is how to choose the best canned chili. Here are the criteria that you should consider or factors to look out for:
1. Tomatoes, Beans, and Meat
A great chili has the best combination of these big three ingredients: beans, tomatoes, and meat. Unless it's a vegetarian chili, the right blend of these three can make the difference between the best and the worst chili, even in the canned variety.
First, the sauce should be rich, hearty, fresh, and bright from the taste of real tomatoes. Second, the meat should not only be tasty but also fork-tender with a flavor that is not overpowering yet also not masked by the sauce. Lastly, the beans should be soft, rich, and creamy to add texture and substance to the chili, as well as make it super filling.

2. The right kind of spice
The other thing that made chili the dish loved by many is the delicate hint of tangy, hot, chili peppers that come with it. Everybody wants a punch of heat from their chili, but not too much to send you choking on the sauce or running for milk or water.
Of course, the spice level depends on your personal preference, but any level should be able to provide a punch that jives with the fresh, bright tomato flavor. There should also be a nice smokey flavor that does not send every other taste to retreat into the background.
Some chilis even have spice meters on their labels that can help you get an estimate of their spiciness. For a first-time buy, it might be best to go for medium or mild heat.
3. Soup Thickness
An ideal chili thickness falls right between a stew-like consistency to a solid chunk of tomato paste and beef patty. It should not be runny or watery like tomato soup. It should be the consistency of a thick and rich sauce, making it a great partner for hot dogs and nachos.
4. Cubed or ground meat?
Chili traditionalists and enthusiasts have a long argument over which is superior: ground meat or cubed meat. And while we all love the large, chunky goodness of tender, rich meat cubes, others won't even consider chili as real chili if it uses anything other than ground meat.
However, you'll find that ground meat is the more popular choice for canned chili. It's mainly because ground meat can be a great mix of pork and beef or other kinds of meat. If you are on a meat-only diet, make sure to check the label of any canned chili.
However, whichever way you should go, chili meat should be tender, not rubbery, savory, and with no weird metallic taste.

5. Chili with beans or chili without beans?
Another big controversy revolving around chili is whether or not it should have beans in it. As you might have noticed in the first item on this list, chili with beans is more popular. However, I also respect meat-only chili lovers.
What you should know is that most brands that make chili produce both varieties with the same flavors. If you like your chili with beans, as apparently many people do, then find a canned chili with tender beans that are neither mushy nor overcooked.

6. BPA-Free cans
Just like in airtight plastic food containers, BPA should not be present in canned food. BPA is bisphenol A, an industrial chemical used in the manufacture of resins and plastics and is also used as an inner coating in cans.
Research has shown that BPA can mix into food or beverages, which can affect the brain, especially those of infants, children, or the fetus of a pregnant woman. It can also cause high blood pressure and behavioral changes.
Although FDA or the Food and Drug Administration allows a small amount of BPA in certain food products, it's best to reduce your exposure to the substance by choosing BPA-Free labeled products.

7. Nutritional Values
When buying canned chili, check the nutrition facts for vitamins, calcium, and magnesium. Most chilis contain high amounts of magnesium, some calcium, and vitamins A and C. You can also find information on its carbohydrate, fat, protein and calorie contents per serving.
You can use this data for comparing nutritional values among brands and controlling your caloric intake.

8. Low Sodium Content
Salt or sodium chloride is both needed by the body and is a common ingredient in most food products, like canned chili. So, sodium is not necessarily bad for you, and it should not be eliminated from your diet.
However, the key to enjoying your food and staying healthy is moderation and control. Nobody wants a bland chili, but looking for low-sodium options could save you from kidney problems in the long run.

9. Non-traditional Chili
Aside from the issue regarding meat and beans, the classic chili formula doesn't always work with a lot of health and diet needs. Because of this, other types of chilis (believing otherwise is up to you) are vegetable chili and white chili.
Veggie chili is not entirely an insult to the classic chili, thanks to the many excellent substitutes for meat already available today. These chilis are made with soy or vegetable protein-based textured "meats".
You might not even notice the difference from the real thing. In fact, the surprisingly good "bite" of these vegan-friendly options make these meatless versions definitely worth a try.
Another twist on the classic chili is white chili, made with roasted chicken and white beans in a cream-based sauce without the iconic tomato paste or chunks. This is gentler for acid-sensitive tummies that react unpleasantly to meat and tomatoes.
But this can be a good addition to a chili buffet and can be fun, too.

Different Ways to Serve Canned Chili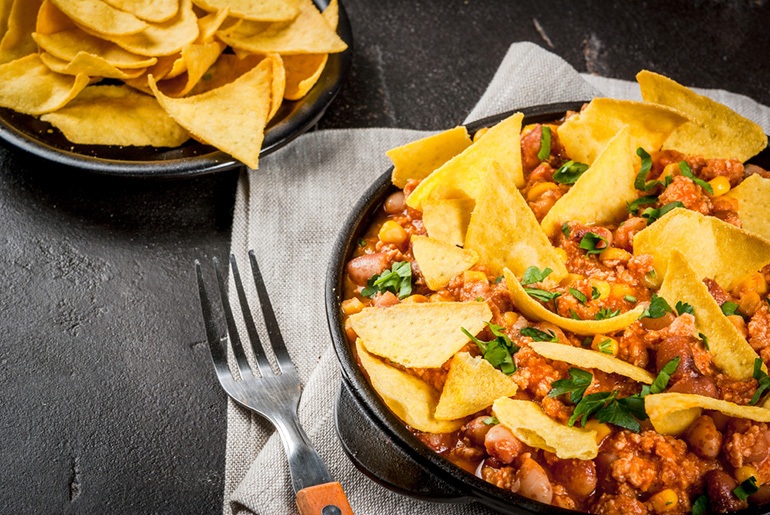 Aside from the different types of chili, this simple yet versatile dish can be paired with other food and eaten in so many ways! Here are some of the favorites:
Use as an alternative to hamburger patty and just pour over a toasted or untoasted hamburger bun for a quick chili burger.
Use as filling in a tortilla and top with cheese for the perfect chili taco.
Stuff inside baked potatoes with an optional sprinkle of cheese and herbs.
Incorporate into scrambled eggs or top over or add as a filling in an omelet.
For a nice twist from the usual baked mac or mac and cheese, make chili mac instead by mixing canned chili with cooked macaroni.
Top any green salad with chili, tortilla chips, and cheese for an easy taco salad.
Use chili as a pasta sauce on cooked pasta, finish with a topping of cheese.
Boil canned chili with some onions, a little cheese, and a topping of cilantro to make a hearty chili soup.
Use as a nice dip for nachos or chips for game night or a sleepover with friends.
If you're lazy but in dire need of your dose of chili, you can even eat chili straight from the can! Now, you don't need any tips on how to do that!
– Recommended Reading: Hearty Keto Chili Recipes That Will Satisfy The Crowd
Other Canned Chili Safety Tips You Need to Know
Remove opened chili from the can and refrigerate in an airtight glass or plastic container.
Transferred opened chili can stay good for about 3 to 4 days when kept in the refrigerator.
It is safe to use or eat canned chili beyond the expiration date on the label or package as long as the package is undamaged, the can was stored in proper conditions, and no signs of spoilage are noticeable.
"Best By", "Consume By", "Best if used by" or "Best Before" labels in commercial chilis are not safety dates, but are manufacturers' estimate of how long the product will stay with maximum quality.
Transferring canned chili into airtight freezer bags or containers can extend its life and maintain its quality for about 4-6 months. It will also be good to eat and use beyond that period.
Canned chili when kept in a good container in a constant 0°F freezer will stay safe to consume for an unlimited or indefinite period.
Canned chili that has been defrosted or thawed inside a refrigerator can be kept there for 3 to 4 days more. However, if thawed in the microwave or water, it should be consumed right away.
The best way to tell if canned chili is spoiled or has turned bad is to observe its smell and appearance. A foul or off odor, a change in flavor or appearance, and the presence of molds signals spoilage and are grounds for the chili to be thrown away.
Canned chilis that come from packages or cans that are bulging, severely dented, rusty, or leaking need to be discarded.
Best Canned Chili Reviews of 2018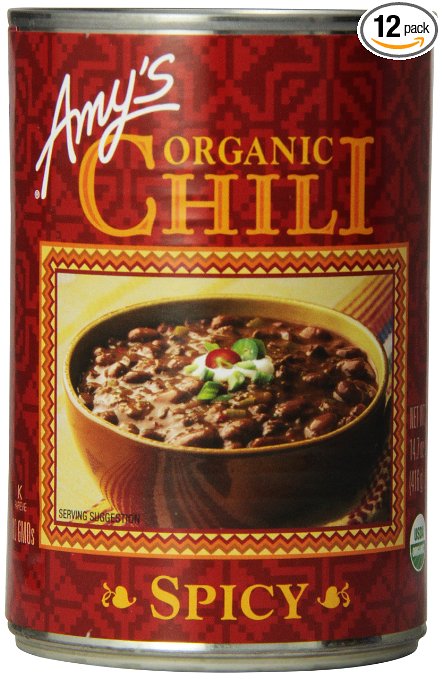 With organically grown red beans and tofu, Amy's Spicy Chili has all the goodness nature has to offer. The spicy Mexican sauce makes this chili a cut above its competitors, delivering a strong spice but with a small hint of sweetness to balance it out.
It is a great source of dietary fiber and protein with no trans fat. This chili contains about 680 mg or 28% of sodium, which is acceptable. It also has 20% of Vitamin A, 6% of Calcium, 25% of Vitamin C, and 20% of iron per serving.
Although there are warnings about food allergies to soy and nuts, Amy's have so far worked well for people with gluten and milk allergies. They also don't use any peanuts, fish, eggs, or shell fish.
Although packed with nutrients, consumers complain about it being too bland and not spicy enough. Some suggest adding salt, seasonings and hot sauce. You can purchase it in a pack of twelve 14.7 oz cans of chili, which is a fairly good deal.
Things I liked
Made with wholesome, organic, non-GMO, natural ingredients.
BPA free.
Gluten-free.
Well-cooked beans.
Sauce is of the right thickness.
It's gluten free.
USDA certified organic.
Can be reheated after opening.
Things I didn't like
Not spicy enough for most people's liking.
Sauce separates or tends to be too runny upon opening.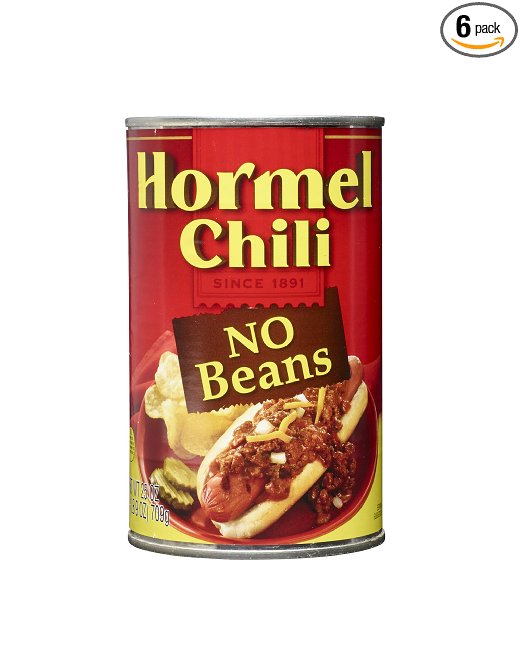 This great-tasting chili without beans is packed with beef, onions, crushed tomato concentrate, and jalapeno pepper, although the beef-to-vegetable ratio is a bit disappointing.
It has a good amount of protein, which is 16 grams per single serving. Each serving also contains 220 calories, 3 grams each of sugar and dietary fiber. A can contains about 3 servings. However, it contains around 970 mg or 40% of sodium, which is a lot and therefore should be consumed with care.
Despite the high sodium content, this chili has the right kind of spice. A can is also enough to be shared by 2 to 4 people. The package also includes a pack of six 25-ounce cans.
Things I liked
Good protein source.
Does not have as much grease as other brands.
Great to be eaten on its own.
Easy open can.
Easy to reheat.
Great value for money.
Things I didn't like
Contains a lot of vegetables with little meat.
May be too salty for some people.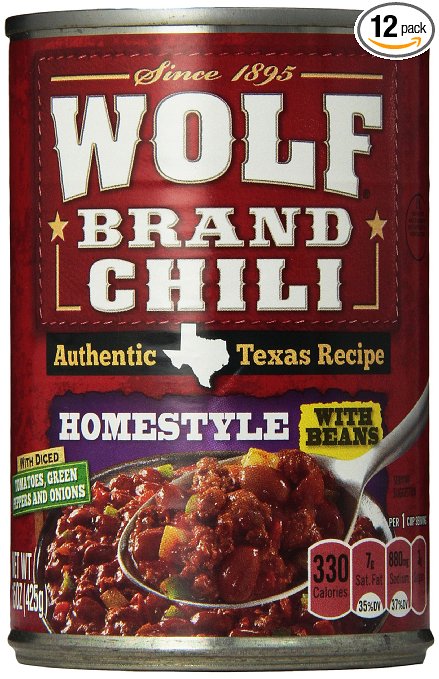 With a can of Wolf Brand Chili comes a hearty, boldly flavored chili containing half a cup of vegetables namely onions, green peppers, and tomato chunks in a single serving.
It originates from Texas and has an authentic taste, thanks to the right combination of veggies, beef, and beans. However, the beef comes in cubes, and smaller amounts than vegetables and this brand uses regular beans instead of the preferable kidney beans.
It also contains vitamin A (25%) and vitamin C (6%), as well as 20 % magnesium, 20% iron, 15% zinc, 40% manganese 25% phosphorus, and 8% calcium.
Each standard serving has 17 grams each of protein and fat, and 880 mg of sodium which is a lot but is responsible for giving this chili its distinct meaty flavor. It tastes almost as good as homemade chili.
You can buy it in a pack of twelve 15-oz cans, which makes it super affordable.
Things I liked
Authentic, big, homemade taste
Great combination of veggies and meat.
Packed with nutrients.
Can be reheated.
Comes at a valuable price.
Things I didn't like
Can be a little too watery
Large chunk of beef emphasizes its scarcity.
Replaced kidney beans with regular beans.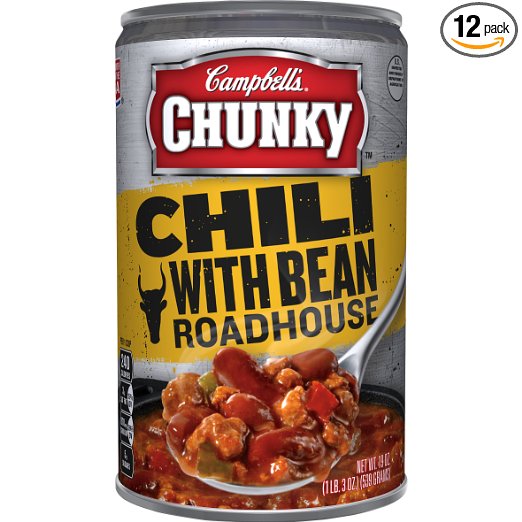 Another favorite choice for the best canned chili is this chunky chili from Campbell. It uses both pork and beef, for a full, rich, meaty taste. The chunkiness makes it super filling.
The corn, kidney beans, and other vegetables also add to the complex yet satisfying blend of flavors. The big meat chunks also give it a good bite and texture.
However, the spice level is a bit lacking as it's very mild. Some changes in the recipe recently made by the manufacturer also led to its loss of appeal to some consumer.
The thick consistency also adds to the taste. It contains 870 mg of sodium, which is more than most chilis contain, 15% Vitamin A, 6% calcium, 15% iron, and no Vitamin C.
Things I liked
Right proportion of vegetables and meat.
Kidney beans give this chili a special taste.
Good for reheating.
One can provide two large serving portions.
The price point is alright.
Things I didn't like
Hard to find due to new recipe that resulted in a new can design.
Sometimes comes too runny and watery.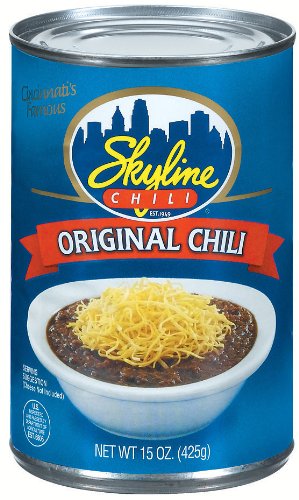 Last but not the least on our list is Skyline chili made with a unique blend of cornstarch, yeast, paprika, tomato sauce, garlic, onion, salt, beef, and more spices.
It goes best with pasta with hard cheeses like Gouda or cheddar to improve the flavors. Although it's more of a sauce than the classic chili regarding consistency, it still pairs well as a dip for chips.
It comes in a pack of four 15-ounce cans, giving you a total of 3.2 pounds. Regarding nutritional value, Skyline chili provides 1190 mg (49%) of sodium, 4 grams of protein, 3% of Vitamin A, 2% of Vitamin C, 3% of iron and 1% of Calcium. So, that makes it super high in sodium content and low in nutrition.
The selling points of this chili are its unique taste, its high usability, and the decent price.
Things I liked
Tastes different from any other canned chilis.
Contains a lot of ingredients.
Sells for a good price.
Goes great with pasta and as a dip.
Leftovers could be reheated.
Things I didn't like
Cannot be eaten on its own because of the amount of grease it contains.
Contains too little meat.
Too runny and watery.
Conclusion
There is no denying the fact that canned chili is the best time saving option to satisfy your chili cravings. In addition to that, canned chilis also offer a wider range of options when it comes to flavors. But which of the brands mentioned above is the best canned chili?
Well, there is no doubt that
Wolf Chili Homestyle with Beans
takes the cake on this round because if offers the most authentic taste of chili. It also offers a chili that is packed with flavor. It also has vegetables that can satisfy your nutritional needs.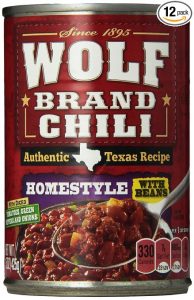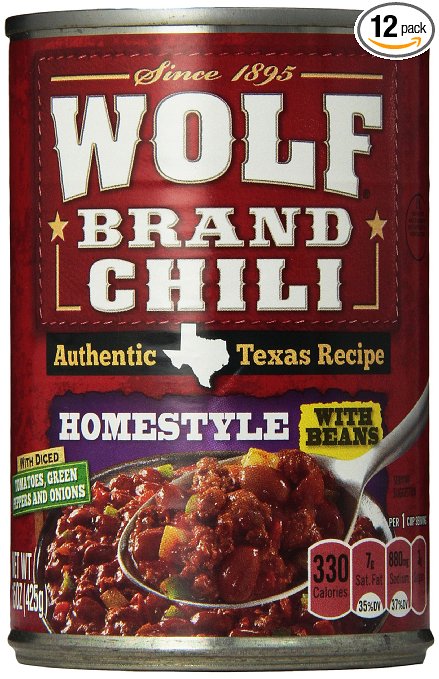 So, did you find this article helpful? Tell me what you think in the comments section below!