Sharpening your kitchen knives is something you may not think about very often, but it can make the difference between using effective knives or dull blades. While there are some modern kitchen devices that can help to sharpen blades, the most ideal way to get them sharp is to use sharpening stones. When you use the best sharpening stones for your knives, you will end up with a better cut that requires less maintenance and stays for longer.
What Are the Benefits of Getting the Best Sharpening Stones?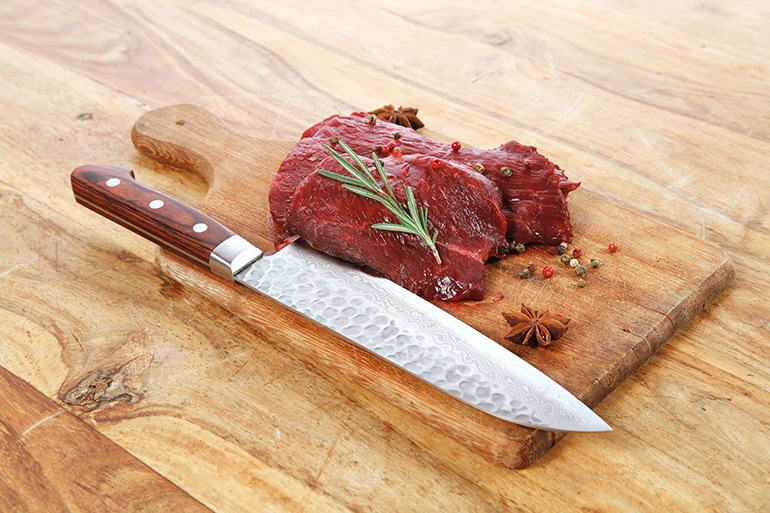 Good sharpening stones can do a lot for your knives. When you first start, you may not immediately notice how much better this method is than some of the store-bought gadgets, but over a short period of time you'll find that these benefits emerge:
Longer-Lasting Edges
When a knife is not properly sharpened, it can lose its edge very quickly. Using a good set of sharpening stones helps the blade to keep its nice edge for longer intervals.
Finer Blades
Sharpening stones come in many different varieties of grit, from coarse to fine, so you can work your blades down to a very fine edge. You can get it to be much sharper with stones than it would be with any other sharpening methods.
More Customization
Different blades are easier to sharpen depending on what kind of stones you have in your home arsenal. You can easily sharpen all of your various knives to their best with a few choice sharpening stones.
Caring for Your Blades
Sharpening stones are easier on your knives than many other types of knife sharpeners. Depending on the type of sharpening stone you get, your knives will be well cared for and will last longer than if you use low-quality sharpeners.
Fixing Chipped Knives
Knives with chips, scratches, and other small damage on the blades can be fixed with the right sharpening stones. It takes a little bit of time, but it's the easiest and most affordable way to fix your knives and restore them back to prime condition.
Choosing a Sharpening Stone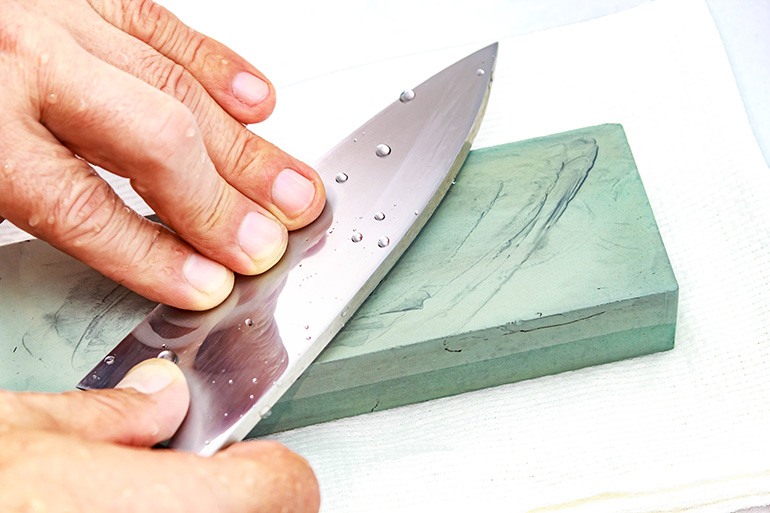 How can you figure out which sharpening stone is the best sharpening stone for your needs? Here is some advice about what to look for:
Get the right grit
The grit of a sharpening stone refers to how coarse or fine of a surface it has. Higher grit stones make finer blades while lower grit stones make broad, large adjustments to a blade without refining the sharpness.
Choose your materials wisely
Not all sharpening stones are created from the same materials. There are a variety of different stones available, from synthetic combination materials to natural stones. Here is a short summation of the most common types of sharpening stones:
Industrial Diamond Plates
Diamond sharpening stones are formed with hard industrial diamonds that are great for shaping blades. In most cases, these are great coarse stones, but are not always ideal refining stones.
Oil Stones
These stones can be made with a variety of natural stone materials, but the reason they are called oil stones is that the swarf (metal shavings released from sharpening a knife) is cleaned off using oil rather than water. Most oil stones are quick to use but don't create a very fine edge like some other stones will.
Water Stones
Unlike oil stones, water stones are used and cleaned with water. This should usually be soaked or doused with water before you use them to sharpen any blades. There are some rare natural water stones and many synthetics. The synthetics are the most common by far, and they are some of the fastest stones available. Unfortunately, the speed of sharpening you is the result of the stones being softer, so they will wear out more quickly than other stones.
Ceramic Stones
As a replacement for natural stones, ceramic stones are a good choice for single-sided blades. They tend to be a bit harder to work with, and they are also a bit softer than many other types of stones. Although they can be used to make a very fine edge, one of the disadvantages is that they should be soaked for around 10 minutes before use.
Synthetic Stones
Many varieties of synthetic water stones are available on the market today. Depending on the quality, they may need to be soaked before use or just briefly splashed with water. While these stones are usually fairly average quality, they can be a great choice for traditional stainless steel blades and straight blades.
Go for a good size
The ideal sharpening stones are long enough to make the work go by faster, but short enough to store easily and to hold properly. Some stones are available as short as 3 to 4 inches long, but the average size is around 5 to 7 inches in length. Longer stones can be found as well, and they are good for long blades.
Consider maintenance (flattening)
As sharpening stones are used, they must be maintained if they will continue to be useful on your knives. Depending on the type of stone, maintenance will be different. However, all stones will need periodic flattening to keep the level. Stones that aren't level will not sharpen your knives properly.
Think within your budget
A set of sharpening stones can be cheap or very expensive, according to the type of stones you choose to get. If you're just starting out as a beginner, you should only need 2 or 3 stones to get the desired results, whereas a more experienced sharpener can use as many as 5 or 6 stones of varying materials and grits.
Choose a set of stones that works well with your knives, and then look for a good price range that fits your budget.
Top 5 Best Sharpening Stones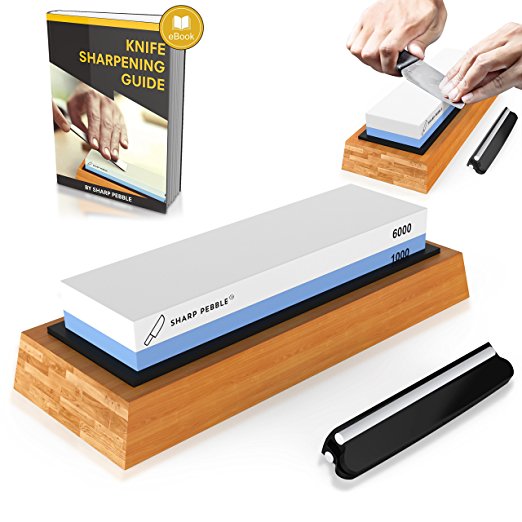 The Mighty Dreams brand water stone set includes a double-sided stone with #1000 and #6000 grit sides to hone and refines your blade. A bamboo base with added grip is also part of this set, so you can sharpen blades with two hands and also use the stone right after wetting it.
One of the biggest disadvantages of this sharpening stone set is that it's not a great set for getting kitchen knives razor sharp. It will make a great edge, but you won't get a razor sharp blade from these stones.

Pros
High quality build and attractive bamboo base.
Good for straight and serrated blades.
Comes with a guide on how to use the stones.
Easy to use edge guide included with the set.
Grip on the bottom of the base is excellent for using two hands to sharpen at once.
Cons
Some customers received a smaller stone than advertised.
Edge guide installation is not intuitive for everyone.
Not meant for sharpening extremely dull knives.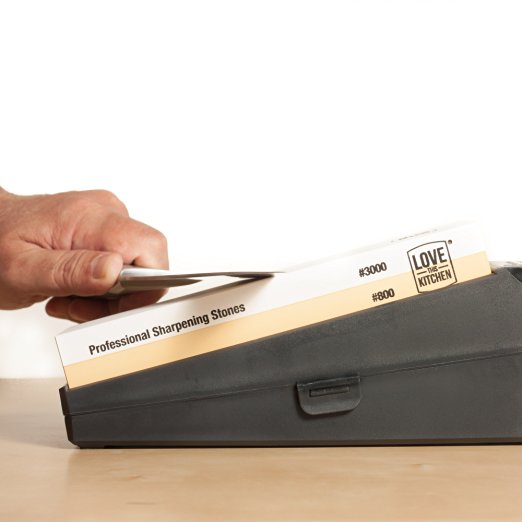 This sharpening stone set is made from synthetic aluminum oxide, so it works with water instead of oil. It's great with just a splash of water, then you can begin working on your blades. A sturdy plastic base, carrying case, and a cleaning stone are also included with this set.
You can flip your dual-sided sharpening stone over and use the #800 or #3000 grit sides, depending on which phase of sharpening you're on. The base that holds the stone while you work can be level or put at a 15-degree angle to help you get a better edge.
If you're looking to sharpen serrated blades or razors, this is not a good set for you. The shape of the stones is not efficient for use with serrated blades, and the #3000 grit side isn't going to create a fine enough edge for razors.

Pros
Large enough for kitchen knives, average sized swords, and other blades.
Effective for beginners and experienced sharpeners alike.
Great instructional videos and booklets available.
Comes with a small cleaning/flattening stone.
Quick sharpening for most kitchen knives.
Cons
Not good for straight razors and razor sharp blades.
Serrated blades will not get sharpened well.
Some customers received this stone broken from shipping.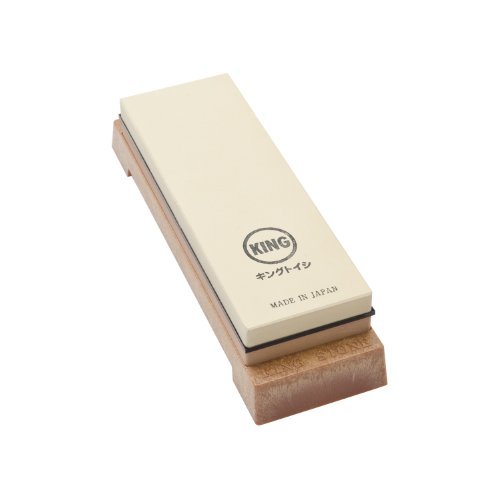 King has created a dual-sided ceramic sharpening set that gets the job done on most small to medium sized knives. This stone set is not large enough for most long knives or anything outside of culinary knives, but it's a great addition to a home kitchen. It's small enough to fit in a small cabinet or in your apron pocket to carry around with when for when you need it the most.
As a ceramic stone set, you can expect both sides to lose their shape more quickly than some other stones might. This is a bit of a disadvantage for this set, because it means you may have to flatten them out more often. Additionally, you have to be careful not to soak the fine side in water or you will risk cracking it. These are some of the things you can expect from lower priced sharpening stones, although it will still perform well and give your blades a fine edge.

Pros
Great for stainless steel and carbon knives.
Easy maintenance and minimal soaking needed for both sides.
The #6000 grit side gives knives a shiny finish.
Good for use at home in the kitchen.
This set works well for small knives, such as sushi knives.
Excellent value for the money.
Cons
Not effective for excessively dull blades that need to be re-shaped.
These ceramic stones can get misshapen somewhat quickly.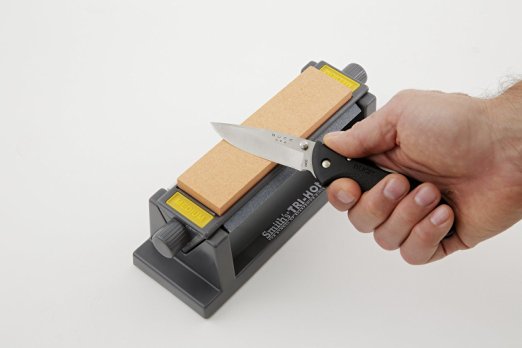 With a convenient triangular mounted case, this set of Arkansas stones is a good choice for many small to medium knives. The nifty case can hold 3 stones at a time, and you simply rotate them as needed when you're moving on to the next stage of sharpening. #400, #600, and #1000 grit stones are all included with the set, and they are all the proper size to fit the case perfectly.
While this is a good set of sharpening stones, it would be better if the stones were a bit larger than they are. With the smaller size of these stones, it is difficult to get a good edge on medium-large knives. Also, the stones included in this set aren't fine enough to get a razor sharp edge on anything.

Pros
Very convenient plastic mounted stone case.
Non-skid rubber feet hold the base in place as you use the stones.
Multiple stones of different grits included.
Built-in angle guide helps you get the desired edge on your blades.
The set arrives with the stones already attached to their appropriate slots in the base.
Great for beginners and intermediate sharpeners.
Stone oil included with the set.
Cons
Stones are too small to sharpen larger blades.
These stones won't sharpen your knives very quickly, you may have to use a bit more time to get it right, especially with medium-large knives.
Base does not stick well to all surfaces and may slide.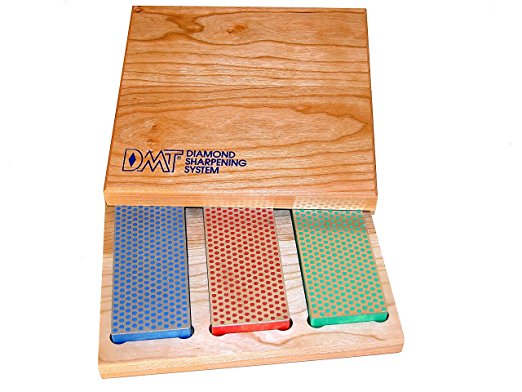 Diamond sharpening stones likes these are made with hard industrial diamonds that are ground and attached in different grit levels to a base. In this instance, the diamond surfaces were fastened to lightweight plastic bases that are easy to carry around and sturdy enough to hold up to the needs of sharpening blades. This entire set does really well at keeping a fine edge on many different types of knives and other working tools, and with the light maintenance it is a useful tool for beginners.
The biggest complaint about this set is that the wooden carrying and storage case is a very poor quality. Within a few weeks of buying the set, the case may start to warp and you will not be able to fit the stones inside anymore, forcing you to find a new place to store them. This is a bit of an inconvenience that seems very unnecessary for the price of the set.

Pros
Set comes with 3 stones necessary for the best finish.
Good for culinary knives and any other type of tools as well.
Very quick sharpening compared to many other types of stones.
Oil-free sharpening and cleaning, stones can be used with water or dry if needed.
Large swarf collection pits help improve the reliability of sharpening.
Great for fixing and re-shaping damaged blades.
Cons
Not too effective for flattening other stones.
Wooden carrying and storage case is low quality.
The coarser diamond stones don't last as long as finer stones.
Conclusion
In my opinion, the Mighty Dreams synthetic set is the best sharpening stone set I've talked about today. It checks all the boxes, because it has two very different grits that complement each other and offer you the ability to make a very fine edge. It's a simple set that has all the basics: a sturdy base, low maintenance needs, solid stones, and average size for kitchen knives and other small-medium tools, and a good price to match.