Meatloaf is a recipe that gets a bad rap, mostly because it's just so hard to make right. As a kid, my mother made some meatloaf for me, and I hated it. The dried texture was just not appealing. My mom was an amazing cook, but meatloaf wasn't one of her strong suits. My brother shoveled it down like a garbage disposal, but I just wanted a burger.
Now that I've grown up, I've tasted some well-made meatloaf, and I realize how much I missed out. A good meatloaf has a variety of spices mixed in with flavorful meat. It's an assault on the taste buds, and I feel bad for people who don't want to give meatloaf another chance because of their childhood. You've grown up, and so has meatloaf.
If you're on the keto diet, you may wonder how to make ketogenic meatloaf. Don't worry! Easy, low carb meatloaf is convenient to make. In this article, we're giving you the best keto meatloaf recipe out there.
Keto Friendly Meatloaf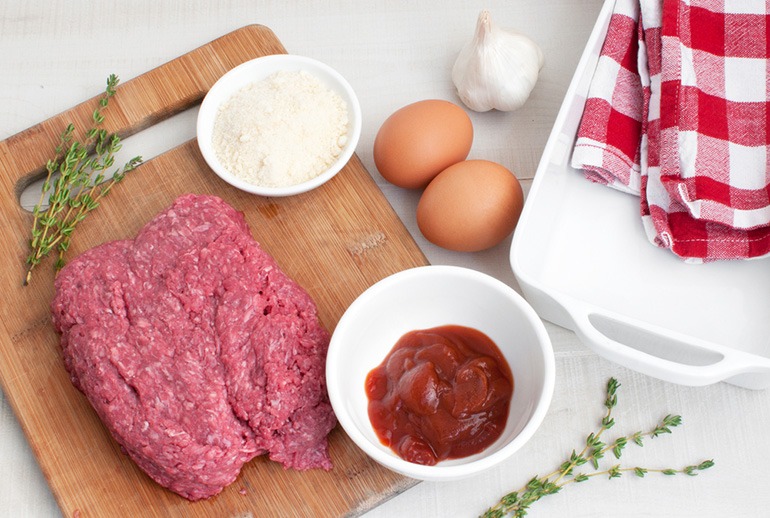 You may wonder how to make easy keto friendly meatloaf. However, "keto meatloaf" is a bit redundant, as meatloaf in general is already low-carb. A serving of meatloaf has about 4.5 carbs per serving, making it not a good choice.
Meat is a staple of a ketogenic diet, and most of the ingredients are packed with protein and low in carbs. Eggs are very keto friendly, and they are used in meatloaf. However, there are some ingredients that may add some carbs to your meatloaf, and we're here to substitute them.
It is totally possible to have some easy keto meatloaf that not only tastes good, but fits your diet.
Recommended Recipe: Hearty Keto Chili Recipes That Will Satisfy The Crowd
Breadcrumbs are used in many keto recipes, and as you can probably guess, they are not carb friendly. When making meatloaf, some people love to load on the breadcrumbs. I'm guilty of this too! However, there is a substitute!
Pro Tip: Instead of flour, use almond or coconut flour!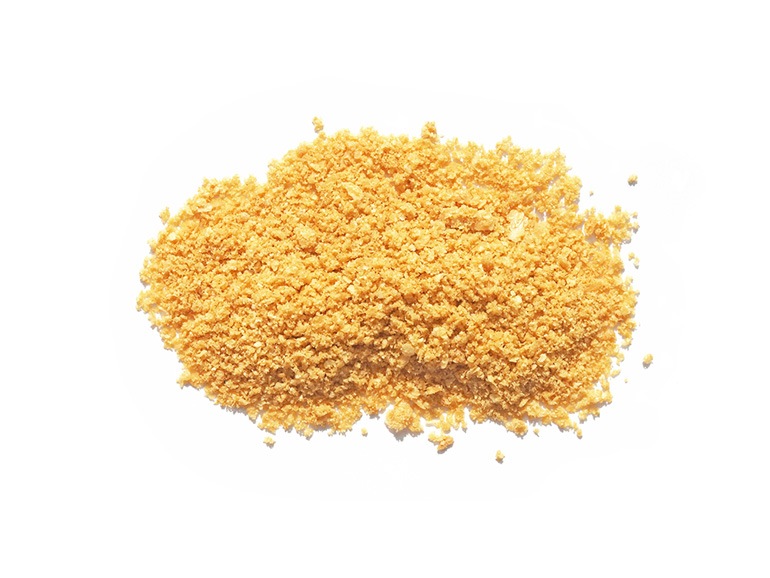 Yes, that's right. Make a keto meatloaf almond flour or a keto meatloaf coconut flour recipe. It's quite easy, and you can make your own breadcrumbs with these simple ingredients.
What You Need
1 cup of almond or coconut flour.
0.5 tsp of sea salt.
0.5 tsp of black pepper.
0.5 tsp of garlic powder.
0.5 tsp of parsley, grounded.
¼ tsp of onion powder.
¼ tsp of oregano.
Pro Tip: You can mix up the spices and adjust them in order to make the ideal recipe.

Alternatively, adding crushed pork rinds to your keto meatloaf makes a good substitute for breadcrumb. Pork rinds have no carbs, so you can turn your rinds into keto meatloaf pork rinds.
Simply combine the ingredients and either use them ASAP, or store in an airtight container.
The Glaze
Most meatloaf recipes require a glaze made from ketchup and brown sugar, both of which add some carbs to the meatloaf. However, you can fix that with ease.
Ketchup:
When it comes to ketchup, look for low-sugar varieties. Ketchup typically contains four grams of carbs per serving, which can add up. Those carbs are due to the sugar added to it. Low sugar ketchup contains just one carb, so you can have your ketchup and feel guilt-free.
Brown Sugar: Obviously, any kind of sugar is going to add some carbs to the meal. I love sugar myself, so I thought I was doomed when making a meatloaf recipe. However, I then discovered that you can make keto brown sugar.

What You Need
1 cup of granulated erythritol.
¾ tsp of maple extract.
¾ tsp of stevia.
Then, you just combine with a fork and enjoy. This is not only great for meatloaf, but any other recipe as well.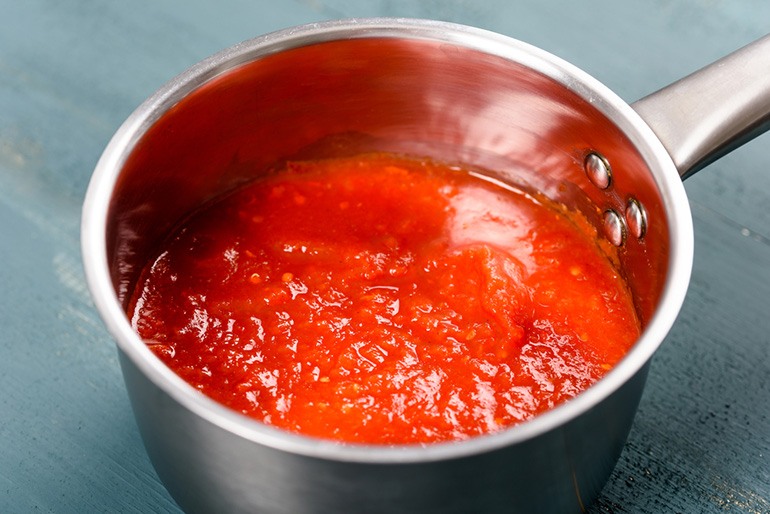 With all that out of the way, let's look at some keto meatloaf recipes you can make, shall we?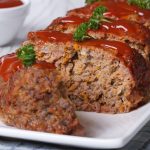 Classic Meatloaf
This is your classic keto meatloaf. Just like how your family used to make, but better.
Ingredients
2/3

cup

of keto breadcrumbs or crushed pork rinds. Soak in 1 cup of milk

1.5

lbs

ground beef

2

slightly beaten eggs

¼

cup

onion

chopped

1

tsp

salt

1/8

tsp

black pepper

0.5

tsp

sage

3

tbsp

keto brown sugar

¼

cup

low-sugar ketchup
Instructions
Excluding the brown sugar and the ketchup, combine all the ingredients until mixed well. Put in a loaf pan and make sure it's all even.

Mix ketchup and brown sugar until even. Glaze the loaf with your mixture

Cook for about 45 minutes, or until done in the center. Serve!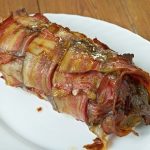 Bacon Bomb Meatloaf
What if you want a meatloaf that packs a little more punch? High fat, low-carb, and filled with meaty protein? If that doesn't sound delicious, then I don't know what is!
Ingredients
18

slices

bacon

1

lb

ground beef

1

cup

almond meal

1

cup

shredded cheese.

Cheddar works well, but you can choose your own cheese.

½

cup

mushrooms

diced

1

shallot

diced

1

egg

2

tsp

thyme

preferably fresh

1

tbsp

salt

1

tsp

powdered mustard

½

tsp

pepper

½

tsp

Worcestershire sauce
Instructions
First, you need to weave the bacon. There are plenty of tutorials online if you're not sure of what to do. It sounds complex, but once you learn, it will become second nature.

Carefully flip your bacon weave into the meatloaf pan. (Pro Tip: put the pan on top of the weave upside down, making sure it stays centered.)

Combine all the other ingredients. The best way is to layer meat and cheese consistently.

Put the mixture inside the pan, then close the bacon over it to make an even loaf.

Cover it in foil, and then put the load in the fridge for a half an hour to make the ingredients settle. As the time is about to end, preheat your oven to 300ºF.

Take out the meatloaf, remove any foil, and then put a grill on the meatloaf pan. This will allow you to flip the loaf with ease.

You will then flip the pan so your meatloaf can rest easily on the rack without any problems. There will also be some foil under the grill.

Cook for about an hour, and then increase the temperature to 350ºF.

Cook for another 10 minutes, and then use a thermometer to see if the internal temperature is 160ºF or not. Continue cooking until it reaches that temperature.

Take the meatloaf out of the oven, let it cool for about five minutes or so, then serve.
Recommended Recipe: Savory Bacon Wrapped Jalapeno Poppers Keto Style that Are Perfect for Your Next Get-Together
Conclusion
Keto meatloaf is quite easy, whether it is classic meatloaf or a unique kind. By substituting a few ingredients, you can make a meatloaf that will remind you of why the recipe is popular.
If you're a meatloaf skeptic, you'll be enlightened after seeing all of what meatloaf has to offer, and you've read up on some of the best keto meatloaf recipe that you can try.
Reference: