Chili is a staple of Tex-Mex cooking, and a meal that will always satisfy anyone at the cookout. I remember going to some chili cookoffs when I was younger, and I tasted bowls of chili like a wine snob tastes wine.
I loved the burn of the spice, the heartiness of the meat, and the flavor that all the other ingredients added. As I grew older, and needed to watch my weight, I still craved chili, but now I had to be more smart about it. If you're into the keto diet, here are some keto chili recipes that will be winners at the cookoff. With that said, let's dive into why chili is a bit worrisome if you're on a keto diet.
The Carb Problem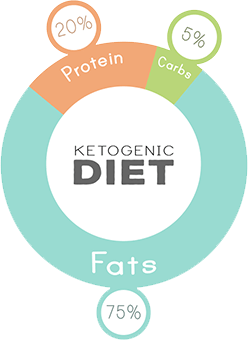 If you look at the average nutritional count of chili, you will notice that it can be relatively high in carbohydrates. Your average chili recipe may have over 20 grams of carbs, making it not exactly keto-friendly. What is in your average bowl of chili that gives it carbs?
Obviously, the meat isn't to blame. Many of the spices have little to no carbs as well. The carbs come from the beans, as well as the tomato paste. Some other veggies, such as onions, may add carbs as well.
A lot of these ingredients are important when making a good bowl of chili. Sometimes, you can reduce the amount in the chili to still give it flavor, but lower your carbs. If you're a bean lover, you may be in trouble, as beans typically have 8 grams of carbs per serving. However, we will talk about substituting beans.

Recommended Reading:
Substituting Beans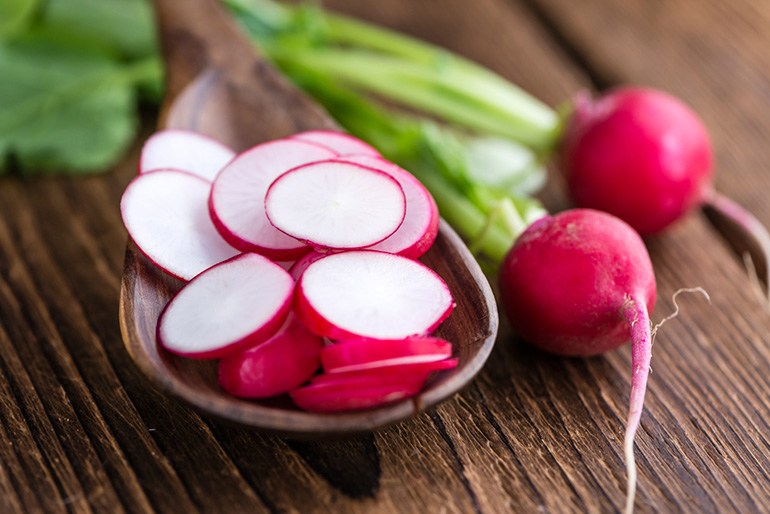 Beans may be a magical fruit, but they're high in carbs, and it can ultimately wreck your keto diet if you're not careful. Luckily though, some of the best substitutions for beans aren't actually bad to taste, and you'll be amazed at how even adding this to chili makes it taste great.
Beans tend to be a staple for chili and cooking, and you might wonder what you can add. Well, continue on to read more about some of the substitutions you can use.
Some people like beans, others don't. If you just love beans in your chili because it adds that flavor and texture to your keto diet, you may wonder what a good replacement is. While you're never going to replace beans with an exact low-carb substitute, you can find some worthy replacements, including:
Peanuts.
Yes, you heard this right. Peanuts are high in fat, have 3 grams net carbs per ¼ cup, and can add some flavor and texture to your chili. A great way to give them that soft feel is to soak them for a day before adding to the chili.
Radishes.
Radishes are another worthy addition to your chili. They have an insignificant amount of carbs, and they can add some texture to your chili if you so desire.
Mushrooms.
Mushrooms are just like radishes, in that they have very little carbs and can add that flavor you're looking for. They can also absorb the flavors of the chili, making them a great substitute for beans.
Reduce the amount of beans.
Alternatively, you can reduce the amount of beans you have in your chili if you just can't live without your beans. Just be mindful of how much you stir in there. A bit won't hurt your carb count too much.
Keto Chili Recipes
With all that said, let's look at some keto chili recipes that are worth trying.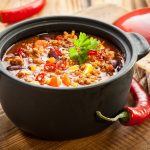 Mississippi Chicken Chili
Ingredients
Mississippi Chicken
2

breasts of chicken

2

tbsp

butter

divided

2

tsp

chili powder

2

tsp

cumin

A pinch of red pepper

crushed

1.5

tsp

salt

0.5

tsp

pepper

1

tsp

garlic powder

2

pieces

chopped celery

1.5

chopped green pepper

1.5

chopped red pepperonis

4

cups

water

2

tbsp

almond flour

1

cup

coconut milk
Instructions
Take the chicken breasts and put it in half the butter, leave it in a skillet for about five minutes until it's cooked. (Don't forget to flip the chicken.)

Heat up the other half of the butter in a skillet. From there, add the green pepper, celery and the pepperoncini. Sauté until the veggies soften.

From here add in the crushed red pepper, the veggies and chicken you sautéed earlier, the cumin, chili powder, and garlic powder into a pot.

Put the water in a pot, combine it with the chicken mixture, then simmer for one hour. Make sure meat is chopped up nicely in the mixture

Combine almond flour with ¼ cup of the soup mixture. Then, add to the soup. Let it sit for about 3 minutes.

Turn off the heat, mix in the coconut milk, and then serve. Avocado is also a good addition to this chili.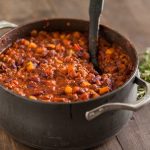 Meaty Classic Chili
If you're looking for a heartier, classic chili, then look no further. This provides.
Ingredients
12

oz

chopped bacon. No sugar.

½

diced onion

12

oz

diced mushrooms

2

lbs

ground beef

¼

cup

chili powder

1

tbsp

oregano

2

tsp

cumin

grounded

1.5

tsp

salt

2

tbsp

tomato paste

0.5

cups

red wine

dry

2

cups

low sodium broth

2

tsp

red wine vinegar

2

tsp

smoked paprika or ¼ tsp of cayenne

optional
Instructions
Cook the bacon using low-medium heat. As it's about to finish, mix in the onion, salt it a bit, and then add the mushrooms once the onion goes soft.


When the mushrooms start browning, heat up the skillet to medium and add the ground beef to this. Cook until the meat is nice and brown. Afterwards, you should combine the salt, cumin, chili powder, and oregano. Stir for one minute.


You can add the paprika or cayenne if you think the chili isn't spicy enough. When it's so hot it burns your tongue off, you then go back to low-medium and add the tomato paste. Stir it in until everything is darkened.

Combine the broth and wine, stir, simmer, and do this for about 10 minutes, until the sauce thickens. Combine any other spices if it's not up to taste. Afterwards, you combine the wine vinegar, then serve.
Recipe Notes
Pro Tip: You can also garnish this chili with cheese, avocado, sour cream, jalapenos, or anything else that has low carbs in it.
Final Thoughts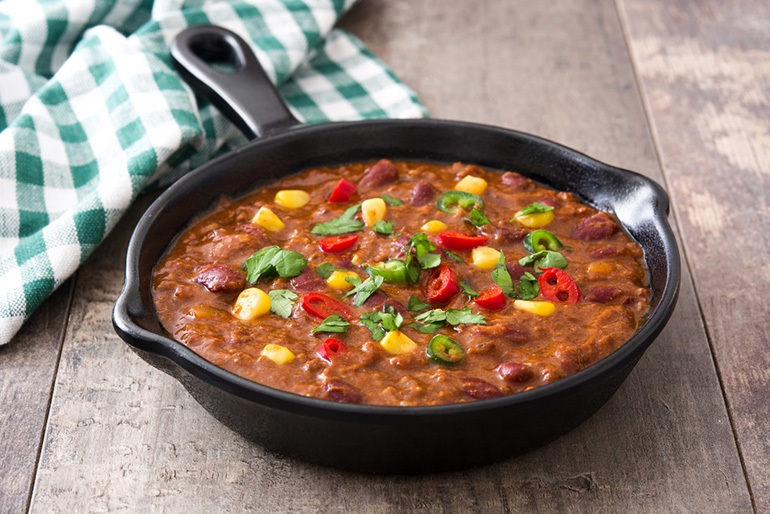 These are a couple keto chili recipes you can try. As you've probably observed, low-carb chili is easy. Just tone down the amount of tomato paste you put in there, avoid the beans if possible, substitute for mushrooms or peanuts, and add plenty of hearty meats.
Give these two recipes a try, and also try making your own. Look up chili recipes and see if you can make them more keto-friendly. Your friends and family won't even know how healthy it is. I've served it to my family and they were too full to ask for seconds, but they were sure debating on it!