One of my favorite things to have when I'm doing keto is chicken. It's so versatile, and there are many different things that you can make with it.
But, did you know that you can make crock pot Mississippi chicken keto-friendly? Mississippi chicken is so smooth and creamy, and it's one of my personal favorite recipes to have on hand.
A slow cooker makes it even easier as well because if you're like me and love to cook but may be pressed for time occasionally, you probably love your slow cooker. With this recipe, you just add the ingredients, and the slow cooker does all the cooking for you.
It's super easy, and if you've been wondering how to make crock pot Mississippi chicken, then you've come to the right place. Often, most of the recipes aren't fully keto-friendly, but this one will fit your diet in a rightful manner, so that you can have warm, lush chicken that melts in your mouth right away, and with minimal cooking.
What Is Mississippi Chicken?
You might be wondering what is Mississippi chicken? Why is it so popular, and why do people like to have it a lot?
Well, Mississippi chicken is a chicken that's popular in Mississippi, hence the name. It's popular because it's got a slight kick to it due to the pepperoncini that are in this recipe, but they're not too spicy.
It's also a very versatile recipe, which means that you can cook it in different ways. For example, some people like to have the chicken breasts intact, which doesn't make it as moist, or you can have it with the chicken shredded, and you can top this in different ways.

In this recipe, we'll discuss how you make it in the shredded fashion. It fits just right in your average 3.5-quart slow cooker, and this savory recipe is something that you'll surely enjoy.
Now that you know what is Mississippi chicken, let's talk about how you make it, and how it is a keto friendly recipe.
There is a lot of information about Mississippi chicken and you can find out how this fits with the ketogenic diet and more in the best ketogenic diet book for your dietary needs.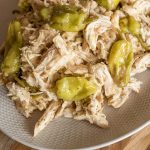 Crock Pot Mississippi Chicken
Total Time
6
hours
5
minutes
Ingredients
2-3

pounds

of boneless, skinless chicken breasts

1

package of ranch dressing mix

6

pepperoncini peppers

1

package of onion soup mix

1

cup

of chicken broth

1

jar of drained banana peppers

½

cup

flour

1

teaspoon

black pepper

1

packet of au jus gravy mix

½

a cup of salted butter
Instructions
In a Ziploc (or plastic bag), put the flour, salt, and the black pepper together

Seal this and shake it so that it mixes with the chicken

Remove from Ziploc bag and put the chicken breasts at the bottom of the slow cooker.

In another bowl, put the rest of the flour mixture, the soup, and the broth together. Add this on top of the chicken

Put the gravy mix, along with the ranch dressing, over the chicken.

Put the butter & pepperoncini peppers on top of it.

Let this cook for at least 6-8 hours or so.

Once you finish, you can shred the chicken with the fork.

Put it back into the crock and mix it all together

Serve it with some greens or, you can add it to a vegetable soup
Recipe Notes
It's that easy, and it's a great slow cooker keto Mississippi chicken that you can make quite easily.
What to Serve With Mississippi Chicken
One of the main things people struggle with when they're cooking this, is how you serve it. It tends to be very tender, since you can shred it with a fork, but many have problems figuring out just what to serve with Mississippi chicken, but this section will tell you what you should serve with Mississippi chicken.
On a Salad
Probably the most popular way to serve keto Mississippi chicken is in fact, on a salad. That is because while many serve it on a bun, this can be a problem because of how many carbohydrates are present in buns, since they are a grain.
But, if you're eating a lot of different salads, you can actually top a salad with this. It gives a lush, savory taste to it, and can even provide a nice kick for those of us who like that extra spice on our salads.
In a soup
Another super popular way to serve slow cooker Mississippi chicken, is in the form of a soup. Soups are comfort foods, without the added carbohydrates that breads do tend to have. You can put this in a soup, and as you incorporate it, it can provide not only a tasty meat for the soup, but it also can give the soup an extra spice and kick to it if that's what you're looking for.
Tips for the Recipe
With this recipe, it's actually quite versatile. Here are a few tips to help you get the most out of your chicken when it comes to keto Mississippi chicken.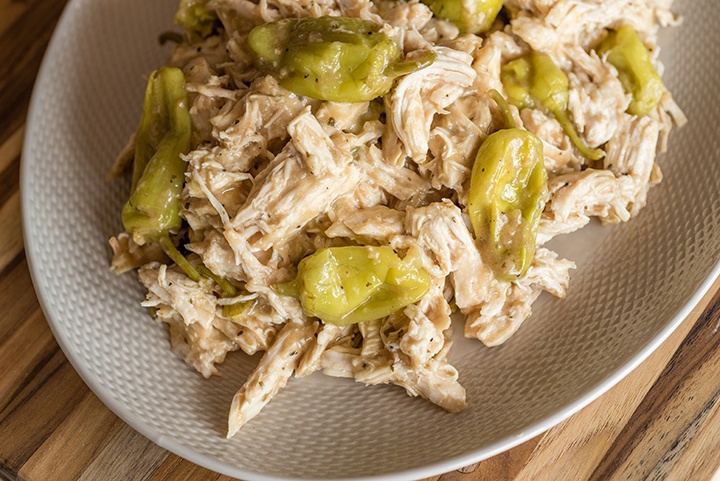 Any chicken works
One cool thing about this recipe, is that you can use any cut of chicken, and it nets similar results. Sometimes, you can use chicken thighs.
One way to make them with chicken thighs, is to halve the butter, since it will help soak up better in the thighs.
You can use frozen chicken breasts as well, especially if you're someone that stocks up on chicken quite a lot and are looking to save money. You can take one of these chickens out, thaw them, and then throw them in the slow cooker and let the cooker work the magic.
All chicken on this is low-carb as well, which means that this keto Mississippi chicken will fit your diet, since it is limited in regard to carbs. Most of the time, you substitute the typical bun as the side with soup or salad, and it tastes just as good.
Limit the salt
One thing that you can do with this as well, is to limit the salt that you put on this. While it is low-carb, the salt content might be a bit much, especially if you're trying to limit it.
One way to change this up, is to use unsalted butter instead of salted butter. Using unsalted butter takes out a majority of the salt that is present in there.
You can also use low-salt butter if you still want the savory taste of the chicken, but you also want a little bit of salt in it.
You can also add in spices too, such as cayenne pepper, paprika, or the like, and with the pepperonis, you'll get that perfect level of spice and kick that many enjoy. You can also substitute cheese as well to give a fattier, more protein-laden dish if that's what you're looking for.
Either way, one way to make the recipe better is to limit the salt. For some who are doing keto, they watch this, but you don't have to always do this with keto Mississippi chicken.
Conclusion
Keto Mississippi chicken is a great dish, and it's very savory. Now that you know how to make crock pot Mississippi chicken, and what you can serve with it, you'll be able to create this amazing dish quite easily.
From here, you should try out the recipe and experiment with the spices, the chicken, and even the sides as well. It's a versatile recipe that does the job well, and it is a savory dish that you will definitely love.