Probably the biggest problem I run into as someone who uses the ketogenic diet, is trying to find the right, savory snacks to make for myself, not just to keep myself from getting hungry, but even parties and get-togethers. It's so awkward standing around at a party, or serving others as a host, when I can't eat the food because it's filled with carbs.
Jalapeno poppers are a personal favorite dish of mine, but trying to find one that fit my needs was quite frustrating, especially when it came to finding alternatives for the fillings. But, I actually found some the perfect bacon wrapped jalapeno poppers keto style, and I was so excited!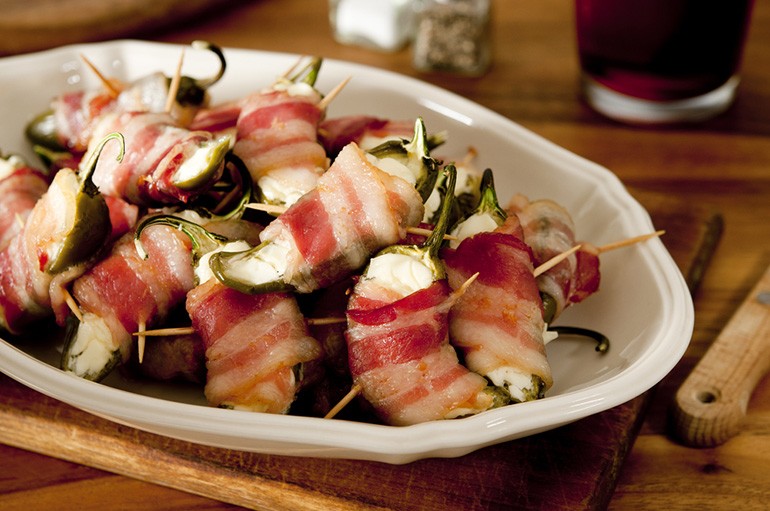 I tried this recipe at a party I hosted, and everyone loved it. These jalapeno poppers are so simple, but you can add so many different elements to it, and since they're mostly made with meats, cheeses, and other extra tidbits, you don't have to worry about it being high in carbs.
I found out how to make these keto friendly from one of the books on the ketogenic diet books list, and they were both tasty, and fitting for my diet.
This is the party appetizer that you've been looking for, and these bacon wrapped jalapeno poppers keto style will definitely go over well at your next get-together. Gone are the days where you wish you could have those poppers, for with this recipe, you can make these whenever you want and they're both the perfect snack, plus the perfect party dish.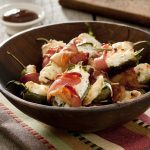 Bacon-Wrapped Jalapeno Poppers Keto
With this low carb jalapeno popper recipe, you can add extra meats and cheeses if you want, but make sure you keep it low-carb. Here are the general ingredients you can implement in your recipe to create a savory snack.
Ingredients
8

jalapenos

medium-sized and halved

¼

cup

Salsa Verde

9

slices

halved bacon

6

ounces

ground beef

8

ounces

cream cheese

Salt and pepper for taste

4

ounces

cheddar cheese

4

ounces

chorizo
Instructions
Cut the poppers in half long-ways and take out seeds.

Put the ground beef and chorizo on a pan with medium heat.


Let it fully cook and then season it to taste and then let cool.


Put the cream cheese inside each jalapeno, making sure not to overfill.

Add in the ground beef on top of this.


Make sure that the jalapeno traps all the fillings before putting the jalapeno down.


Put in the cheeses you want to use.

Talk your halved bacon and put it around the jalapeno.

Put it on a baking sheet.

Cook it for about 30 or so minutes at 400 degrees, possibly longer if you want a crispier bacon.
Extra tips
These poppers are super simple to make, but what other tips should you know about them? Well, you're about to find out, because here are some tips to make your low carb jalapeno popper recipe even better!
Mind the Spice
One thing to remember is that these are spicy and I'm not putting that lightly. If you use chorizo especially, these might be too hot to the taste.
If you don't like spicy foods, you should go heavier on the cream cheese, and use less meat. The combination of all of these spices might be too much.
Also, keep in mind that the different kinds of jalapenos that you use in this low carb jalapeno popper recipe can matter as well. Yellow and orange ones aren't as potent as the green ones, and the oranges and yellows tend to be sweeter, so consider using those if it's too much.
Experiment with Fillings!
There are a lot of different fillings that you can try with these. It doesn't just have to be ground beef and chorizo, but it can be the following:
Queso fresco
Cheddar cheese
Pepper jack cheese
Chicken
Mushrooms
Onions
Tomatoes
And so much more! Really, you can wrap anything in bacon and make it a great treat, and this recipe will give you a chance to truly master what you want to put into these to make them great!
Use Toothpicks!
One great addition that can help especially with serving is to incorporate toothpicks into this. By putting a toothpick through the middle before you serve it, it will help make it easier for yourself and others to eat it, and plus, there is less of a chance of the bacon coming apart as well.
Bacon is a great thing, but it might not hold all of your fillings, so adding a toothpick can really help you keep your poppers neatly together.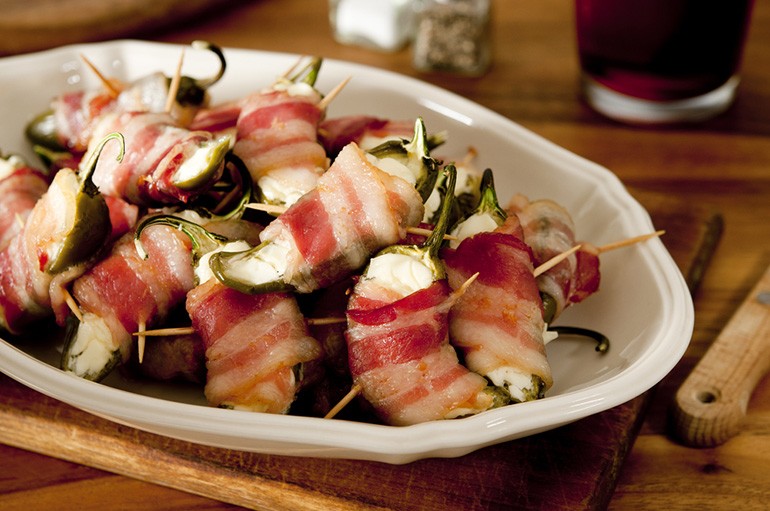 Bacon Tips!
There are many things that you can do with the bacon in these poppers, and we'll tell you a few of the cool tidbits that you can use to make your bacon the best that it can be for your jalapeno poppers.
Watch the Bacon You Use
Some bacon is thicker than others, and this can play a part in how the texture of these poppers are when you make them. Typically, thicker-cut bacon can take longer to cook, and it might be too chewy.
If you like to have crispy bacon, use thin-cut bacon. Cook it longer if you do have a thick-cut bacon.
Microwaving the Bacon
This is another tip if you're someone that doesn't like to have a lot of fat in their bacon. It can also help with making it easier to wrap around the popper and the filling.
To begin, you can put the bacon in the microwave for about three or so minutes, and this will take out a lot of the fat. You can from there prepare the poppers and then wrap them around.
After that, you can bake it. It will make your bacon super crispy and it'll hold everything together nicely.
Less is More
Bacon is a great food, but sometimes, even you can go a little bit too crazy with bacon. A thinner strip can help make it easier to manipulate, and it does affect the overall texture of the popper itself.
An alternative if you feel like there is too much bacon is to lay it on top and then bake it. From there, you can eat them, and you don't have to worry about the bacon coming undone.
Final Thoughts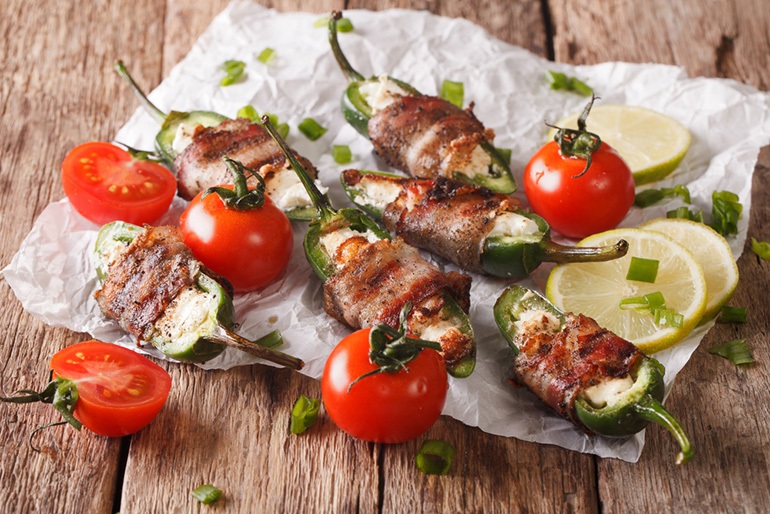 These bacon wrapped jalapeno poppers keto style are a great addition to your repertoire when it comes to the different snack foods that you can create. They're super simple, and the best part is, you can totally experiment with them if you so desire.
You can create the best poppers that you can for yourself, and for others, and you can serve them up at your next party. No matter how you prepare them, what you put in them, or even the type of bacon or jalapeno popper you use, they're sure to be a success, and they're a savory keto-friendly option for you!