I know I am not alone when I say there is nothing worse than coming home from a crazy, seemingly endless day, only to have to come up with something for dinner. To further complicate this exhausting and daily situation, this dinner needs to be healthy and something everyone in your family will eat. Que tears of frustration…
I have spent years fighting this battle. Finally, I have been able to come up with a reliable and simple way to feed my family a healthy meal, without spending a ton of money and without having to spend half of my evening cooking. The busy cook's best friend, the Crock Pot, has been a lifesaver. That is why I have put together ten of my favorite low-carb Crock Pot recipes for you and your family to try.
Crock Pot Cooking Advantages
The most obvious advantage of Crock Pot cooking is the ability to place all of your ingredients for a meal, including your meat, in one dish in the morning, and then come home at the end of the day to a delicious hot supper. It might surprise you to know that that there are several additional advantages I have discovered over the years of using my Crock Pot for preparing things other than main meals.
Soups
For an of your avid soup cookers out there like myself, learning to use the Crock Pot to make my soups has been a real game changer. Even if I am going to be home all day long, I prefer using my Crock Pot over simmering my soup on the stove. Why?
Because I don't have to worry about having my stove top on all day or about scorching my soup if I forget to stir it as often as I should. With a Crock Pot, you can practically forget about keeping an eye on the soup all together. You can stir it once in a while if it makes you feel better, but it is really not necessary!
Dips
Making dips in Crock Pots is great because you can keep them warm and snack on them all day.
If you are having a family get-together, your guests can just help themselves whenever the mood strikes.
If you are going to someone else's home for the gathering, you can easily take the prepared dips with you and just plug your Crock Pot back in when you get there. No more cold dips that break every chip one hour into the get-together!
Hot Drinks
Just like with dips, the Crock Pot is ideal for preparing a big batch of hot drinks like apple cider or hot cocoa. You, your family and friends, can all enjoy a warm glass of your favorite beverage without having to continually heat drinks in the microwave or on the stove.
Appetizers
Crock Pots are the perfect cooking solution for preparing appetizers like meatballs, shrimp or cocktail franks.
Crock Pot Cooking Pro Tips and Tricks
While cooking with a Crock Pot is super easy, I must say there are a few tips and tricks I have learned (most of them the hard way) that I want to share with you to help make your Crock Pot cooking successful and fun!
Line the bowl
This may sound crazy, but if you are cooking something sugary or cheesy, try lining the bowl with Crock Pot liner. This will save you and your hands from several rounds of scrubbing and soak to get crisped on cheese or sauce off of the edges of your Crock Pot.
Update your cooker
Crock Pots are amazing in that they last for years. My mother is still using the one she received as a wedding present almost 50 years ago! That being said, I encourage you to update your cooker. Newer models have time and temperature controls that better allow you to get the perfect result in your dish, especially if you are going to be gone for eight hours or more.
Have a removable bowl
This tip goes along with number two, but it is important enough for extra emphasis. Make sure to get a model that has a removable center dish (many older versions do not). This makes washing so much easier! Trust me!!
Pick the right size
Make sure you are using the right size Crock Pot. If your Crock Pot is too small for a number of ingredients you are using you run the risk of your food not getting cooked through and possibly even causing food safety issues. If you Crock Pot is too large you might overcook or even burn your meal even when following time and temperature suggestions on a recipe.
Lockable lid
If you are taking my above advice and updating your current Crock Pot, might I recommend getting one that has the lockable lids!
These are perfect for when you are taking your dish to another place for a get together with family and friends. No spills on your vehicle or outfit make for a happier party for you and your traveling companions. I have spilled more than my fair share of hot food on myself or my vehicle to know this to be true!
Know you Crock Pot
Crock Pots tend to have their own mind when it comes to exactly how hot the "high" setting is and how low the "low" setting is. As you cook your recipes make note if your food seems to cook right on time with the recipe, too slow, or too fast. Soon you will get an idea of how long your Crock Pot really needs to get a perfect result every time.
There are so many Crock Pot and slow cooker options on the market, choosing the one that is right for you can be overwhelming. To help you with steps two through five, I have put together
a review of five top rated crock pots
.
Low-Carb Crock Pot Recipes
Finally on to the main event… My collection of delicious and healthy low-carb Crock Pot recipes.
While there are numerous recipes for all sorts of Crock Pot delights from drinks to desserts, I wanted to share this group of recipes as I find them to be the most beneficial for me and my family on a daily basis. These are all healthy and delicious meals.
If you are not following a low-carb diet you can serve some warm bread alongside your Crock Pot dish. However, none of these meals need anything more than what is in the Crock Pot to be a filling and delicious supper.
1. Crock Pot Cabbage Casserole
I love this recipe because it is one of the few ways I can get my family to eat cabbage. This is a delicious meal that leaves you feeling full for hours!
1 lb of ground Italian sausage (you can use turkey sausage or fresh kielbasa if you prefer).
1 Onion
4 Cloves Garlic
1 log can crush tomatoes
2 cups of cooked brown rice
7 cups of cabbage (I buy coleslaw mix to speed things up).
Step 1: Brown sausage, add onions and garlic and saute till done. Add to Crock Pot. Add crushed tomatoes to Crock Pot.
Step 2: Clean and shred cabbage (or like me, buy coleslaw mix which is just made of already cleaned and shredded cabbage, what a huge time saver! Don't worry if your mix has carrots in it, they are a great addition.) Bring to boil until wilted. Add to Crock Pot and stir.
Step 3: Add cooked brown rice to Crock Pot.
Step 4: Cook 3-4 hours on high till done. Feel free to add a little water if you feel your dish is getting a little too dry. If you are going to be gone while it is cooking I just add a half of a cup of water to be on the safe side.

2. Bean Free Crock Pot Chili
There is nothing like coming home to a Crock Pot full of warm chili on a cold day. It can make all of your stress just melt away and sets the mood for a fun evening with your family. This is also a great dish served on game day with your friends!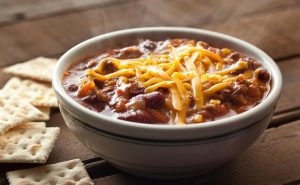 1 pound lean ground beef (or ground turkey)
1 cup diced celery
1 28 ounce can crushed tomatoes
1 small can diced green chilies
2 cloves crushed garlic
1/4 cup chopped raw onion
1/2 tsp salt
1 tsp Cayenne Pepper
3 tsp ground Cumin Seed
6 tsp Chili powder
2 tsp crushed chili flakes
Step 1: Brown ground beef and rinse to remove excess grease if you desire.
Step 2: Add ingredients to Crock Pot and stir.
Step 3: Set on high for 2 hours or low for 4 hours. Then if your Crock Pot has the "warm" feature you can set it to stay warm until you return home. A little shredded cheese and some plain Greek yogurt make excellent low-carb toppings.

3. Crock Pot Beef Stroganoff
This recipe is one of my family's favorites. It is so warm and hearty that it really feels like a treat, but a treat I feel good about serving them! Traditionally stroganoff is served over noodles or rice, but I like to eat it as is or over cooked carrots (call me strange).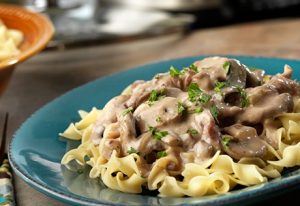 1 lb top sirloin (or stew meat of choice)
1 can cream of mush soup
1 can mushrooms
1 can beef consume
1 can French onion soup
½ can of water
1/2 cup light sour cream
Step 1: Put stew meat, soup, mushrooms (with liquid), onion soup mix, beef bouillons, and water in Crock Pot.
Step 2: Cook on high 4-5 hours or low 7-8 hours.
Step 3: When done turn off the Crock Pot and take the lid off to let it cool down a little bit before adding the sour cream for a thickener (I substitute plain Greek yogurt, it works great and has fewer calories and more protein).

4. Creamy Mushrooms and Pork Chops
Sometimes I am more in the mood for a piece of meat rather than a casserole or soup type dish. This recipe is perfect for those occasions. These pork chops taste great served alongside any of your favorite cooked veggies.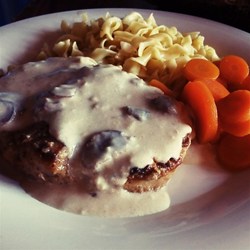 4 thick boneless pork chops
1 can cream of mushroom soup
1 can cream of celery soup (you can use golden mushroom soup if you don't like celery)
1 cup of water
Step 1: Add cream of mushroom soup to your Crock Pot.
Step 2: Brown the pork chops in a skillet and then add them to the Crock Pot. Add 1 can of cream of celery soup to Crock Pot.
Step 3: Cook on low for 7 – 8 hrs or high for 5 – 6 hrs.

5. Crock Pot Italian Beef
This recipe is perfect for feeding a crowd or for delicious leftovers that travel well with you to work. My kids like to eat this on a nice bun but my husband and me often just eat it with a side of cottage cheese. Either way, this easy recipe is delicious and always a crowd pleaser!
1 medium arm or rump roast, thawed.
1 tablespoon dried Italian seasoning.
1 can sliced pepperoncini peppers.
1 cup of water.
Add ingredients to Crock Pot and put on low heat for approximately 8 hours. That is it! It is truly that simple.

6. Curry Peanut Chicken
This recipe is one of my go-to date night recipes. It feels a little more upscale than some of my other favorite low-carb Crock Pot recipes.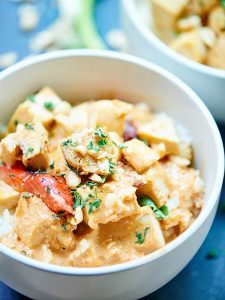 4 to 5 pieces chicken, boneless/skinless, breasts and/or thighs.
1 14 0z can coconut milk (not light)
1 tsp curry powder
1 tsp red Thai curry paste
1/2 tsp grated ginger
1/2 tsp red pepper flakes
3 tbsp peanut, almond, or cashew butter
2 tbsp coconut aminos or tamari
1/2 cup chopped yellow onion
1/2 cup sliced red bell pepper
1 tbsp chopped basil leaves, preferably Thai
1/4 cup cilantro
1 cup snap or snow peas
salt, pepper, and lime juice, to taste (see note below)
Step 1: Mix all of the ingredients, except the chicken, in the Crock Pot.
Step 2: Place the chicken in the sauce and be certain that the chicken is completely covered.
Step 3: Cook on low for 3.5 hours or high for 5.5 hours.
Step 4: When it is done cooking, stir. The chicken will fall apart! This is great served over basmati rice but can be eaten as more of a stew if you prefer.

7. No Crust Crock Pot Breakfast Pie
I realize this has breakfast right in the title, but believe me, we eat it just as often as our supper. It is a refreshing change from our usual supper choice and, as the title implies, a perfect breakfast choice.
8 eggs, whisked
1 sweet potato or yam, shredded
1lb pork sausage crumbled up
1 yellow onion, diced
1 tablespoon garlic powder
½ tablespoon red pepper flakes
2 teaspoons dried basil
salt and pepper, to taste
any extra veggies you want to put in there: peppers, squash, etc.
I suggest greasing your Crock Pot with a little cooking spray of your choice to make sure none of the egg sticks to the side. Add all ingredients to your crockpot and mix well. Place on low for 6-8 hours.

8. Parmesan Chicken Ranch Crock Pot Stew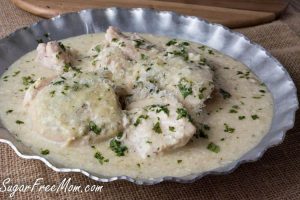 2 1/2 pounds boneless skinless chicken breasts, cubed
1 teaspoon salt
1/2 teaspoon pepper
1 teaspoon onion powder
2 teaspoons garlic powder
1 tablespoon dried minced onion
1 tablespoon fresh minced dill
1 tablespoon fresh minced parsley
1/2 cup dry white wine
1/2 cup chicken broth, low sodium
2 garlic cloves minced
8 ounces room temperature cream cheese
1/2 cup grated Parmesan cheese, plus 1/4 cup
2 Tbsp. arrowroot powder
Step 1: Slice the chicken into bite size pieces. Set aside.
Step 2: Whisk the dry seasonings together and sprinkle on both sides of the chicken. Combine the wine, broth, garlic, cream cheese and 1/2 cup of Parmesan cheese in a bowl and stir to combine well. Pour half this mixture into the Crock Pot. Place the rest in the fridge for now.
Step 3: Add the chicken. Cover and cook on high 3 hours.
Step 4: Whisk in arrowroot powder as a thickening agent into the reserved sauce and then pour over the chicken and sprinkle with remaining Parmesan cheese.
Step 5: Cook an additional 30 minutes.

9. BBQ Pulled Chicken
I love this recipe because I am not a fan of sweet BBQ. If you like sweet BBQ you can use the original recipe from Sugar Free Mom which adds some non-sugar sweeteners.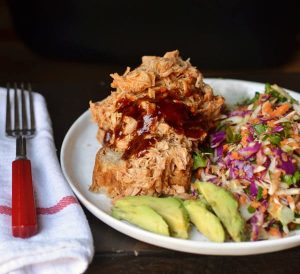 3 pounds boneless skinless chicken thighs
1 teaspoon smoked paprika
1 teaspoon onion powder
1 teaspoon cumin
1/2 teaspoon salt
1/4 teaspoon pepper
1/2 cup water
1/4 cup apple cider vinegar
1 cup ketchup
1/4 teaspoon cumin
1/4 teaspoon salt
Step 1: Combine the dry ingredients and sprinkle over and rub into your chicken. Combine the rest of the ingredients in your Crock Pot.
Step 2: Place the chicken in the Crock Pot and cook on high for 4 hours and low for 8 hours. When finished cooking you should be able to easily shred the chicken with two forks.

10. Spicy Chili Pepper Chicken
This is another great date night recipe as it is a little too spicy for my kiddos. If your family all love spicy food, then this is sure to be a huge hit!
3 skinless chicken breasts, cut into bite-size pieces
2 jalapeno peppers, sliced
1 large chili pepper
1 green or red bell pepper
1 cup chicken broth
1 tablespoon crushed red pepper
1/2 cup chopped green onions
6 teaspoons peanut butter
4 teaspoons lemon juice
4 teaspoons soy sauce
2 teaspoons olive oil
1 teaspoon ground ginger
1 teaspoon minced garlic
½ teaspoon fresh ground black pepper
¼ teaspoon salt
Step 1: Place all of the ingredients in your Crock Pot bowl and place in the refrigerator overnight (You can skip this step if you didn't plan far enough in advance to do this). Allow the dish to sit at room temperature for 15 minutes before placing in the cooker.
Step 2: Cook on low for 8 hours or high for 4 hours.

Start Cooking!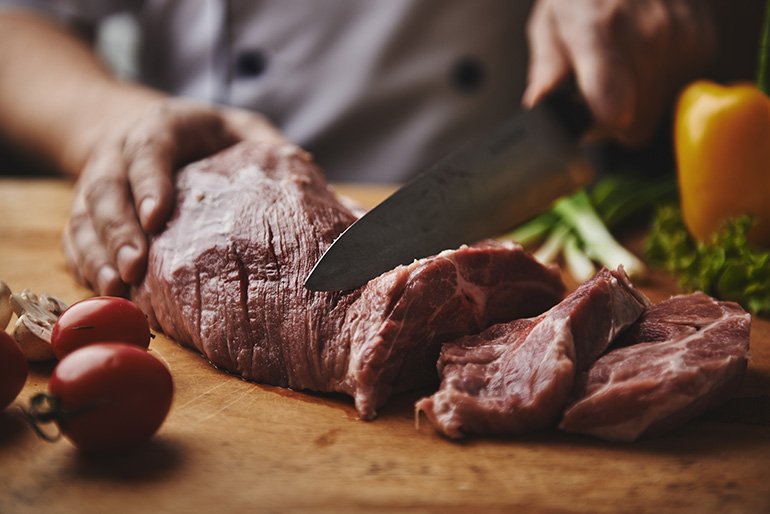 Now that you have some knowledge about how to take advantage of Crock Pots, some great tips, and tricks to get you started on the right track, and some mouthwatering low-carb Crock Pot recipes you are all set to discover the joys of Crock Pot cooking. You can look forward to coming home at the end of a long day to a delicious, healthy, home-cooked meal that you can feel good about eating. In addition, you didn't have to spend a fortune or a ton of time to get this meal on the table.
I hope that you are able to enjoy many of these recipes and I encourage you, much like did, to experiment with the recipes and make them your own. No one knows better than you what your family likes and dislikes. Don't be afraid to substitute, leave out, or add in ingredients as your heart desires. Before long you will have a collection of low-carb Crock Pot recipes of your very own!
On that note, if you enjoyed this article, it would be great if you shared with friends. We would also really appreciate any comments or suggestions for low-carb Crock Pot recipes you may have to share!
Many of my low-carb Crock Pot recipes originated somewhere else and I have just put my own spin on them (sometimes there are major changes and sometimes it is just a few little changes). Below are the links to the original recipes sources as I wanted to be sure to give credit to the places that fueled my inspiration!