Do you love Kielbasa? If yes, do you know how to cook fresh Kielbasa correctly?
The first time I heard the term Kielbasa, I had no idea what it is. In fact, I even thought it was a fruit or a vegetable. But as it turns out, Kielbasa is a term used to denote any type of Polish sausage that contains veal and pork meat and is flavored with herbs and garlic.
I love its taste, and I am pretty sure, you, sausage lovers, will love it too. But the problem is, some people tend to cook it the wrong way, making it less flavorful and the texture less appealing.
If you wish to enjoy Kielbasa in all of its meaty glory, then you need to know how to cook it the right way. Today you will get to know about how to cook fresh Kielbasa in the best four ways possible. If you are ready, let's get started!
What You Will Need
A few pieces of white or fresh Kielbasa
For Boiling the Kielbasa:
1 onion (quartered)
A few pieces of peppercorns
One piece bay leaf
1 teaspoon of marjoram
A few pieces of garlic cloves (smashed)
For Grilling the Kielbasa:
Vegetable oil
Grill and Paper Towel
Horseradish
Mustard
Sauerkraut
For Pan-frying the Kielbasa:
Cast iron skillet
Vegetable oil
Large Tong
Rice or Vegetable Salad
For Roasting the Kielbasa:
Oven
Baking Sheet, Fork
Rye Bread
Horse Radish
For Slow Cooking the Kielbasa:
12 oz beer of your choice
Curry powder
Garlic powder
Onion powder
A dash of horseradish
½ cup of brown sugar
¼ cup of honey mustard
How to Cook Fresh Kielbasa: The Step by Step Instructions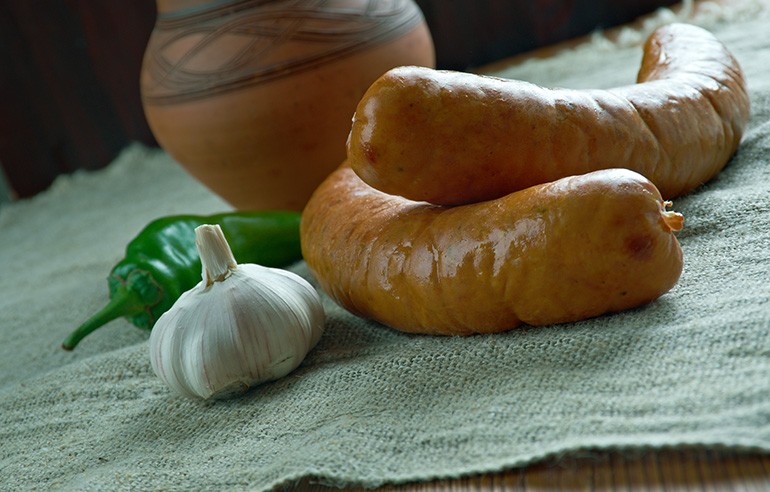 Before we start this simple tutorial, it's important for you to know about the types of Kielbasa. It comes in two forms, the first one is the fresh Kielbasa and the second one is the smoked Kielbasa.
The smoked Kielbasa is already pre-cooked and then smoked. At times, manufacturers add artificial smoke flavors to it. On the other hand, the fresh Kielbasa is raw and would have to be boiled first before browning its skin using different types of cooking methods, and that is what we are going to talk about in this article.
Step 1. Thaw the fresh Kielbasa.
If the Kielbasa is still frozen, remove it from the freezer 30 minutes to one hour before your scheduled preparation time to thaw it a bit. If you plan on cooking the Kielbasa right after buying it, you can skip this step.
Step 2. Boil the Kielbasa.
Put the peppercorns, onion slices, garlic cloves, marjoram, bay leaf and the fresh kielbasa in a pot. Pour enough water to cover the sausages, and cook at low heat for about 30-50 minutes.
Step 3. Pack it.
If you plan to eat the sausages in the coming days, you can put them in a vacuum-sealed package and store it in the refrigerator after boiling it. This will be good for up to 3-4 weeks.
Step 4. Brown it.
If you plan to serve and eat the fresh Kielbasa the right away, then the next step is to brown it. Keep in mind that fresh Kielbasa features a white color even after boiling. If you want to make its skin color brown, there are four different cooking methods on how you can do that.
– By Grilling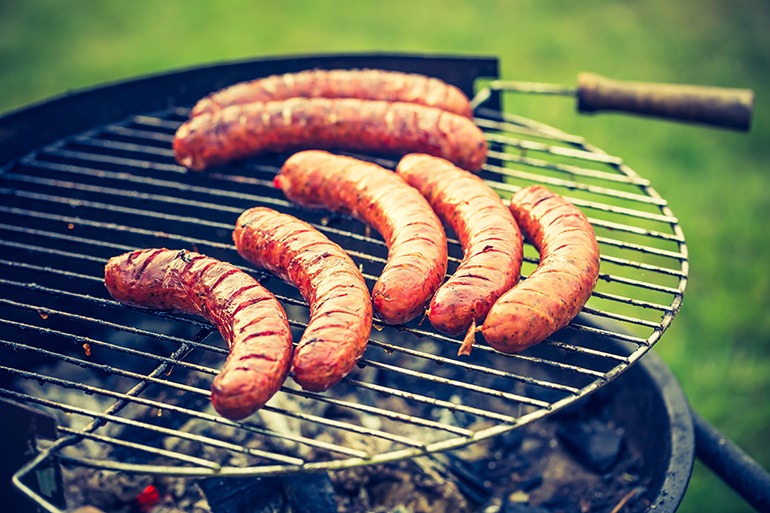 Grilling is the traditional cooking method for a Kielbasa, so if you want to remain as true as possible to this cuisine, this is the best method for doing so.
Step 1. Fire the grill to medium heat and use a paper towel to apply the oil to the grill bars.
Step 2. Place a few pieces of Kielbasa on the grill.
Step 3. Cover and allow to cook.
Let the sausages cook for about 4 minutes before flipping them. Cook the other side for 4 minutes more.
– By Pan-frying
This is the most convenient method for browning the sausages.
Step 1. Prepare your skillet.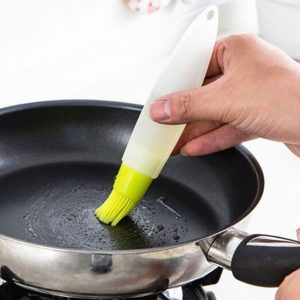 Heat skillet over medium heat. Add a tablespoon of vegetable oil and use a basting brush to evenly spread it on the skillet.
Step 2. Slice the sausages.
Place the sausages on the cutting board and slice them up by a knife. If you want thicker slices, you can cut them up lengthwise to achieve 4-inch thickness. On the other hand, you can do a cross-sectional cut to create 1-inch thick slices.
Step 3. Cook the sausages.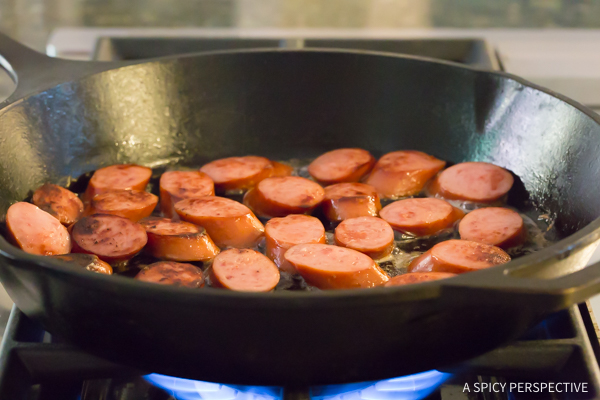 Spread the slices evenly on the pan. Fry each side of the slices for 3 minutes.
– By Roasting
To prevent the mess in your kitchen, this is the best cooking method to do so.
Step 1. Prepare the oven.
Preheat the oven to 350 degrees F.
Step 2. Arrange the Kielbasa on the baking sheet (You can certainly use a lasagna pan if you don't have a baking sheet).
Pour a cup of cooking oil on top of the sausages. Use a fork to poke the holes on top of the sausages.
Step 3. Roast the sausages.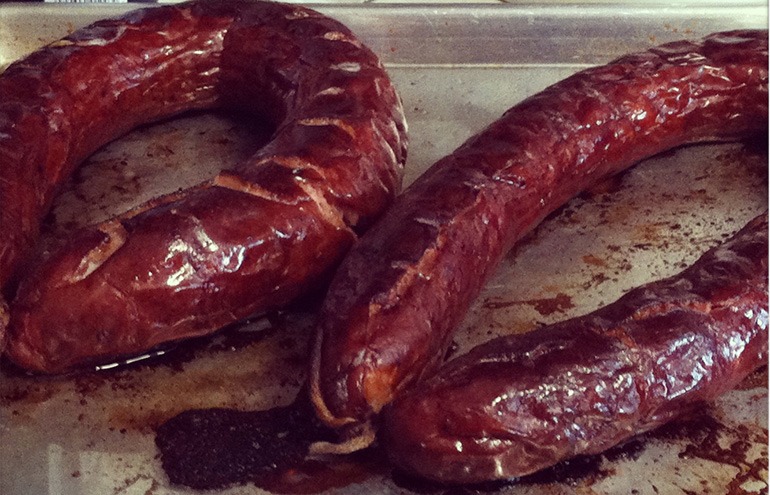 Roast the sausages for 20 minutes or until the skin starts to brown and crack open.
– By Slow Cooking
This method might take more time, but it will result in the most flavorful Kielbasa that you can ever taste!
Step 1. Prepare the sausages.
Slice the sausages into ½ inch-thick slices.
Step 2. Place them in the slow cooker.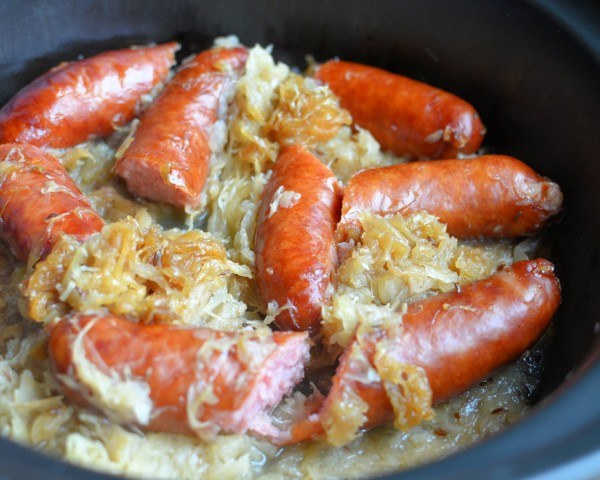 Turn the slow cooker on low heat. Mix brown sugar and honey mustard and then place it in the slow cooker. Gently pour the beer into the slow cooker to avoid foaming. Add a dash of horseradish, 3 shakes of curry powder and 5 shakes of garlic and onion powder.
Add the sausage slices and mix everything together. Cover and cook for 5 hours.
Step 5. Serve the kielbasa.
There are plenty serving tips for Kielbasa. Here are some fantastic ideas based on the cooking method that you have chosen:
For grilled Kielbasa, serve it in slices with the following sides: horseradish, mustard, and sauerkraut.
For pan-fried Kielbasa, you can serve it with vegetable salad or rice on the side.
For roasted kielbasa, you can cut diagonally to create ½ inch thick slices. Place it on top of a slice of rye bread and top it off with horseradish.
For slow-cooked Kielbasa, you can serve it on its own or in a sandwich roll topped with sauerkraut.
Conclusion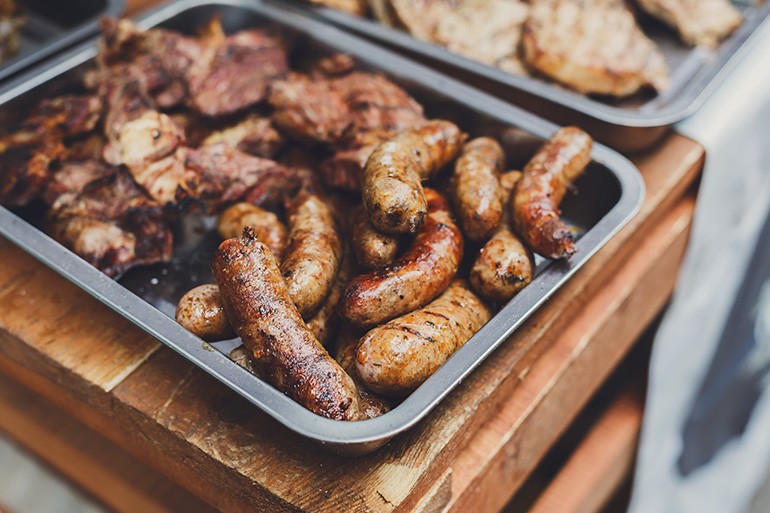 Kielbasa is known for its standout garlic flavor and coarse texture, but you can only enjoy its amazing flavor if you know how to cook it right. So, how to cook the fresh Kielbasa? First, you boil it then you brown it.
There are four different ways on how you can brown it — pan-frying, roasting, grilling and slow cooking. I hope that with the information provided above, you already know what you need to do to make a great Kielbasa dish.
Do you have any questions or did I miss out some Kielbasa cooking tips? If so, feel free to share them with me and the other readers in the comments section. Your feedback and inquiries will be highly appreciated!