Who can say no to a pulled pork dish? How can you resist its meaty, saucy and juicy goodness? Well, I sure can't, but one of the hassles of cooking a pulled pork dish is that it takes too long and a bit complicated to prepare. That's why I always decide to cook more than enough in one batch.
I am pretty sure you do that too. After all, reheating it is much easier than preparing another pulled pork dish, right? But how to reheat pulled pork perfectly? Well, there are four easy ways to do that. Read this guide to find out!
What you Will Need
For all techniques, here are the basic ingredients and equipment that you will need:
Dripping sauce.
Frozen or refrigerated pulled pork.
Meat thermometer.
For Technique #2:
Skillet.
Cooking spray.
Stove.
For Technique #3:

For Technique #4:
Vacuum sealed bag.
Pot or crockpot.
Stove.
Tongs.
The Step-by-Step Guide on How to Reheat Pulled Pork
There are plenty of ways on how to reheat pulled pork. In this guide, we will be talking about 4 of the best reheating methods that you can use. Here are the instructions on how to do them: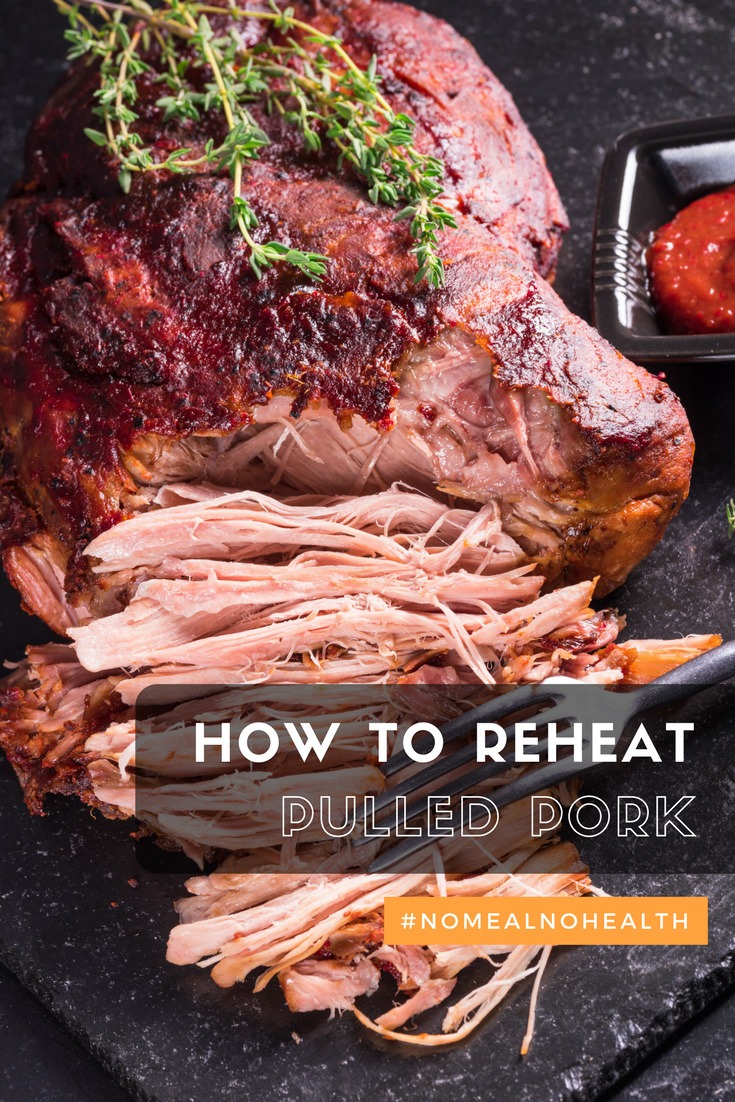 Technique #1: Reheat pulled pork in the oven.
This reheating method is preferred by many because it is one of the
healthiest methods of reheating
. It is also recommended if you are planning to reheat pulled pork in big batches.
Step 1. Prepare your pulled pork.
Before you prepare your pulled pork, preheat your oven to 250 degrees Fahrenheit. While you wait for it to heat, place your pulled pork on the baking tray. Pour mopping sauce over it to keep it juicy. Spread the pulled pork mixture evenly across the tray. Cover the tray with tin foil.
Step 2. Reheat the pulled pork.
Place the baking tray in the oven and set it to reheat for 30 minutes. Once it is properly reheated, remove foil from the tray and use a fork to stir the pulled pork mixture to evenly distribute the heat.
Pro Tip:
You will know when the meat is already thoroughly heated when it reaches a temperature of 165 degrees Fahrenheit. You can check it by sticking a meat thermometer in the middle of the mixture.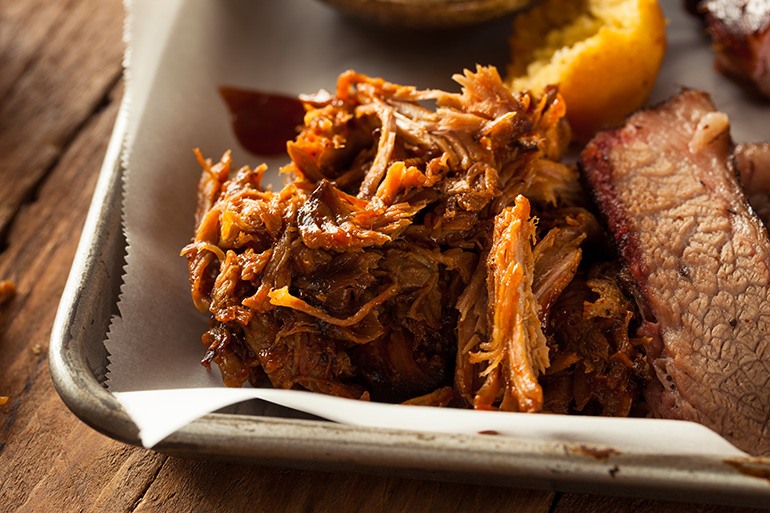 Step 3. Serve.
Let the mixture cool down for a few minutes. Serve it on a bun or over plain rice.

Technique #2: Reheat pulled pork in stove top.
This is the easiest, most common and convenient way of reheating pulled pork, so it is the go-to method for some people. After all, everyone has a stove top in their kitchens, right?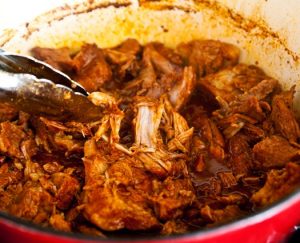 Step 1. Prepare the skillet.
Coat your skillet with cooking spray and add dripping sauce into it. The dripping sauce that you should add must be enough to cover the pulled pork mix or should at least reach a height of 2 inches from the bottom of the pan.
Step 2. Start reheating.
Place prepared skillet over medium-high heat. Let the liquid boil for a few minutes. Once you notice some bubbles forming in the liquid, add in the pulled pork mixture. Reheat the pulled pork for 5 minutes.

Pro Tip:
Make sure to completely submerge the pulled pork in the liquid for even distribution of sauce.

Step 3. Turn off heat.
After 5 minutes, turn off heat then cover the skillet. Let the pulled meat continue cooking in its own heat for 5 more minutes. Stick the thermometer in the middle. Once the temperature hits 145 degrees Fahrenheit, serve the pulled pork.

Technique #3: Reheat pulled pork in the crockpot.
This process might take a bit longer than the usual
(about 2-4 hours)
, but if you want a thoroughly heated flavorful pulled pork that you do not have to check every 5 minutes, this is the way to go.
Step 1. Place meat in crock pot and reheat.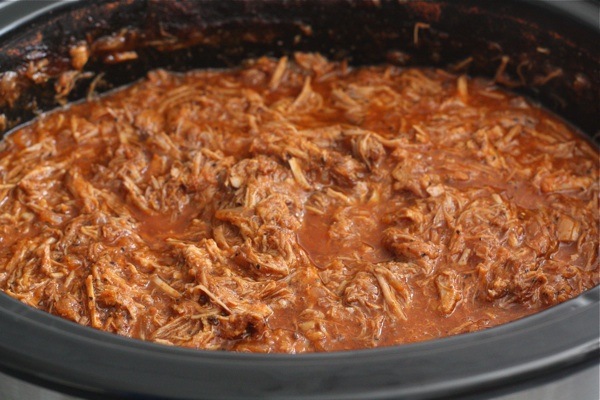 Put the pulled meat in the crockpot or slow cooker and pour dripping sauce on top. Turn your cooker on and set it only to warm setting. Reheat the meat for about 2 to 4 hours.
Step 2. Check the temperature and serve.
You can check the doneness of the dish through its temperature. Just simply stick a meat thermometer in the middle of the meat mixture. If the temperature is already 165 degrees Fahrenheit, it means that that the dish is already fully reheated.
Remove the dish from the crockpot. Transfer it to the serving platter and serve.

Technique #4: Reheat pulled pork in a water bath.
Boiling meat may not seem like a good idea, but many people claim that reheating pulled pork sous vide has its benefits. For one, it can retain the smoky flavor and juicy goodness of your pulled pork dish. This option also reduces the chances of the meat getting burnt or drying out as with the case of oven reheating.
Step 1. Vacuum seal the pulled pork dish.
If you plan to reheat your pulled pork this way, you should place the leftovers in a vacuum sealed bag. Try to flatten the bag as much as you can. Put the bag in the freezer if you plan to store it for weeks or in the refrigerator if you wish to store it in just a few days.
Pro Tip:
Do not forget to add in the pork drippings in the bag before putting it in the refrigerator to ensure the juiciness of the meat.

Step 2. Prepare your water bath.
Pour water in a pot (if you will be using the stove) or a crock pot. Make sure that the amount is enough to cover the entire bag of meat. Place the pot over medium-high heat or set the crockpot to the highest setting to bring the water to a boil.
Step 3. Place the bag of meat in the water.
Turn off the heat then submerge the bag of meat in the boiling water. Cover the pot and cook for about 45 to 60 minutes or until the meat already has an internal temperature of 165 degrees Fahrenheit.
Step 4. Remove bag and serve.
Using your tongs, remove the bag from the boiling water. Remove the contents of the bag and serve.

Additional Pro Tips to Keep in Mind
While you are cooking your pulled pork, it is best that you catch the sauce drippings and save it for later. This will come handy during the reheating process to keep the meat juicy and moist. You can refrigerate them and spoon out the thick white layer that will form on top before using it as your mopping sauce.
If you wish to achieve a more tender and juicy reheated pulled pork dish, you can add a bit of apple juice to the sauce drippings.
If you were not able to save the drippings, you could opt for a meat broth instead. You can make one by boiling vegetables, meat, herbs of your choice and enough water for an hour.
Make sure that you have implemented properly stored your leftover pulled pork to prevent it from spoilage.
Conclusion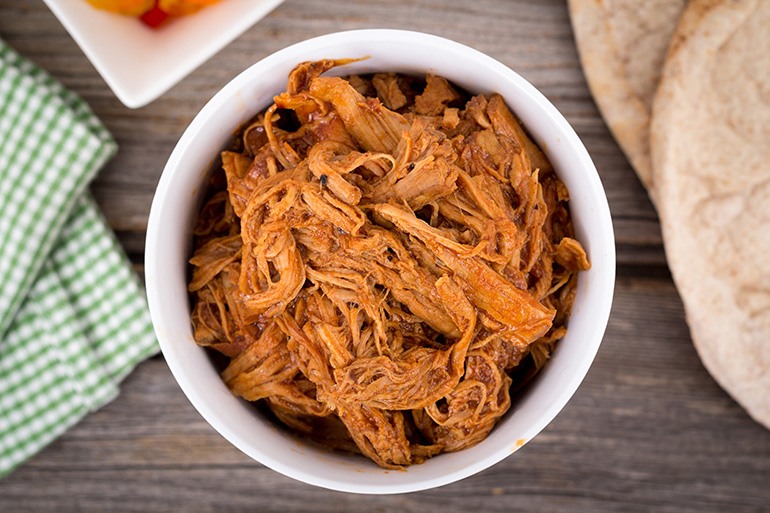 Pulled pork is a culinary masterpiece, meaning its taste is superior to any other meaty dishes that you can try but the process of making it is quite tedious and complicated. Because of this, it is understandable that you would want to cook a big batch of it at once and just store it for future use.
But of course, you need to know how to reheat pulled pork properly. There are actually four ways to do that — in the stove, using an oven, with the use of a slow cooker or by a water bath.
Each method has its advantages and disadvantages, and we have highlighted them above. Now, it is up to you to choose which one will be best for you. Just keep in mind the tips and tricks that we have provided to ensure that your pulled pork will remain as tasty and juicy as ever!
If you have any queries or feedbacks, our comments section is wide open for you!