One item which can almost always be found in my kitchen cabinets is leftover lasagna noodles. The number of oddballs varies from batch to batch, but I generally seem to have at least one, if not half a box, of lasagna noodles leftover from the package.
I am constantly inventing new ways to feed my family healthy meals while saving as much money as possible. I have come up with several excellent ways to put those leftover lasagna noodles to delicious use.
Cost Effective Tasty Ideas
Is one of your biggest challenges feeding your family wholesome meals on a budget? I feel your pain because it's one of mine.
I try to cut food costs and eliminate waste without sacrificing nutrition at every turn. One of my favorite tricks is creating new recipes from leftover lasagna noodles.
There really is no limit to what you can do with a few lasagna noodles. You can break them up and incorporate them as pieces.
Whole, they are excellent to make a wide variety of tasty roll ups. You can also cook them then cut each one into 5 to 6 long pasta shreds.
The curly versions add a bit of excitement to your dishes and the pasta possibilities are endless.
The recipes that follow are creative ways to add fun to your cooking, variety to the dinner table, and get rid of those last few lingering noodles.
Think pasta favorites. Try replacing any of your family's treasured combos with your oddball lasagna noodles.
Before we go into detail, did you wonder question like: "
How long does lasagna last?
". If yes, you're not alone. Let see my lasagna ultimate guide to know
how to store lasagna
and reduce your waste.
Make a Scrumptious Turkey Casserole
Scrumptious Turkey Casserole Recipe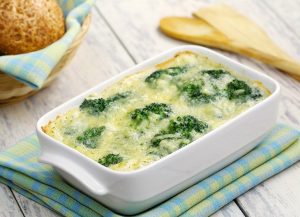 Time: 40 Minutes
Level: Simple
Servings: 6
Notes: Uses Leftover Lasagna Noodles and Turkey
This recipe is yummy and takes care of not one, but two leftovers. There are a number of variations to consider depending upon your family's health goals.
You can also tailor it to the cabinet shopping method. Any type of leftover meat can be used or eliminated altogether.
I like to roast a turkey breast for supper one night and use the leftover turkey to make this casserole later in the week. I use frozen broccoli because my family loves it, but you can replace it with just about any veggie.
Pro-Tips
Consider using cheese alternatives.
Firm tofu sautéed with a variety of Italian herbs and spices can replace the meat.
Dried chopped onion, dried minced garlic, and celery seed work just fine, if you don't have any fresh on hand.
Vegetable broth or bouillon cubes and 1 1/2 cups of water may be used instead of chicken stock.
The Ingredients
6 to 8 Lasagna Noodles; Broken into 2" Bits
Tablespoons Olive Oil
Onion, Diced
4 Stalks Celery, Chopped
1 Tablespoon Garlic, Minced
1/4 Cup All-Purpose Flour
1 1/2 Cups Low Sodium Chicken Stock
4 Cups Cooked Turkey, Cubed
1 1/2 Cups Fresh Broccoli (Or desired veggie blend); Chopped
2 Cups Shredded Cheese Blend
3/4 Cup Low-Fat, Rice, or Soy Milk
Salt and Pepper to Taste
Directions
Preheat your oven to 400 °F. Cook the broken lasagna pieces in salted, boiling water for about 6 to 8 minutes or until they are al dente. Drain, rinse, and set aside.
Spray a 9"x13" casserole dish with olive oil.
Heat 2 tablespoons of olive oil in a large skillet on medium. Sauté the onion, garlic, and celery for around 3 minutes or until translucent and tender.
Gently mix in the all-purpose flour. Slowly whisk in the chicken broth.
Gradually stir in the milk. Cook until the sauce is thick and bubbly, stirring constantly.
Add salt and pepper as desired.
Spread you cooked lasagna noodles in the bottom of your casserole dish. Sprinkle the cubed turkey evenly over the pastas.
Layer the vegetables over the turkey. Drizzle your sauce over the veggies.
Scatter half of the shredded cheese over your casserole and bake until the cheese has melted or about 20 minutes.
Take your casserole out of the oven and spread the remaining cheese on top of it. Let it set for 5 minutes to allow the additional cheese to melt.
Try Healthy Zesty Goulash
Zesty Goulash Recipe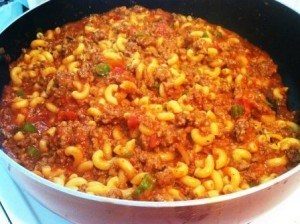 Time: 60 to 90 Minutes
Level: Simple
Servings: 6 to 7
Notes: Another Great Cabinet Shopping Recipe
My family devours this delicious goulash. Keep in mind that this recipe takes a little extra time. It is not your typical tossed together, 30-minute meal, but it is flavorful and is perfect for chilly winter nights.
Pro-Tips
This recipe is delicious when prepared in a cast iron Dutch-Oven. Be sure you preheat your pot before browning your meat.
This recipe can be prepared the day or night before. Once it is cool, place it in the refrigerator overnight. This allows the flavors to marry and meld.
You can also cook this on your stove, in the Dutch-Oven, and simmer in a preheated, 350-degree oven for 30 minutes to an hour for quicker flavor melding.
The Ingredients
2 Pounds Lean Ground Meat
3 Teaspoons Garlic, Minced
3 Cups Water
30 Ounces Tomato Sauce
30 Ounces Tomatoes, Petite Diced
3 Bay Leaves
2 Tablespoons Italian Seasoning
1 Tablespoon Seasoned Salt or Salt Free Seasoning
3 Tablespoons Soy Sauce or Low-Sodium, Liquid Aminos
6 to 8 Leftover Lasagna Noodles; Broken into 2" Bits
1 Cup Shredded Low-Fat Cheese Blend
Directions
Sauté the ground meat in a large skillet using medium high heat until it's thoroughly done. Drain all the grease from your browned meat.
Toss in the minced garlic and sauté for an additional 5 minutes. Next, stir in the remaining ingredients except the leftover lasagna noodles and cheese.
Stir all your ingredients well and cover. Allow the sauce to simmer for about 20 minutes.
Pour in the uncooked pasta and stir well once again. Replace the lid and allow to simmer for another 30 minutes.
Remove your goulash from the heat and bay leaf from your dish. Add the shredded cheese just before serving.
Prepare a Creamy Pasta Salad
Creamy Pasta Salad Recipe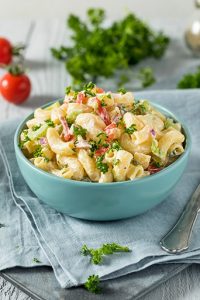 Time: 2 to 2 1/2 Hours
Level: Moderately Easy
Servings: 4 to 6
Notes: Has Limitless Possibilities
This pasta salad is an extremely versatile recipe. You can eliminate and/or add items which may be dietary specific.
You can get creative when you choose your salad ingredients. Try using this recipe as an excuse to get rid of any items in your refrigerator whose expiration dates are getting down to the wire.
Move stuff around when you look and pull everything you might be throwing away in the next day or two anyway.
Pro-Tips
You can increase the protein content by adding shredded, boneless chicken or chopped boiled eggs.
For a more vegetarian friendly protein boost throw in some chickpeas or black beans.
Silken tofu works well in place of yogurt.
Add some nuts for a different kind of protein crunch.
Whisk the following ingredients together for a creamy and healthy, herb vinaigrette.
3 tablespoons extra virgin olive oil
2 tablespoons wine lemon juice or apple cider vinegar
2 to 3 Tablespoons Plain, Low-Fat Yogurt
1/8 Teaspoon Garlic Powder
1/8 Teaspoon Garlic Powder
1 Tablespoon Dried Parsley Flakes
Salt and Pepper
The Ingredients
6 to 8 Lasagna Noodles; Broken into 2" Bits
1 Bunch Fresh Green Onions Chopped
2 Cups Fresh Cherry Tomatoes, Sliced
2 to 4 Ounces Black Olives; Chopped
2 Fresh Bell Peppers; Diced (Use yellow and green for a festive rainbow.)
1/2 Cup Celery; Chopped
Directions
Cook the leftover, broken lasagna noodles until it reaches the consistency your family likes. Rinse the pasta with cold water and drain well.
Combine the cooked pasta, fresh veggies, and olives in a large bowl with a tight-fitting lid. Drizzle the salad with your Creamy Herb Vinaigrette and toss well to coat.
It's better to make this the day before because all the wonderful flavors marry the longer you allow it to sit in the refrigerator. You can chill it for 4 or 5 hours and serve it in a pinch; however, it's best to leave it overnight.
Slow Cook your Taco Bake
Taco Bake Slow Cooker Recipe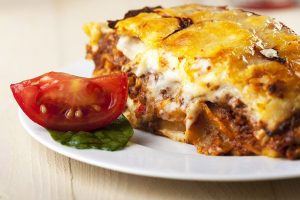 This slow cooker leftover lasagna noodle recipe is extremely simple to throw together for a wholesome, hot dinner. It is an all-day process, but you are not required to stand over it.
Be sure to get it on 6 to 8 hours before supper. Tackle your to-do list while your crockpot does the rest.
Read more: 10 Simple and Inexpensive Low-Carb Crock Pot Recipes
Pro-Tips
You should always preheat and spray your slow cooker with olive oil before placing your ingredients in it. You would not try to bake anything in your oven without preheating it for a bit. Think of your crockpot like a tiny oven.
There are many types of diced, canned tomatoes available. Try those which are fire-roasted or include sweet onions and garlic for more flavor.
One mistake I ran into when I began using my slow cooker was getting the liquid ingredients just right. Don't worry, if your dinner is too juicy. Put it in a pot on the stove without a lid. Simmer it until it reaches the desired consistency.
The Ingredients
9 Lasagna Noodles
1 Pound Lean Ground Meat
1 Ounce Taco Seasoning
1/4 Cup Water
1/4 Cup Beef Broth
2 Bunches, Fresh Green Onion; Chopped
1 Tablespoon Garlic; Minced
2 to 4 Ounces Black Olives; Sliced
1 Cup or 1 15-Ounce Can Tomatoes; Petite Diced; Undrained
1 Avocado; Thinly Sliced
1 15-Ounce Can Black Beans; Drained or Refried Beans
2 Cups Frozen Corn
1 Tablespoon Tomato Paste
15 Ounces Low-Fat Ricotta Cheese
1 Large Egg
2 Cups Low-Fat, Fiesta Blend Cheese
Directions
Cook the ground meat over medium-high heat in a large skillet, stirring often, until it is thoroughly cooked. Drain any grease from the meat.
Add the taco seasoning, tomato paste, water, and broth to the meat. Stir well, remove from heat, and set aside.
Combine egg, garlic, and ricotta cheese in a large bowl and set aside. Use cooking spray and mist your crock pot.
Distribute 3 lasagna noodles as evenly as possible in the bottom of your crock. You might need to break them to accomplish this.
Spread half the ricotta over the noodles and pour half the meat sauce over that. Layer the half the tomatoes, beans, olives, onions, and corn.
Sprinkle your first set of layers with half the shredded cheese. Repeat the entire process with the rest of your ingredients.
This recipe can be cooked in the slow cooker on low for about 4 hours or high for 2 to 3. I like to serve it with sour cream and extra shredded cheese.
Note: Save 2 tablespoons of green onion, 2 tablespoons of diced tomatoes, and 1 tablespoon black olives. Sprinkle these on top of the last layer of shredded cheese. Once your taco bake is done, remove your crock and top with the thinly sliced avocado.

Final Thoughts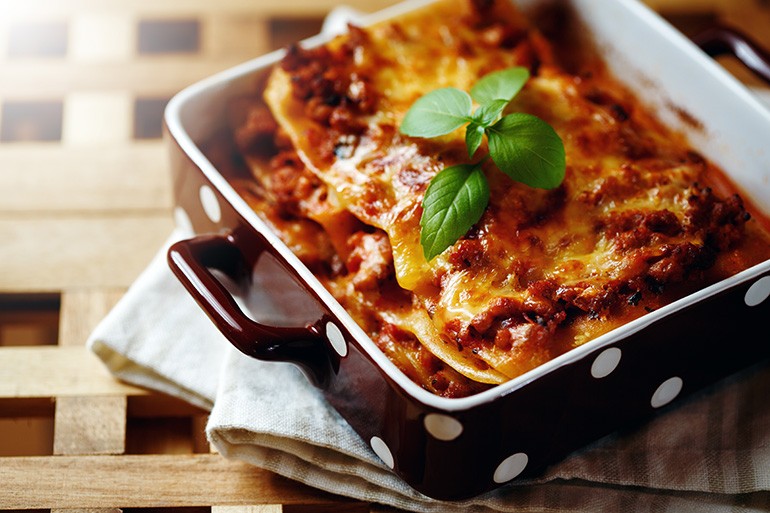 There are many other ways to use your leftover lasagna noodles. You can always keep your oddball noodles in an air tight container until you have enough to make a batch of lasagna.
If you have just under enough noodles for your favorite lasagna recipe, make it in your slow cooker. Break your leftover lasagna noodles into 2-inch pieces for each layer to extend them a bit.