Chef knives come in all different types depending on what you need to do in the kitchen. Some of the preferred knives for fine slicing and chopping are the Japanese knives. When you're looking for a new set of knives, how can you tell which ones will be good and which will be subpar? If you want to be the best Japanese chef knife to add to your repertoire, how can you find a great one instead of a dud?
I want to give you some pointers about what makes a Japanese chef knife good and how to avoid low quality knives.
Benefit of Using a Japanese Chef Knife
If you like cooking with vegetables, soft meats, potatoes, and similar foods than a Japanese chef knife could be a great choice for you. These are usually thin, very sharp knives that are meant for fine slicing and chopping. Anyone who wants to cut a lot of bones or tough meat might not find this type of knife very useful.
Here is a helpful video that talks about choosing your kitchen knives:
How to Choose the Best Japanese Chef Knife
Because there are different types and standards for Japanese knives, you need to make sure the one you're getting fits your needs perfectly. Here are the main things to consider:
Hardness
Although Japanese steel used in knives is some of the hardest you'll find, it does come in varying hardness. When you're considering the thickness of the steel blade, you'll mostly need to consider sharpening. The harder the steel is, the longer it will keep its sharpness. However, hard steel is more difficult to sharpen when it becomes dull. Softer steel won't keep its sharpness as long, but it will be easier to sharpen. Hardness is measured on the Rockwell Scale.
Materials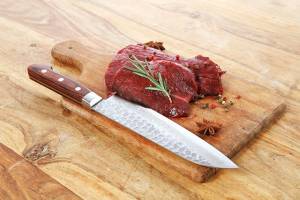 While most Japanese blades are made with steel, there are some which are coated in other materials for extra hardness, and others that are layered with different types of steel or nickel. These materials matter because some of them will make the knives more rust-proof than others.
The handle materials are also important. Depending on the type of wood or composite used, the handle could be sturdier, more comfortable, and easier to grip. For example, a wood composite blend will be easier to grip when you're cutting oily or greasy foods than a metal handle, although metal handles are much strong than wooden composite mixes.

Shape
The shape of the blade can have a huge impact on what a knife is good for cutting. Most Japanese chef knives have a straighter knife blade used for fine chopping and very precise cuts, because this is how Japanese food is usually made. When the blades are rounded or curved, they won't usually be as round as Western-style chef knives that are used for rocking chops.
Thickness
Thicker blades are better for cutting through harder ingredients and foods, but thin blades are amazingly precise and make fantastic cuts. Most times the best Japanese chef knife will have a thin blade, as precision cuts are valued in Japanese cooking. If you care more about cutting through larger ingredients, you should get a thicker blade. If fine precision cuts are important to you, look for a thinner blade.
Purpose of the Knife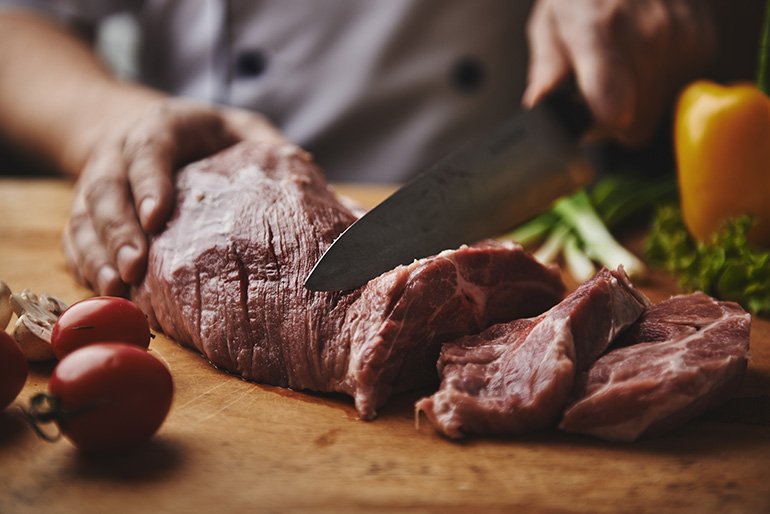 Japanese chef knives come in a few different types that are distinctly designed with a purpose in mind. There are five general types: usuba, deba, yanagi, gyutou, and santoku. The most common ones you can find today are the gyutou and the santoku knives, as the other three are more traditional.
Gyutou knives are designed similarly to Western-style kitchen knives, with slightly curved blades for rocking chops and better control. They are not as precise as santoku knives, and they aren't heft enough to cut through bones or hard ingredients. Gyutou are good general-purpose knives for vegetables, soft proteins like chicken, and other softer ingredients. If you want more control, these are great knives for you.
Santoku knives, on the other hand, can make much more precise cuts than gyutou knives, but they are harder to control. They are a sort of hybrid of the three traditional knives, combining a squarer knife tip with a straight and thin blade. Santoku knives are ideal for chopping, mincing, and fine slicing on soft-medium ingredients.
Best Japanese Chef Knife Reviews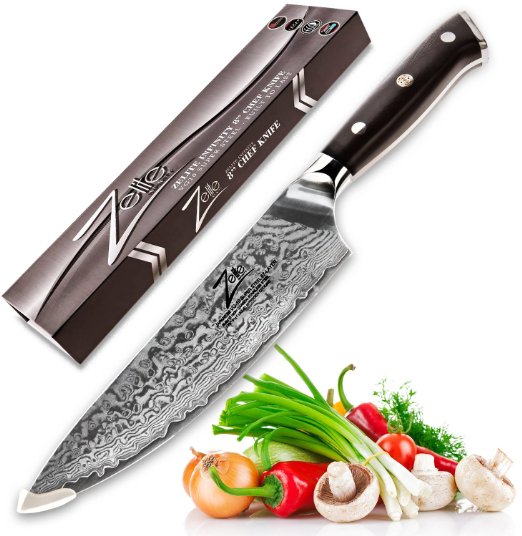 This is a visually stunning Japanese chef knife with a gorgeous design that really shines. It's made to look great in your kitchen while also cutting with precision. The handle is ergonomically designed to fit comfortably, even if you're chopping and slicing for hours at a time. You can grip the handle well and keep hold of it whether your hands are clean or greasy.
Zelite Infinity's blade is made from high quality VG10 Damascus steel mixed with SUs410 high carbon stainless steel. There are 33 layers per side, making it a very hard blade that will retain its sharpness for a long time. It is also fairly thick, making it stronger and able to last for many years in your kitchen. The handle of the knife is made with G10 composite, a solid, yet comfortable material that will last as long as the knife blade itself.
This knife is ideal for vegetables, fish, boneless meat, and small squash.
Pros
Free eBook comes with the purchase if you buy from the original seller
100% money back guarantee
Well-built and put together to last
Very sharp knife that keeps its sharpness well
Cons
Made in China, not Japan
Some people received a dull knife out of the box, but it retained sharpness after first sharpening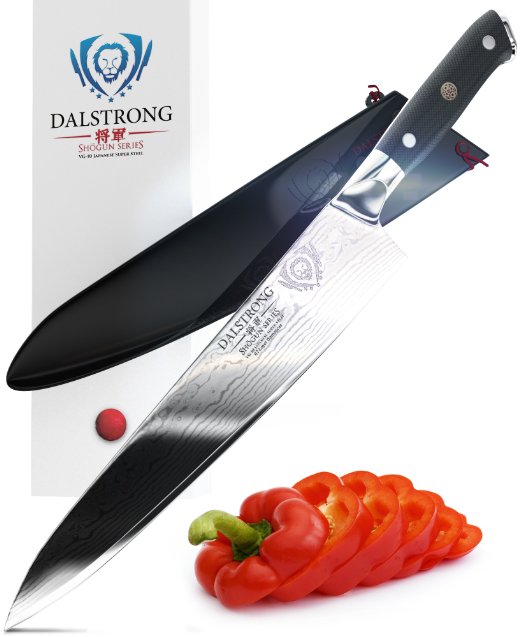 Closer to the more traditional Japanese chef knives, the Dalstrong Shongun series knife has a very straight blade made for beautifully precise cuts and slices. This knife has a small handle with a smooth feel that's easy to hold. The blade has a gorgeous design built into the steel that will add an element of beauty to the knife as it rests in your kitchen.
This Shogun knife's blade is made with 67 Damascus layers of VG10 Japanese steel. It has a hardness rating of 62, which is on the upper side of the hardness scale for knives. You can expect this knife to keep its sharpness for long periods of time between sharpening sessions. Corrosion resistance, hardness, and flexibility have all been enhanced by a Nitrogen cooling step in the process of making this knife. The handle is made with G10 composite material that are comfortable and easy to grip.
Pros
Good for use in making sushi, because the blade doesn't stick
Full 120-day money back guarantee
Weight is only 10 ounces
Cons
Made in China with a blade from Japan

Comfort and versatility are two great words you can use when describing this knife. It has a partially rounded blade that can be used for rocking chops as well as some precision cuts. The Damascus steel design makes this a beautiful knife that will not only cut well, but will look great in your kitchen.
The blade of the Shun knife is made from hard VG-MAX Japanese steel with 32 layers on either side. You will get great rust resistance with this knife that makes it fully dishwasher safe, although you are suggested to dry it if you want to ensure it stays completely rust-free. A D-shaped handle is used for this knife, which is both uniquely attractive and quite comfortable to use. The handle is made from black laminated PakkaWood.
Pros
This knife is well-known for being a high quality chef's knife
Right-handed and left-handed versions available
Lifetime limited warranty from the manufacturer
Well-balanced knife with a good feel for cutting
Cons
Some people do not feel that this knife gives enough value for the price
Steel is not as flexible as some knives, so the tip can break more easily if you use it incorrectly

This very sharp knife from Tojiro is a gyutou style knife that's well balanced and designed for use in everyday kitchens and restaurants alike. It has a plain design, but the steel shines and the handle is a beautiful black composite wood material.
The core of this Tojiro knife is made with VG10 Japanese steel and it is coated with a stainless steel outer blade edge. You can expect it to hold its sharpness well when compared to other similar knives. It is measured at 60 on the hardness scale, making it a fairly hard chef knife. A mostly straight design was given to this blade, with just a slight rounded edge near the tip to help you control the knife more easily. It's good for chopping, slicing, and dicing many soft to medium ingredients.
Pros
Usable for right and left-handed people
Stain resistant to maintain its beauty for longer
Made in Japan through traditional blade manufacturing processes
Great value for your money
Cons
No blade cover included with the knife
Not recommended for the dishwasher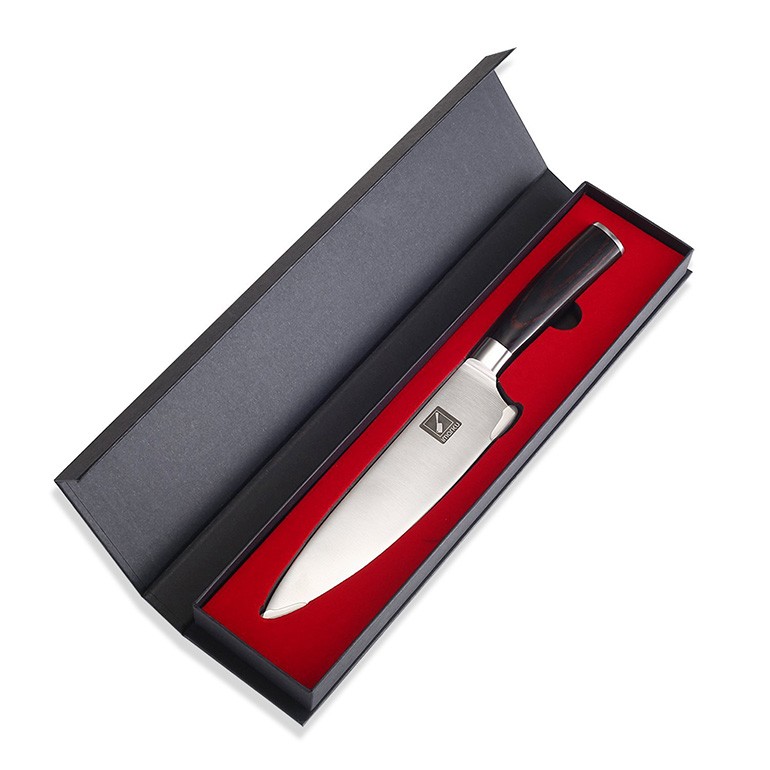 This Japanese style gyutou knife is actually made from German steel. It's a high-carbon stainless steel knife that is anti-tarnish and corrosion resistant. The hardness of the steel comes between 58 and 60, making it a hard knife, yet not as hard as some of pricier models. You can do a lot with this knife, including dicing, chopping, and slicing soft fruits and vegetables, as well as cutting meat from the bones.
German stainless steel knives are known for being sturdy, so you can expect this knife to be hardy and strong enough to last for years. It's also a comfortable knife that lets you hold and use if for hours without feeling numb and sore from cutting. The handle is made from African Pakka that's soft enough to be comfortably, but also holds well and lets you maintain full control of the blade.
Pros
This knife is very well balanced and feels great when you're using it
Steel of the blade holds sharpness fairly well
Knife looks attractive in your kitchen on a block or magnetic strip
Good for general use if you want a clean and even cut
Cons
These knives are not dishwasher safe
No protective sheath or sleeve included
Verdict
Out of the five knives I just talked about, I would say the Dalstrong Shogun series knife is the best Japanese chef knife. It has the straight blade style that looks fantastic and makes your cuts much more precise. This is a very sharp knife that's going to hold its sharpness well and can make all of the great cuts you would expect from a Japanese chef knife.
Whichever knife you choose, remember to pick it because it meets all of your needs and fulfills your expectations for a chef knife. If you want some advice about picking the best Japanese chef knife for your cooking style, you can go ahead and ask me any questions and I will help you figure out a suitable knife!
– Recomemded Reading: Choosing the Best Butcher Knives from 5 Popular Brands