Adding a grill to your backyard can be a great way to prepare food outdoors. However, some people might be cautious about the costs involved with purchasing an excellent grill. To decide if this investment is warranted, you will need to decide if a grill is a necessity or an impulse purchase. Let's look at some of the best reasons why you might want to consider purchasing a high-quality grill.
Prepare Healthy Foods
Many people want to learn how to eat healthier, but don't want to sacrifice flavor. In this area, having a grill can be very useful. When you grill food, the juices stay inside the meat. This helps maximize the flavor. Because of this, you won't need to add any additional flavorings. For example, you won't need to put in any extra salt. Also, when grilling, the fat drips off the meat, making it leaner and healthier.
Wide Variety Of Meals
You will also be able to cook hundreds of different types of meals on a backyard grill. For example, you will be able to prepare many different cuts of meat, cooking each one to perfection. You will also be able to cook the vegetables. Alternatively, you can prepare dessert items, such as pies. With thousands of recipes available online, inspiration is just a few clicks away.
Reduce Your Electricity Bills

A grill can also offer you the ability to save money. When you're cooking in your kitchen, the heat spreads around the house. This can cause you to turn on an air conditioner, to cool the house down. When you are using a grill, you will be cooking outdoors. Because of this, you won't be heating the house, so you don't need to spend as much money cooling it down.
Perfect for Entertaining
One of the biggest reasons to put a grill in your backyard is because it will allow you to entertain your guests. When you choose a grill, it will give everyone a place to congregate, as they watch you prepare and cook the food. It will make it easier for you to host the event, letting you mingle with the guests, rather than being stuck in the kitchen. Also, if you choose a built-in grill, you will have a space to serve the food.
Huge Range To Choose From
Another big benefit of choosing a grill is that there are dozens of different options for you to choose from. The best one for you will depend on the way that you intend on cooking with it. For example, there are smaller, portable models. Though they won't serve as much food, they will be easy for you to transport. You will also need to make sure that you're thinking about the way that you want to cook your food. The most common types of cooking materials are gas or charcoal.
Because there are so many different options on the market, it's easy for beginners to get confused. However, choosing the right grill doesn't need to be a difficult task. First, you'll want to think about the amount of space you have to dedicate to a grill. You'll also need to decide whether you want a grill that's been fixed in place or a portable model that you can take on holiday with you. Finally, you'll need to settle on the best type of fuel. This comes down to your preference. Some people like the precision offered by a gas grill. However, some people like the flavor created by using charcoal or wood.
Though there are plenty of options available, the best choice for a backyard grill is often a built-in grill. This has a fixed position and tends to have a longer bench. In some cases, you might even want to add in drawers and cabinets. This gives you a dedicated outdoor entertaining area, which your guests are sure to love. It also takes all the hassle out of cooking on the grill, as everything you need is just a few steps away. If you want some excellent advice about finding the best grilling option for you, make sure to check out these tips on choosing effective built in grills.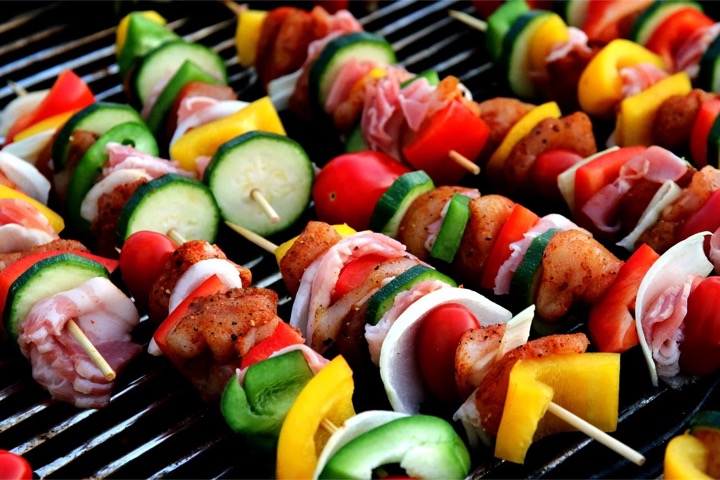 Conclusion
As we've seen, there are plenty of reasons for you to consider putting a grill in your backyard. Based on this, installing one in your home would be a necessity, especially if you plan on hosting parties. So, make sure to look through the different grill options, to find the best one to put in your backyard.