I am a mom and wife who have spent 8 years of my life trying to cook healthy and balanced meals for my family. One of the healthy ingredients that I have found hard to work with is tofu. It easily gets dry and hard after cooking which can be quite frustrating – I know you would all agree!
Well, I am here to reveal to you the secret to firmer, juicier and more flavorful tofu dishes – the best tofu press!
The best tofu press can level up this already popular healthy food choice to make it even better and tastier so your family can eat healthier. Tofu is a great meat substitute and is often sold soaked or submerged in water to keep it moist, soft, and fresh.
A tofu press is a device used to remove excess water from tofu to give it a firmer texture and concentrated taste. Because not all tofu presses are alike and finding the right one could be tricky, this article will teach you how to choose from the most favorite tofu presses available in the market!
What's the Best Tofu Press? My Top 4 Picks
| | The Super Tofu Press | Gourmet Tofu Press & Marinating Dish | EZ Tofu Press | Raw Rutes Tofu Press Ninja |
| --- | --- | --- | --- | --- |
| Material | Stainless steel and USDA food grade plastic | Thermoplastic and stainless steel | Stainless steel and USDA approved plastic | U.S.A. 304-grade stainless steel |
| Size | 8.5 x 4.5 x 5 inches | 6.7 x 5.6 x 5.4 inches | 9 x 5.8 x 4 inches | 6.1 x 5.1 x 4.6 inches |
| Weight | 1.2 pounds | 1.1 pounds | 1.6 pounds | 6 pounds |
| Tofu Press Style | Plate Style | Box Style | Plate Style | Box Style |
| Best Feature | Resists wear and tear even after 50,000 dishwasher cycles | Doubles as a marinating dish and other functional kitchen tools | Alignment or centering marks lets you perfectly position your tofu block between the plates | Solid Stainless steel box and cover for maximum durability and strength |
The Super Tofu Press is a spring model of a plate style tofu press. It has plates made with BPA-free, USDA-approved food grade plastic plates to prevent harmful chemicals from having close contact with your food. On the other hand, all of the other components such as the springs, nuts, and bolts are made of industrial grade stainless steel.
This tofu press was designed to survive more than 50,000 dishwasher cycles with no apparent wear and tear. The lower plate is also equipped with foot pads to avoid wobbling and lift the press a little from the table or countertop. However, these foot pads are not non-slip, so extra care is still needed when using this product.
According to the manufacturer, the Super Tofu Press takes an average of 15 minutes or less to remove water from your tofu without draining it from other nutrients. It's also dishwasher-friendly, so the cleaning process is easy as pie.
One customer review said that this tofu press uses heavy duty materials for such a basic kitchen tool which I don't see as an issue since it works so well and is obviously built to last. The tofu's texture after cooking is also very superior compared with that of tofu squeezed with a paper towel, which is my usual go-to process.
There are some users who complain that the two-screw system causes the tofu to change in shape and bulge in the middle and become pinched at the sides unless your tofu is of uniform width and perfectly centered.

For more information and a quick demonstration on how to use this product, you can watch this short Youtube video.
Things I liked
You can adjust the amount of firmness or water removed by simply turning the screws.
This tofu press works fast.
The plates do not collapse together while placing the tofu, thanks to the springs.
Things I didn't like
The space between the screw's ridges could be wider for easier turning.
The uneven pressure from the screws and the plastic plates cause bowing and unevenly pressed tofu.
Screw tightening is required but takes time in order to extract more water.
Marketed as an affordable and multi-functional kitchen tool, this box style Gourmet Tofu Press inspired by the traditional Japanese tofu press also doubles as a marinating dish. It is a nice addition to your family's busy and packed kitchen!
All components aside from the stainless steel spring are made with FDA-approved clear thermoplastic. While the clear plastic looks great and is safe and environmentally-friendly, many users complain about breakage and lack of durability.
This tofu press can be used to drain other watery foods as well. It also comes with complete instruction and recipe guide, a marinating lid, and some recipe cards.
This gadget had also passed through numerous series of tests over five years before it was introduced to the market. It comes with an optional light tension spring and a 1-year limited warranty. However, one customer reports noticing hairline cracks and breakage within a month. Therefore, it is not very durable for its price.
According to other reviews, pieces also broke off and started malfunctioning after a few years of occasional use, so they wish the warranty is at least a little bit longer.

To learn more about this product, you can also check out this review and demonstration on Youtube.
Things I liked
It is Dishwasher-safe.
It can double as a marinating dish.
The press comes with freebies like a tofu kit composed of a recipe book and recipe cards.
It includes a one-year warranty.
Things I didn't like
The construction is very simple, so the water removal may not be adequate for everyone.
The material is brittle and prone to breakage.
There are some complaints about its spring lock.
As the most affordable tofu press included in this list, the EZ Tofu press doesn't fall short in most other aspects as well.
This tofu press is claimed to be the best alternative to presses that use a system of elastic bands and springs. It is designed to shorten hours of pressing into a few minutes to completely drain your tofu.
It also claims to be able to handle all tofu block sizes so you won't have to drain your tofu in batches. The centering marks also tell you where to properly position your tofu bricks for uniform pressure.
However, the design of the press as well as the position and number of screws inevitably puts more pressure on the sides. This causes bowing in the middle unless you add an even weight in the middle during pressing.
Some users also complain of defects and low quality of the screws. The plates are also too thin and tend to bend and break easily.
However, these issues are really not a big deal for me because I've had my press for years already and I still get consistently good results even when I use it several times a week. I think being careful with your device and cleaning and maintaining it properly can really make it last longer.
With that in mind, you will be glad to know that this press is easy to clean as you can clean it with warm soapy water or just simply throw it in the dishwasher.
Other user reviews on Amazon's website complain that the screws' threading becomes stripped after only a few uses and closely following the instructions that come with the press.

For more insights, check out this short video on Youtube!
Things I liked
This is cheaper than most tofu press brands.
It works with all sizes of tofu blocks.
It features a quick and simple usage.
This is easy to clean.
It comes with an additional alignment feature.
Things I didn't like
There are issues about bowing in the middle if too much pressure is applied.
It may cause crumbling or breakage of tofu if not used properly
The pressure can be increased but this requires you to turn the screws several times which can take some time and be bothersome.
It is made up of inferior quality materials.
The Tofu Press Ninja from Raw Rutes is another box style tofu press. It is made with a 304-grade stainless steel box and cover for a nice stylish and posh appearance, quality, strength, and durability.
This prevents any plastic or chemicals from touching your food. It also makes the press easy to use and clean.
However, I personally think that this product is a little cost-prohibitive especially if you don't really eat or prepare a lot of tofu in a week. But if you don't mind the price, then this could be a great addition to your kitchen.
At a total of six pounds, this heavy gadget guarantees to remove water without deforming the shape of your tofu block. This allows you to get even cuts and a nice shape and texture after pressing.
However, online tofu press reviews report that the press does not really work unless you physically press it and it does not give you adequate control of the pressure applied either.
Although it claims to remove water after only 15 to 30 minutes, one user found that hours of pressing still left the tofu wet and soggy.
Thanks to its nice shape and solid construction, you can easily press a whole tofu brick in a single batch. Another bonus of purchasing this press is that it can also double as a tofu mold which you can use in making your own tofu.
This tofu press is made to last for years!

Things I liked
It has a sleek and sophisticated appearance.
It features a strong, sturdy, and durable construction.
It uses no plastic components.
The press has more drainage slats than most other box style presses.
It helps to retain the shape of your tofu.
Things I didn't like
The product does not really drain the tofu as well as most plastic presses.
You cannot control the amount of pressure due to the absence of screws.
The use of this press still requires physical pressing to work despite its heavy weight.
Benefits of A Tofu Press
You might still be wondering why you need a tofu press. Aside from the fact that not using tofu press is one of the most common tofu cooking mistakes, here are some of its benefits that will convince you that one can make your life a little better, easier, and healthier.
While water prevents the tofu from spoiling and drying out, it also makes it harder to cook and handle. So, a tofu press is the best way to drain tofu that will also allow you to prepare tofu easier.
Pressing tofu makes it denser and firmer and gives it a meat-like texture.
Tofu presses allow you to use tofu in a wide variety of recipes.
A firm tofu block is easier to cut evenly for a better food appearance.
It lets you to completely and safely drain your block of tofu.
Pressing concentrates the tofu's flavor.
Drier tofu is easier to fry or saute without having boiling oil splattering around.
Using a press instead of paper towels is more convenient, removes more water, and produces less waste.
Some tofu presses are multi-functional and can double as a colander, a vice, or a marinating dish.
Here are some tips on how to make the most out of your tofu press:
The Two Basic Tofu Press Styles
As you may have noticed, there are two basic styles of tofu presses: box and plate. Here are their descriptions as well as their disadvantages and advantages of each over the other:
Plate Style
This tofu press style consists of two plastic or metal plates tightened together with two to four adjustable screws. Some brands also have springs to separate the plates while you position your tofu in between them.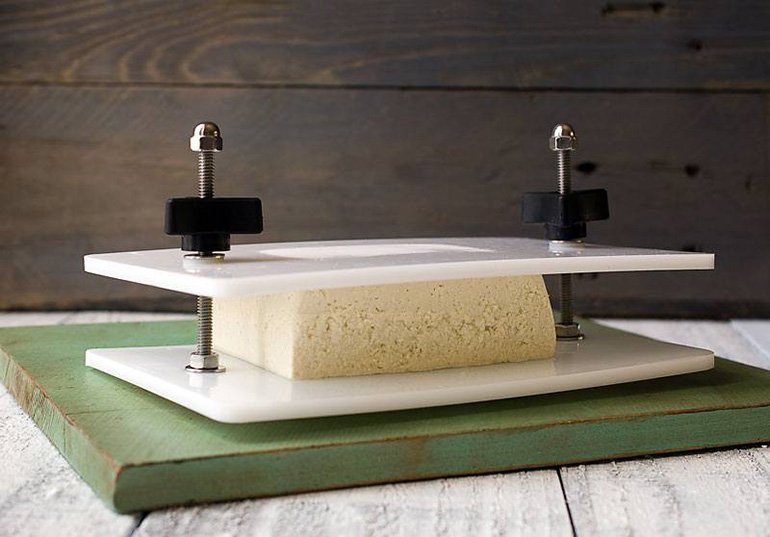 Advantages
Doesn't take much space.
Cheaper.
Adjustable pressure.
Can handle most sizes of tofu at a single go.
Disadvantages
Requires constant tightening of screws all throughout the pressing process.
Tends to deform the shape of the tofu, making it bulge in the middle.
Requires some getting used to.
Box Style
In this style of press, the tofu brick is placed inside a box made of metal or plastic. A heavily weighted or spring-loaded plate or cover is then put on top of this box to push against the tofu.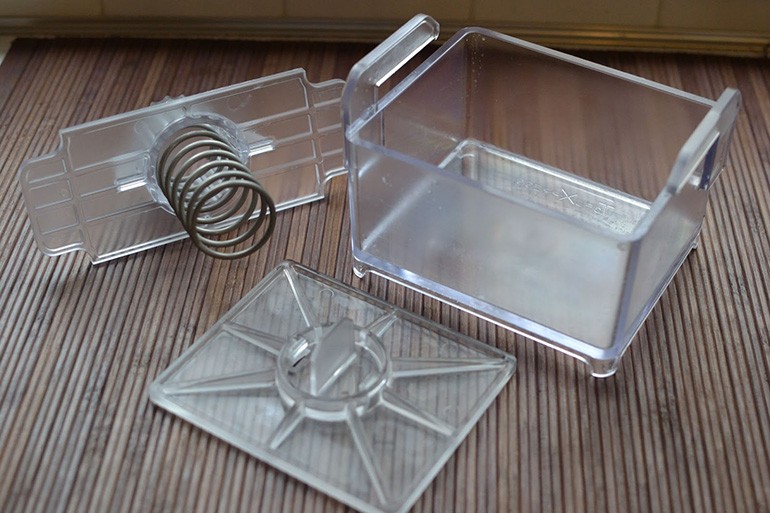 Advantages
Retains the shape of your tofu.
Increases the firmness and density of your tofu.
Convenient to use.
Continues working even when left unattended while you work, pick your kids from school, or while you sleep overnight.
Disadvantages
Can only accommodate a standard-sized tofu block.
Is not very flexible when it comes to tofu shape either.
May require you to work in batches.
Often results in unevenly pressed tofu and inconsistent outcomes.
Which Tofu Press Should I Buy?
Overall, the Tofu Presser Super Tofu Press is the clear winner in this product roundup. While it does come with the common disadvantages of plate style tofu presses, I love how it is relatively affordable, functional, simple, versatile and easy to clean.
Hundreds of positive user reviews also make it worth trying and doing so won't set you back too much financially either. This is another win-win as a mom!
However, when choosing the best tofu press, it really comes down to your personal preferences and taste. So, I hope this article helped you decide which product will work best for your needs!