These days, people are getting more and more health conscious. As a result, a lot of restaurants are offering healthier and more wholesome options. But no matter how low-fat or low-carb the restaurant offerings are, nothing can beat homemade dishes.
If you are serious about getting in shape, you need to invest time and effort in cooking your own dishes. On the other hand, if your children's health is among your main concerns (like mine), cooking healthy meals and getting your kids to actually eat them is quite important.
Aside from the fact that doing so can help you customize your meals depending on your dietary needs, cooking for yourself can also help you save money.
But of course, this option comes with a few challenges too – how can you keep the food in an appetizing state or where you can store it or how can you bring it to work or school? The answer to these questions is pretty simple-a meal prep bag. Besides these can help you transport your food, meal prep bags can be life-saving equipment.
I was on a family road trip once, and we got a flat tire. We had to wait for an extended period to get it fixed (my husband's spare one was flat as well), and the kids got cranky and hungry in record time. Lucky for me, I had the meal prep bags in our trunk, to feed the beasts and keep our sanity.
If you have kids – trust me, you definitely need one. To find the best meal prep bag, read on!
Why Would You Need a Meal Prep Bag?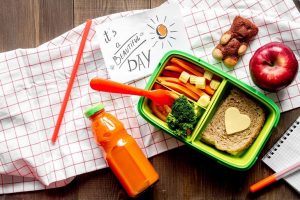 You may be wondering what is a meal prep bag, and why would you need it. Well, there are plenty of good reasons why.
Eating healthy means you have to plan your meals in advance. It also means that you should minimize your dependence on fast foods and restaurants. In short, you have to prepare and bring your own meals. But as we all know, the long commute may not be that forgiving for a homecooked food. That's where the meal prep bag would come into the picture. These bags designed to keep your meals hot, safe, secured and appetizing! The benefits of using a meal prep bag are many.
This may seem a bit basic, but it can do great wonders in ensuring that you can stick to your health and fitness routine, wherever you go and whatever you do.
Different Meal Prep Bag Styles
There are various styles of meal prep bags that are available nowadays. Here are some of them:
Backpack.
Of course, you already know that this bag comes with two straps. This is perfect for anyone who is always busy and on the go. If you do not like to be bothered by carrying your bag, this is the best option for you. In addition to that, this type of bag can also accommodate some of your personal belongings like a laptop or school book, making it the best option for going to the school or gym.
Of course, it can be adjusted and suited for your youngster to accommodate necessities required for a day's worth of classes in the classroom.
Single Strap.
The single strap is not as convenient to carry as a backpack. In addition to that, the bag can be a bit bulky and cumbersome. But what it lacks in convenience and aesthetic appeal, it more than makes up for with versatility and storage.
Since the bag comes only with one strap, you can wear it in any way you want—body bag or shoulder bag. In addition to that, the bag offers plenty of storage space. In fact, single strap meal prep bags are some of the most spacious meal prep bags on the market. You can bring a single of these and have a picnic with your spouse easily.
Lunch Box.
This design is the simplest of all. It resembles the lunch box that you used during your preschool years, but this time, it is made of fabric instead of plastic. It comes with just one handle and is not designed to be used all by itself. Instead, it is intended to be fitted in a bigger bag like luggage or a gym bag.
What to Consider When Buying Meal Prep Bags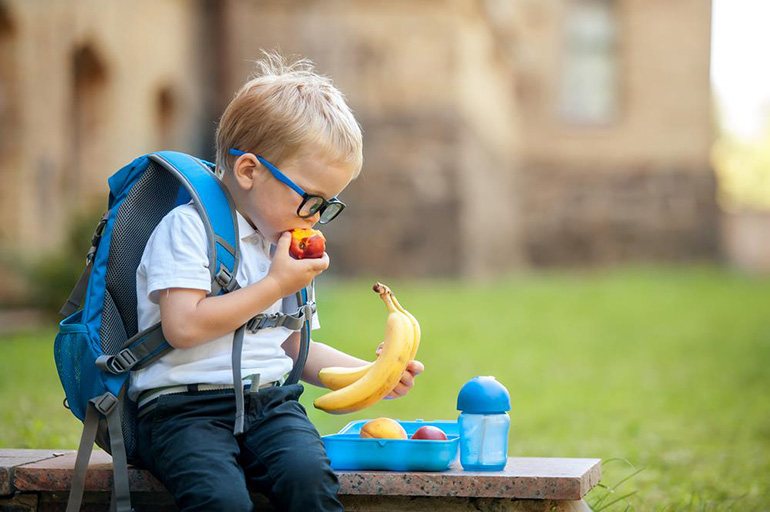 Aside from the style and intention, there are also other things that you need to consider before you purchase a meal prep bag. These are as follows:
Comfort.
Carrying an extra bag with you during your long commute can be a bit of a hassle. The least that you can do is to opt for a bag that will provide you as much comfort as possible. One of the comfort features that meal prep bags have nowadays is the padded strap.
Size.
The size of your bag matters a lot. How big your bag is can determine how much food you can bring. Because of this, it is best that you consider how big your appetite is or how many times you will eat in a day. In this way, you can be able to choose a bag that can accommodate all your needs. Same goes for children you're equipping to survive the hard day at school.
Appearance.
At this day and age, how your bag looks matter too. It has to be as presentable as possible, and it is important that you choose a design that is suitable for your environment. If you are working in a corporate environment, you should opt for something a bit sleek and formal. If you are going to school, you can opt for something rugged. Not to mention your little princess that wants a pink one with unicorns.
Useful Features.
The most common and useful feature of a meal prep bag is insulation. This may seem like a simple feature, but it can help maintain the freshness and the ideal temperature for the meal even if it is stored in the bag for hours.
Other inclusions.
Some bags come with a few inclusions like meal containers. With this in mind, it is best that you consider how many containers are included in the packet. Some other bags also come with a protein shaker which is a nice thing to have if you plan on incorporating smoothies into your diet.
Best Meal Prep Bag Reviews You Need to Read!
Now that you already have a background about what a meal prep bag can do for you and what are the qualities to look for, the next thing logical thing to do is take a look at the review of the most popular brands on the market today. Here are some of them: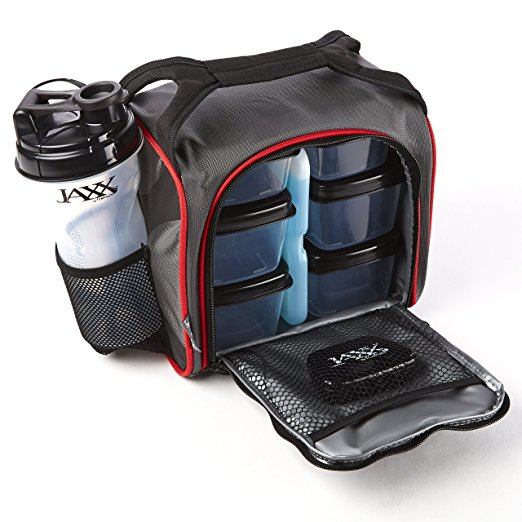 Considered to be one of the most popular meal prep bag these days, the Jazz FitPak Meal Prep Bag is a lunchbox-style bag that is made of high-quality waterproof fabric with easy-to-clean PEVA Lining on the inside and features a side mesh pocket for easy access.
The bag offers plenty of space and can accommodate up to 6 meals! It comes with six leakproof containers—two 1-cup containers plus four 2-cup containers, all of which are BPA-free, microwave and dishwasher safe.
It also has a vitamin holder that can accommodate up to 60 tablets in an organized and easy-to-find manner. Additionally, there is the Jaxx Shaker Cup with the patented Jaxx agitator which can easily break up and mix protein powders and shakes.
Lastly but importantly, the bag can retain the freshness and taste of your foods with its thickly insulated interiors and ice pack. The insulation can keep meals hot while the non-toxic ice pack can keep drinks and fruits cold and fresh.
The Fit fresh Jaxx FitPak meal prep bag is almost perfect. However, like some users around the web, I've experienced problems removing and putting on the lid of the containers.
Things I liked
Spacious.
6 BPA-free microwaveable and dishwasher safe containers.
Vitamin Holder.
Jaxx Shaker Cup.
Thick insulation.
Toxic-free ice pack.
Easy-to-clean lining.
Things I didn't like
Lids of containers are hard to put on and pull off.
Ice pack melts fast.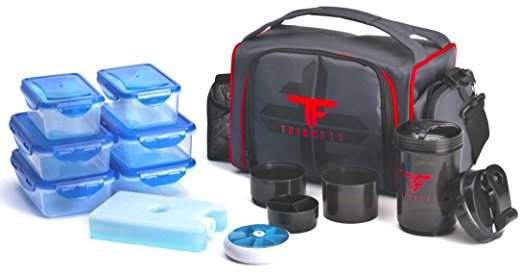 Here's another lunch box style meal prep bag to look out for! The ThinkFit Insulated Lunch Box is versatile yet compact. It can be used as a lunch box to be placed inside a bigger bag or a stand-alone single strap bag as it comes with a sturdy detachable strap. The handle of the bag features a double stitching construction that can withstand tearing. It was ideal for my youngster when he started school.
Leaks will not be a problem as the bag comes with six big (two 1.5-cup and four 2.5-cup) containers with 4-sided snap lid design for ease of use and security of the contents. Another accessory that it has is the 20 oz BPA-free shaker cup plus three storage containers which you can connect at the bottom of the cup. It also has an additional storage pocket for vitamin holder, fruits or any other extra items you may want to bring.
The interiors of the bag are lined with double insulation to make sure that the meals are stored at their ideal temperature. It also has a reusable ice pack that is perfect in keeping drinks and desserts cold.
Last but not the least, the product has a 100% lifetime money back guarantee.
However, many people claim that the bag is having some problems maintaining the coldness of foods and drinks. I didn't notice any of this, but I found out that my boy usually don't eat the food that stayed in for too long because it would become soggy.
Things I liked
Leakproof four sides snap lid design for containers.
Bigger containers.
Single durable bag strap.
Shaker cup.
Reusable Ice Pack.
Double Insulation.
Double stitched handle.
Moneyback Guarantee.
Things I didn't like
The lid of the shaker bottle doesn't fit properly.
Doesn't keep food cold enough.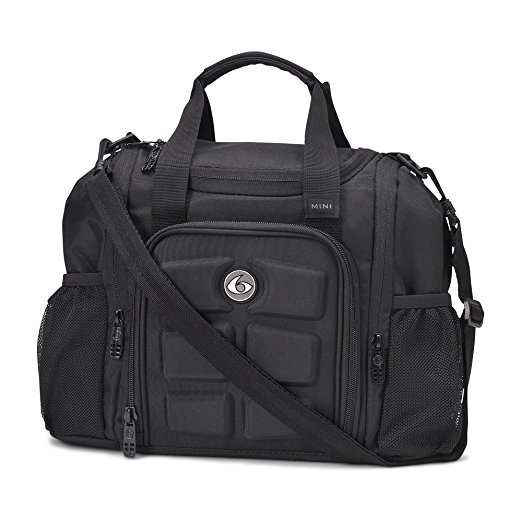 The 6 Pack Fitness Innovator Mini is a single strap spacious meal prep bag which features a cute 6-pack design in its front to motivate you to stick to your diet and achieve your fitness goals. One of the qualities that make this bag a standout is its wide array of colors and designs.
The exterior part of the bag is made of polyester and neoprene while the interiors are made of cool tech lining. The bag comes with a single detachable strap and a sturdy handle for convenience. Aside from its main compartment, the bag has an additional pocket in front and two mesh pockets on the sides.
Inside, you can find three 20-oz containers with two-snap lid design, 2 ice packs (one big and one small) and a sports Nutrition Container. The interiors are fully insulated and claim to keep the food fresh for up to 8 hours.
The downside to this meal prep bag is it does not come with a shaker.
Things I liked
Plenty of colors and designs to choose from.
Polyester and Neoprene exterior construction.
Cool Tech lined and insulated interiors.
Sturdy Handle.
Single Detachable Strap.
Plenty of storage options.
Two ice packs.
Three 20 oz containers.
Sports Nutrition Container.
Things I didn't like
Ice packs break easily.
No shaker included.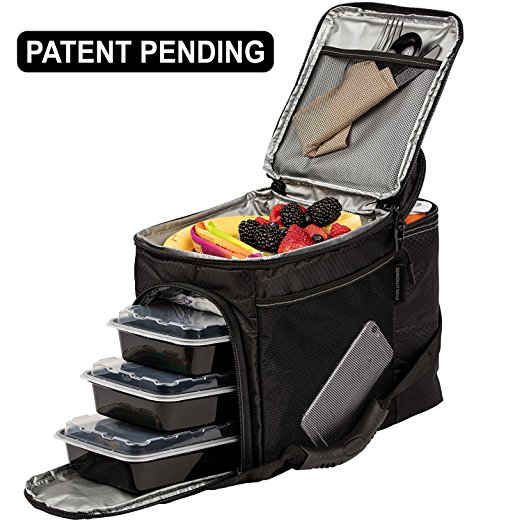 The EDC Meal Prep Bag is a full-size meal prep bag with a compact and sleek design. Instead of going wider, the meal prep was designed to go higher, so it is not bulky but can accommodate up to four full meal containers, and two protein shakers.
The main compartment can accommodate the three full meal containers. It also has a separate compartment at the top which can carry another full meal container or extra items like fruits. The pocket at the side can accommodate two protein shakers. All extra pockets are fully insulated. Lastly, the bag has collapsible mesh pockets for other items.
The bag is made of heavy-duty materials. The interiors are furnished with Extra Thick PEVA lining, EPA foam, and high-quality metal hardware. The exteriors are made of an ultra-thick and strong polyester material. The best thing about this is it comes with a 100% money back guarantee.
On the downside, the containers that come within the bag aren't as good; they are quite flimsy and are not of high quality. My son dropped one of them on the kitchen floor, and it cracked.
Things I liked
3X Insulation (Main compartment, side pocket, and top pocket).
Three full-sized freezer, microwave, and dishwasher safe containers.
Accommodates 2 protein shakers.
Sleek and Slim Design.
Durable Polyester Exteriors.
PEVA Lined and EPA foamed interiors.
100% money back guarantee.
Shoulder Strap.
Comes with non-toxic ice pack.
Things I didn't like
No protein shakers included.
Containers are not of high quality.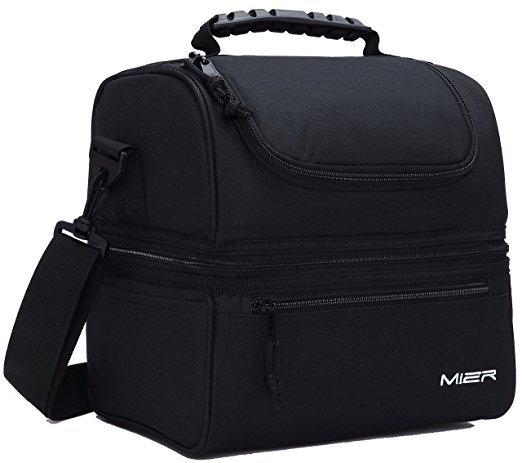 At first glance, the MIER Lunch box seems like the usual meal prep bag. But there is more to it than meets the eye. Open the box, and you will see that it is designed to store your meals as organized as possible.
The bag has two sections so you can store your warm and cold food items separately. The top part (with a 2-way dual zipper closure) is perfect for cold items like fruits, cookies, and other dessert items. The square compartment is ideal for your main dishes like sandwiches and pasta.
In the front cover of the bag, you can find a front zipper pocket where you can place your keys, cards, pens and many others. There are also two side pockets that offer additional storage options.
The interiors are insulated using PEVA lining and can be easily cleaned (all you need to do is wipe!). The bag has a soft handle strap and comes with an extra detachable shoulder strap.
The downside of this bag is it does not come with any containers or protein shakers, which is bad, especially when you consider the price.
Things I liked
Separate compartments for cold and warm food items.
Front zipper pocket for other small items.
Extra side pockets.
PEVA Lining.
Extra shoulder strap.
Things I didn't like
No shakers or containers are included.
Bag is bulky.
Conclusion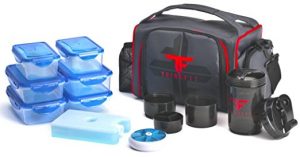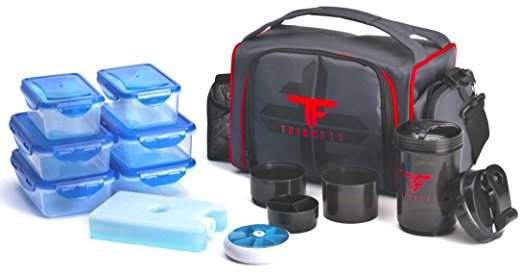 The key to staying fit and healthy is to stick to homecooked meals and a meal-prep bag. This practice ensures that you enjoy healthy snacks all day long! But what is the best meal prep bag? As mentioned above, you need to consider the features, size, inclusions, style, and design of the bags to find it!
With that in mind, I can say that the winner of this roundup is no other than the
ThinkFit Insulated Lunch Box
. It comes with almost everything you need in a meal prep bag—containers, insulation, ice pack, protein shakers, additional storage and shoulder strap. Surely, this product is designed to make healthy eating as easy as possible!
Do you have friends or family members who are looking for a meal prep bag? Please share with them this article and help them find the one!