With so many butcher knives on the market, it can be really hard to decide which knife is the best choice for your kitchen. There are so many things to know when trying to pick out the best butcher knives. What are the cuts of meat you will most likely be working with? Are you cutting large quantities of meat or just a couple of pieces for a small meal? What type of blade is best? What type of handle will work for your needs?
I have tried to take some of the guesswork out of ordering a butcher knife online. Before I begin my search for the best butcher knives, let me go over a few ins and outs of looking for a quality knife that meets your needs.
Questions to Ask Yourself When Looking for the Best Butchers Knives.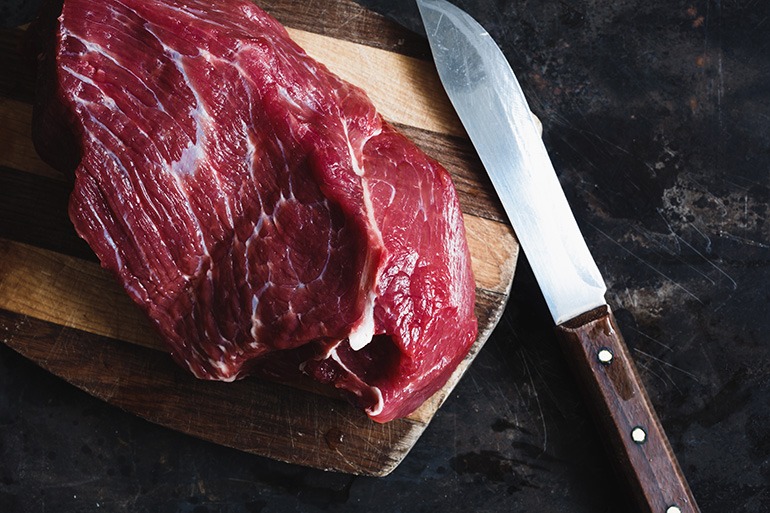 What Type of Blade Is Best?
One of the first things to consider is what the blade is made out of. Different metal compositions have different advantages when it comes to making knives (Knife Center). High carbon content knives have durability and hold their edge for a long time, but they require careful care as they can suffer from corrosion. They are also often a pricey option.
Stainless-steel is considered to be easier and safer to clean which is why you often see it used in commercial applications (NSF). It can also be flexible which helps when you are carefully trimming meat away from a bone or removing fatty tissue from the outer edges of your cut.
Stainless-steel requires more sharpening but can usually be found at a wide range of prices. For this review, I chose all stainless-steel butcher knives but I encourage you to look for stainless-steel that still contains a higher carbon content.
What Are Your Primary Needs?
Knowing what kind of meat you prepare most often, or at least that you plan to use this knife for, also helps considerably when trying to make your decision. Shorter blades are perfect for cutting up small pieces of meat for a meal, while longer blades are suitable for large roasts and even for taking meat off of an entire carcass.
A lightweight option would be important if you are cutting large amounts of meat for longer periods of time. For most of us, however, a little heavier knife slices so nicely and the weight will not bother us for the short amount of time we would need it to prepare a meal.
Which design should I choose?
The next thing that is important to consider is the design. A butcher knife should be heavier than a standard chef's knife and usually has a curved point at the end. Both of these features make it easier to gently slice through heavy pieces of meat as opposed to kind of hacking or sawing at the meat.
Which Design Should I Choose?
You also want to consider what the handle is made of and how large the handle is. Wood Handles are not as popular as they once were because if issues with bacteria. You can find handles made with stainless-steel, aluminum, polypropylene and other plastics. You also need to pay attention to the size of the handle.
If you have smaller hands then you will want to look for a design that is more contoured allowing for easy grip. A larger grip can be useful though for greater control and strength when cutting large touch chunks of meat (Knife Center). If you are very concerned about bacteria and your knives you want to be sure to find knives that are NSF approved. NSF approved products meet strict standards for the protection of public health.
So to help you work through the different options in the search for the best butcher knives, I have reviewed 5 butcher knives that all have received top ratings. I have reviewed them based on the areas of weight, design, blade and cost with my overall opinion of each added for good measure.
Product Reviews

Weight: This knife is nicely balanced. Global uses a hollow core in the handle and then fills it with sand so that it is perfectly balanced in your hands. If you do lots of cutting, this is a feature you will really appreciate!
Design: The contouring of this handle is very elegant and the no slip dimples on the handle are excellent for when your hands become wet (as they often do when cutting meat). Someone with bigger hands might appreciate a more robust handle, but I really liked the size of the handle in my palm (I have very small hands). The longer handle is nice when cutting some types of meat.
Blade: Stainless-steel is often used in restaurant cooking because it is supposed to be easier to completely sanitize. A very nice feature indeed. However, a long-standing draw back to even the best stainless-steel is that it can lose its edge quickly and require frequent sharpening. This knife is made with the highest grade stainless-steal and for most users, I believe its sharpness will far outlast your expectations. Even the best butcher knives need to be sharpened eventually.
Cost: This knife is defiantly an investment coming in at over $130.00 USD, but you should never have to replace it.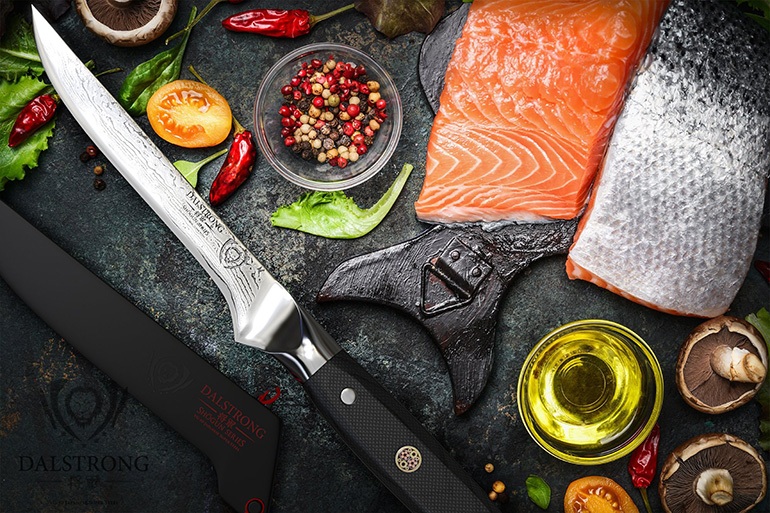 Weight: This knife is perfectly balanced for a very comfortable grip. It feels very natural cutting through heavy meats like beef or pork and through lighter meats like fish or poultry.
Design: The narrow blade and sharp point of this butcher knife are just what you want if you do a lot of boning. This allows you to get very close to the bone without accidently leaving chunks behind on the bone. The small divots in the blade also keep the meat from sticking to the blade (I love that feature).
Blade: Again we have a stainless-steel blade in this knife, which isn't a bad thing, just keep in mind it might need to be sharpened a bit more than carbon steel blades. The high quality of this stainless-steel resists corrosion and unlike a carbon blade, offers some flexibility which is also nice for cutting around bones.
Cost: This knife is a good midrange price at around $80.00. You will be surprised at how high-end it looks and performs for this price. I feel like this price is definitely a "steel" of a deal for this knife!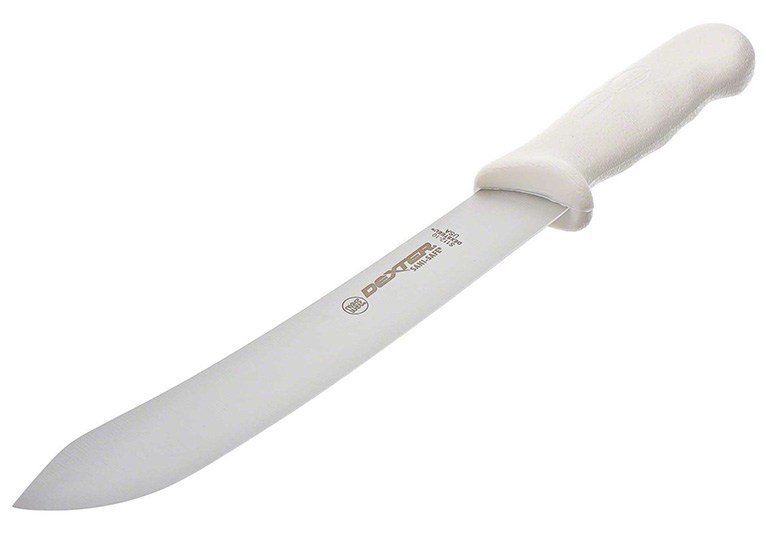 Weight: This butcher knife is nicely weighted but it can be a little tiresome on your hands after long use. It is great however if you are just using it to cut up meat at home.
Design: When compared to some of the best butcher knives I would say this knife has a very classic design. I do prefer a stainless-steel handle on my butcher knives, but the plastic seems to hold up fine for standard in home use.
Blade: The 10" blade is very nice when cutting large chunks of meat like roasts. The blade holds its edge well but like any knife does need to be sharpened from time to time.
Cost: At just over $30.00, this butcher knife is an excellent value, especially if you are shopping for in home usage.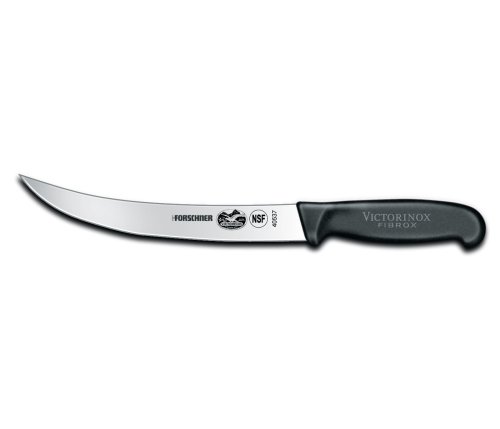 Weight: This knife is very nicely balanced and I believe would be comfortable for long use. It is not too heavy for long hours of cutting, but still has a little weight to it, which makes it nice for cutting heavier meats.
Design: The most notable feature of this design as compared to other butcher knives, is the Fibrox handle which is textured and slip resistant so is excellent when you have wet hands. It is also contoured to fit nicely into your palm. As I stated above, I usually prefer a stainless-steel handle, but I really enjoyed using this Fibrox handle and feel like I should get one for my father who butchers his own game meat. I think this would be a perfect fit for that type of application.
Blade: This blade is very light weight as a result of being stamped from cold-rolled pieces of steel. While I enjoy a bit of a heavier blade, this blade would be nice for someone who cuts meat for long periods of time.
Cost: At just over $30 this butcher knife is a great value and again a good fit for someone who is needing to stock their kitchen for the first time.

Weight: The aluminum handle on this mini butcher knife make the knife very light weight. This isn't a knife meant to be used for long periods of heavy meat cutting so the weight is less of a factor for me.
Design: Unlike longer blade butcher knives, the stubby blade is ideal for cutting up regular pieces of meat in your kitchen. By "regular" I mean your everyday pieces of meat like chicken breasts, pork chops, and beef fillets. I wouldn't want to use this for large chunks of meat like roasts or for butchering an entire animal, but that is obviously not what it was designed for, so it is perfect for its intended use.
Blade: The blade arrives plenty sharp but does need to be sharpened regularly. It sharpens back up quickly.
Cost: For around $15 this butcher knife is an exceptional value and a great addition to a kitchen that only has longer blade butcher knives on hand.
So How Do You Choose?
It can be hard to pick when they all have their own strengths and all seem to be quality butcher knives. The best butcher knives are the ones that work well for your purpose. For me, the choice would have to be the DALSTRONG Boning Knife – Shogun Series -VG10 – 6″.
My reasons for choosing this knife were that it was the best for cleanly separating meat from the bone and I appreciated the divots on the blade that keep meat from sticking. I didn't have a good option for smoothly taking meat off of bones and not leaving a lot of meat behind in the process. I also thought it was an exceptional price for the quality of the knife. This is a knife I can see never having to replace.
The question to ask yourself is "for what purpose do I most need a knife?" If I only cut smaller pieces of meat and was in need of a more general knife than I would for sure go with either the Rada Cutlery R106 Stubby Butcher Knife with Aluminum Handle (if I didn't have much of a budget) or the Global GF-27 – 7 inch, 16cm Heavyweight Butcher Knife (which is pricey but a really great knife for a lot of purposes).
Check out this video for great advice on building your knife set:
Butchering Basics: Building Your Perfect Knife Set