When you have diabetes, it can feel like the end of the world because you'll never be able to eat your favorite foods again. You must monitor everything you eat, and anything with carbs seems off limits.
According to doctors, a diabetic diet is the best way to keep your diabetes under control. In this article, we go over the tips you'll need to create healthy and guilt-free diabetic banana oatmeal muffins.
What Should You Look for in Diabetic Muffins Recipes?
Many muffin recipes are filled with carbs and sugar, so most diabetics give up the idea of ever having muffins again. However, diabetic muffins are made from ingredients that complement a diabetic lifestyle.
A Good Diabetic Muffins Recipe has:
Lower calories than regular muffins.
Lower sugar.
Higher protein.
Lower Carbs.
There are many different recipes for diabetics, including blender banana oatmeal muffins recipes. You might be asking yourself, what is a blender recipe?
Well, instead of mixing your batter with a stand or hand mixer, you can put all your ingredients in your blender. Mixing a recipe in your blender is easy for beginning bakers, and it's even easier to clean up. I have a blender for juicing and it works very well.
Why Make Diabetic Muffins?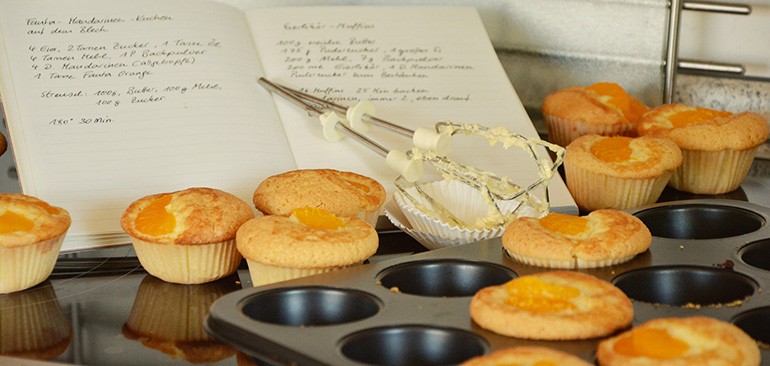 Muffins are delicious treats that can be used for breakfast, snacks, or desserts. You can vary the ingredients to make them sweeter or savory depending on your taste.
Many of these recipes will use an alternative to sugar, so that there is less sugar in the batter. In fact, bananas provide a natural sweetness to the batter that are ideal for a diabetic lifestyle.
Also, making these healthy muffins is good for the whole family, or occasion. You can make these muffins, and they taste so good that people won't even know they're healthy.
What Type of Flour Should You Use?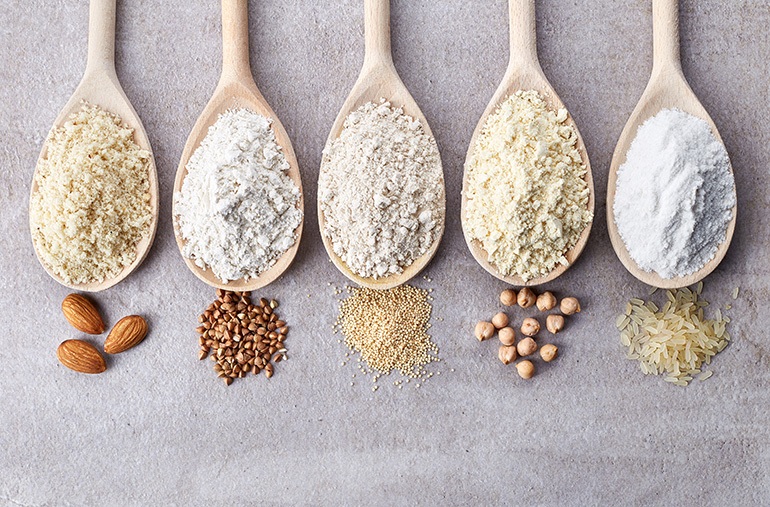 As a diabetic, you need to pay attention to the type of carbs that you are putting into your body. For example, when you're eating a sandwich you would choose wheat bread over white bread.
Regular flour will cause a spike in your blood sugar, where whole grains won't. To avoid a spike in your blood sugar you should pay attention to the nutritional content of your flour.
So, it would only make sense that you would choose a different type of flour to make your muffins. Some of the most popular flours are:
Almond Flour: 12g of Carbs, with 6g of Net Carbs
Flaxseed Meal: 16g of Carbs, with 0 g of Net Carbs
Oat Flour: 34.1g of Carbs, with 30.7g of Net Carbs
Whole Wheat Flour: 43.1 g of Carbs with 36.7g of Net Carbs
You can see that just because Whole Wheat Flour is made from grain, doesn't make it the best choice for your recipe. If you want to go with the lowest carb count, you'll choose Almond or Flaxseed.
And there is another important thing. Have you ever wondered can flour go bad? Well, the answer is not as simple as you may think. Check out this article to find the answer: Can Flour Go Bad? How To Decide Is Not Simple
What Can You Use Instead of Sugar?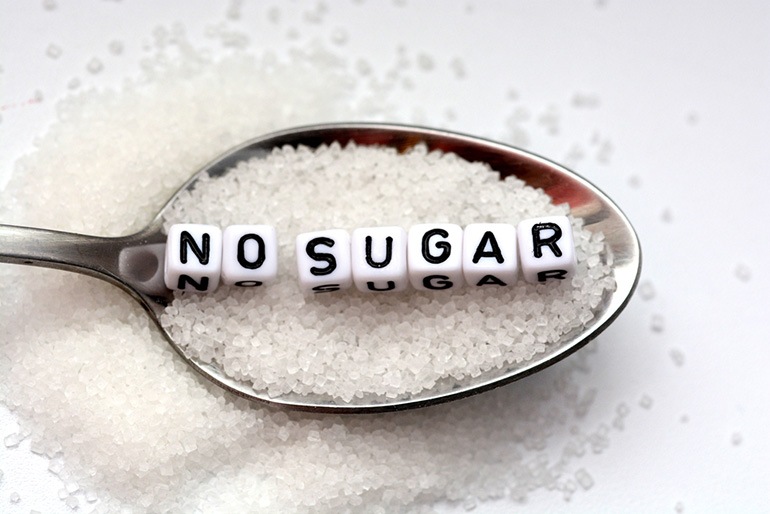 Sugar is another ingredient that is terrible for diabetics, so what sweeteners are the best for diabetics? You have many different types of sweeteners that you can choose from, and the first question you'll answer is natural vs artificial.
As a diabetic, or a health-conscious person, you probably have some strong opinions about sweeteners. Many people choose to avoid artificial sweeteners because our bodies have trouble breaking down these man-made molecules.
However, artificial sweeteners have come a long way, and there are now plant-based sweeteners that aren't terrible for your body. Although, there are natural alternatives to sugar that still have carbs, but they're better for you.
Types of Artificial Sweeteners:
Splenda
Made of sucralose, this is 600-times as sweet as sugar and does not affect your blood sugar.
Sweet 'N Low
Saccharin, this is calorie free, doesn't affect blood sugar and is 500-times as sweet as sugar.
Equal
Aspartame, 200-times sweeter than sugar, but is controversial because of side effects. This ingredient can be found in Diet Coke, and some research suggests this artificial sweetener is associated with various types of cancer.
Stevia
This plant based sweetener is the new superstar on the market. This sweetener is 200-300-times as sweet as sugar.
Sugar Alcohol
These are made from naturally occurring fibers in vegetables and fruits. There are some carbs, but less than are in straight sugar. You can expect these sugar alcohols to affect your blood sugar a little bit. (xylitol, mannitol, and sorbitol)
Types of Natural Sweeteners
Coconut Sugar
Made from coconut palm sap, this type of sugar has a low glycemic index. However, this ingredient is still high in calories, containing the same amount as regular sugar.
Honey
Using honey can raise the number of antioxidants found in your blood, which helps our body fight diseases. Also, honey has shown to have less of an effect on blood sugar levels than sugar.
Maple Syrup
This ingredient has over 24 types of antioxidants, but will raise your blood sugar levels. Maple Syrup doesn't raise blood sugar levels as fast as sugar, but it should still be used in moderation.
How Can You Add Fiber to Your Diabetic Muffins?
When calculating your carb intake, you must subtract your fiber count to get an accurate count of carbs. So, if you add fiber into your recipes you are reducing the amount of carbs that you're consuming.
Fiber is something that can affect the flavor of your recipe, especially when you're making something sweet. How can you add fiber into your recipes in a tasty way?
Ways to Sneak Fiber into Your Diabetic Muffins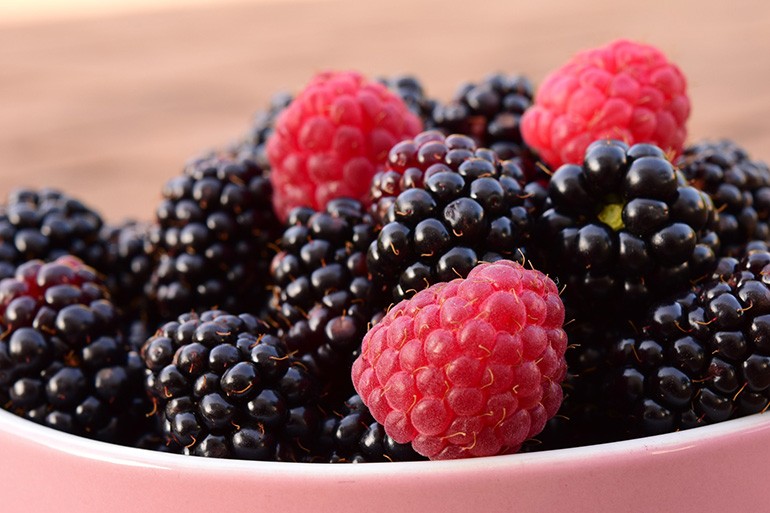 Use high fiber flours instead of traditional white flour. You can also substitute recipes with ½ white flour and ½ whole wheat flour.
Add nuts into your baking, because most of them are high in fiber. So, instead of just having oatmeal banana diabetic muffins, you can put walnuts or almonds in the batter.
Including bananas, and other high fiber fruits and vegetables, is a great way to up the fiber count of your batter.
Steel cut oats are another way you can add fiber to the content of your batter, which is why you'll see many diabetic muffin recipes with oatmeal as an ingredient.
Include blackberries and raspberries in your recipes, because these awesome berries have 8g of fiber per cup. Only use these two berries to up your fiber count, because strawberries and blueberries don't bring much to the table.
The Perfect Oatmeal Banana Diabetic Muffin Recipe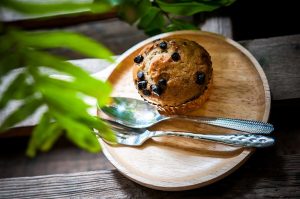 Ingredients:
1 ½ Cups Almond Flour
1 Cup Mashed Banana (2-3 Bananas)
1/3 Cup Stevia
1/2 Teaspoon Baking Soda
1 Cup Oats
1 Tablespoon Vanilla
¼ Teaspoon Nutmeg
¼ Teaspoon Allspice
1 Cup Buttermilk
2 Tablespoons Butter
2 Eggs
Directions:
1. Preheat oven to 350 degrees. Pull out your muffin pan and liner them with baking cups, or you can spray the cups with nonstick spray.
2. Place your dry ingredients (flour, oats, stevia, baking soda, and spices) in a food processor. Mix until everything is finely ground.
3. In a separate bowl mix your wet ingredients together. (Eggs, milk, vanilla)
4. Slowly mix your wet ingredients and dry ingredients in a stand mixer. You can also mix this by hand with a whisk.
5. Once your batter is incorporated thoroughly, fill up the muffin tins halfway. Then, place the muffin tin in the oven for 20 minutes. A toothpick, when inserted, should come out clean.
These diabetic muffins should be good for several days, and these muffins also freeze well. So, go ahead and try out this recipe, and enjoy your diabetic oatmeal banana muffins!
Diabetic Muffin Recap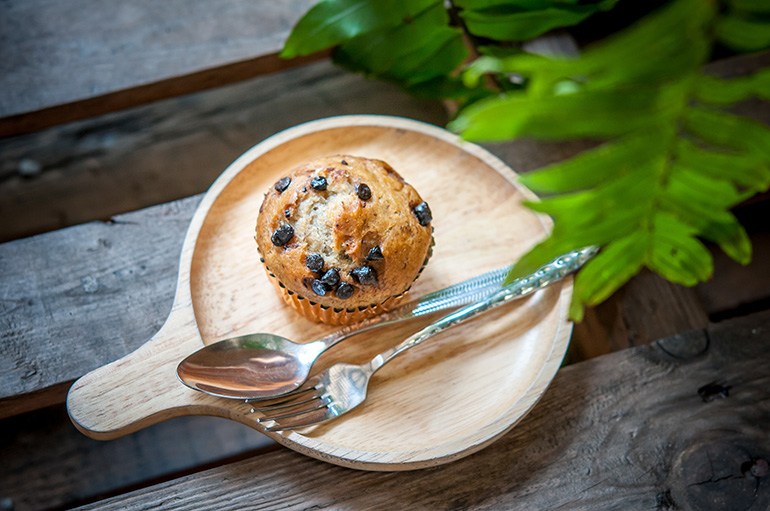 We've gone over all the ways that you can convert any recipe to be diabetic friendly, so that you can take control of your diet. You can use our tested recipe at the end of this article, or you can create your own.
With a little bit of testing, and a lot of imagination, you can cook healthy muffins that everyone will love. Just because you're diabetic doesn't mean that you can't eat food that is nutritious and delicious.
Enjoy this diabetic banana oatmeal muffins recipe, and make sure to share some with your friends and family.