Do you feel your kitchen cabinets are in need of an update? Replacing old boring wooden kitchen cabinets with glass cabinets can serve the purpose. Such glass inserts offer a bright and airy environment. They can add a designer's touch to your kitchen without costing much. As glass allows light to pass through it, glass kitchen cabinets open up every dark corner of your kitchen. 
Glass variety for kitchen cabinet styles 
There is a variety of styles for kitchen cabinet glass. You can easily update your kitchen cabinet doors with glass which is available in a wide range of styles including:
Textured pattern glass

Leaded glass

Sum glass

V-Grooving

Seeded glass

Frosted glass

Plexiglas

Decorative glass

Transparent glass
They all are also available in different colors.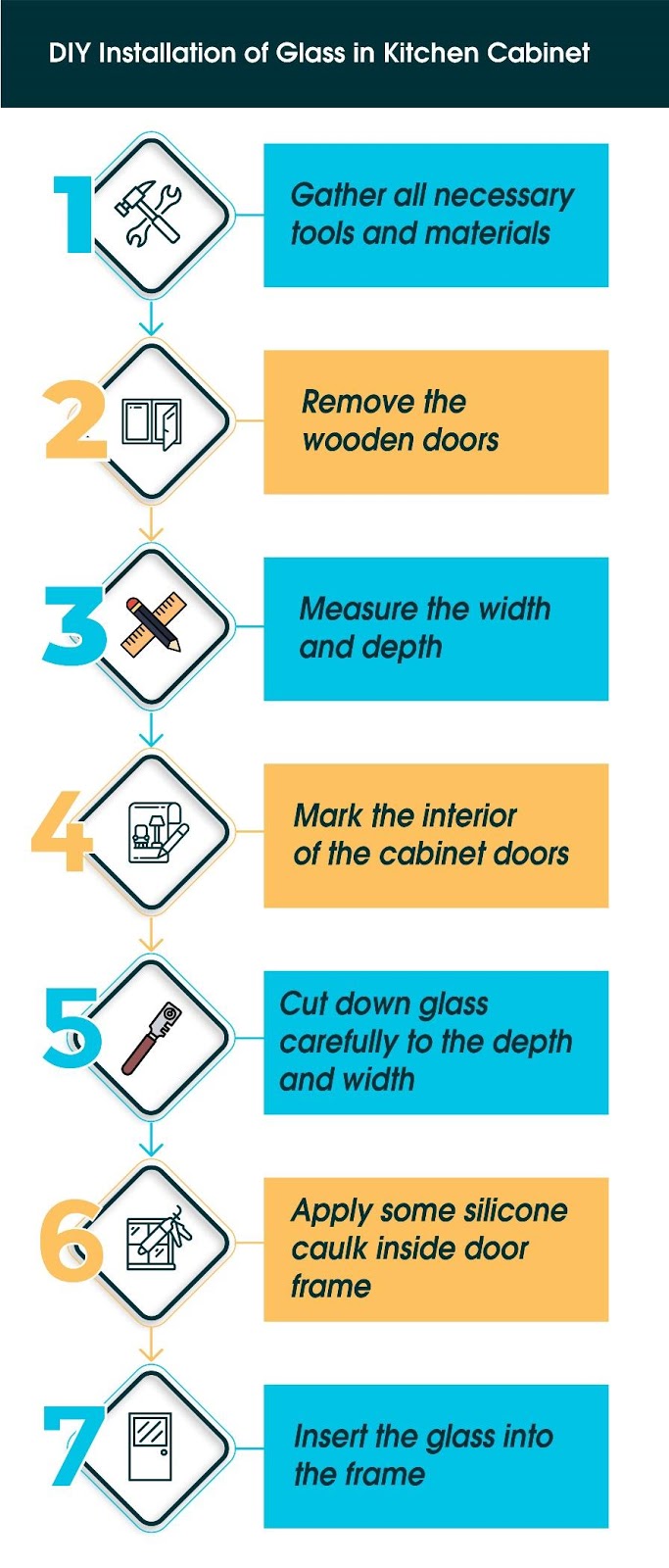 Tools and Material for Glass Insertion into Kitchen Cabinet Doors
Successful insertion of glass depends on the style of the glass. This process requires a few basic tools. You can save your money by cutting plexiglass by yourself. For that, you may need some basic tools and materials. Depending on the size of the project you may require expert help in cutting or installing glass.
Hearing protection

Safety glasses

A drill

Glass insert

Jigsaw

Some molding tools

A screwdriver

Some pliers

A wood chisel

Measuring tape

A straight-edge

For plexiglass installation, you may need a utility or plastic cutting knife.

For glass installation, you also need a router with a 1/2 inch router bit having a guide on its top.

Some silicone caulk, also known as plexi, which has to be a clear one for better results.
Steps of Glass Insertion into Kitchen Cabinet Doors
First of all, remove doors:
Arrange some plastic bags. Place all the hardware including hinges and knobs inside them and label them clearly. Now by using painter's tape, label all the doors and openings. It will be very helpful while re-assembling. Make sure that there is no finishing nail. If you see any such nails, pull it off to save your router bit.
The Measurement:
Measure the width and depth of the groove on the cabinet interior and remove the doors.
Marking
By using the straight-edge (carpenter square) mark the interior of the cabinet doors to the depth and width of the groove as measured above. Each side of the rectangular/square must be equal.
Cutting
The cutting technique is different for plexi and glass.
Plexi: Take the door to your workplace and cut it down carefully to the depth and width as measured and marked in previous steps with the help of a jigsaw.
Glass: First you need to make a guide that has to be straight and smooth. For this, you can use plywood or MDF (Medium-density fiberboard). It will allow for the depth of pattern bit and nail layers together to make guides. Position them 1/2 inch from inner edges and clamping them firmly in place. Use wood strips for outer edge support. Wood strips have to be as thick as the cabinet door. Clamp the door in place and by using router cut the lip and 1/2 inch pattern bit. Keep adjusting and cutting the depth until bit touches the door panel. Now cut the lips away on both sides and reposition the door guides for the other two sides.
Chisel:
Use your chisel to knock the corner free.
Removing the wood:
Now carefully remove the wood panel from the cabinet with the help of a hammer. Keep your hand lightly on the hammer.
Measure glass insert dimensions:
The plexi or glass dimensions must be exactly equal to the cut-glass insert.
Cutting the glass:
Now transfer these dimensions to your plexi. Cut it in half with the help of utility/cutting knife. After that snap it on lines. For a real glass, you will have to order the chosen inserts and have them cut into size by some experts.
Applying caulk/glass clips:
To the inside perimeter of the door frame apply some silicone caulk. You can also screw in glass clips but be careful about the depth of clips they should not go further than 12 inches.
Inert the glass and reassemble it:
It's time to insert glass into the frame. Insert the glass carefully and press it gently into the shape of a frame with caulk. You can also use glass clips to make sure it will not lose its grip over the glass. If it is plexi use some dry cloth to wipe away the extra silicone and let it dry completely.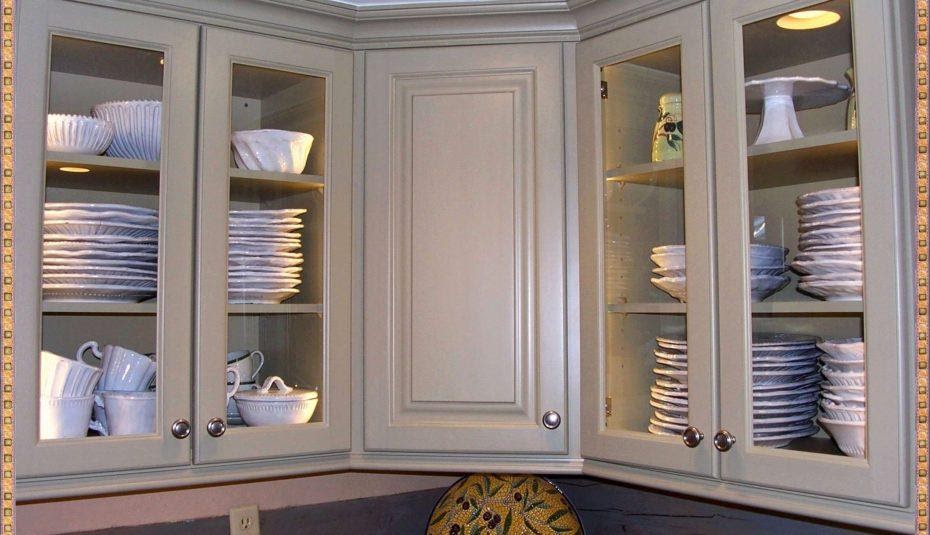 Some Tips:
If the glass clangs, some hot glue will save it.
Such alteration is only recommended for frame and  panel cabinet doors
We hope you must be ready now to create an updated designer kitchen. Order your custom cabinet glass now from Fab Glass and Mirror.